Career Management for Lawyers: Practical Strategies to Plan your Next Chapter
Rachel Brushfield
£40, the Law Society
★★★✩✩
Life used to be so simple. You qualified, had an assistant's job, then completed your ambition by becoming a partner before the age of 30; you stayed at the same firm for the rest of your life. Careers for lawyers no longer follow such set patterns. Many start with internships followed by employment as a case worker before the chance of a training contract. Partnership is no longer seen as the short cut to fortune it once was.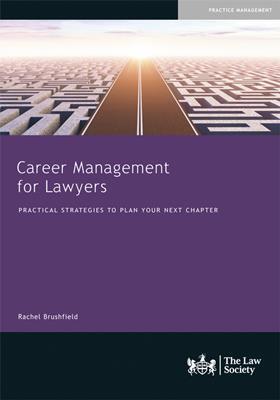 Many people give up, or face career changes mid or late career. This book is about how to cope when your working life comes to such a crossroads. These career events may relate to a conscious decision to change direction, a return to work after a career break, or a change imposed by events. Change can mean doing a different type of law, leaving the law completely, or a different way of working, such as consultancy.
Brushfield's book is useful as there is little guidance on how to cope with such career dilemmas. As lawyers, we are good at solving other people's issues but not always our own. We invest so much work, time and effort into becoming a lawyer it is not surprising that we find change difficult. If you have a proud family that supported you through training, it is difficult to tell them you have changed your mind and want to do something else, even though that might be the right move.
In setting out strategies for managing change, this book has a set of self-assessment tools in the form of questionnaires, and advice on how to move on. There are interesting case studies of people who have changed direction. There is also guidance on 'building your (own) brand' which is an interesting way of looking at writing CVs. I am surprised that judicial appointments do not figure more in this book, whether full- or part-time, as that is an option for some people.
David Pickup is a partner at Pickup & Scott Solicitors, Aylesbury
Would you be interested in writing a book review for the Law Society Gazette? The Gazette receives books on a range of legal specialisms, as well as fiction, history and biography. If you are interested please write to Nicholas Goodman indicating your specialism