Justice For All and How to Achieve It: citizens, lawyers and the law in the age of human rights

Geoffrey Nice
£20, Scala Arts & Heritage Publishers
The extent to which the law can have a meaningful impact on armed conflicts, and whether the legal bodies which judge the authors of international crimes have any long-term value, are questions which have long plagued supporters of international justice.
Through a series of lectures delivered as Gresham Professor of Law from 2012 to 2016, Sir Geoffrey Nice QC addresses these questions through an impressive range of case studies spanning the Balkan Wars, Burma, North Korea, Iran and Gaza-Israel.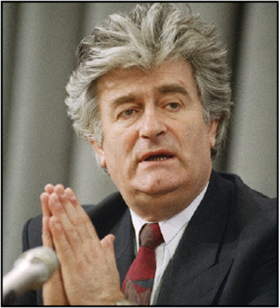 This is by no means an ode to the supranational prosecution of international crimes. It is a realistic account of the concrete limitations of both domestic and international justice. Nice is openly critical of the selectivity of post-second world war prosecutions, the variable standard of international judges and the failure to hold states (rather than individuals) accountable for atrocities.
The book is remarkable for an almost unprecedented level of candour. Nice is frank in his evaluation of prior cases. Certainly, not everyone will agree that the UN tribunal for the former Yugoslavia acquitted a Serbian general because of 'political pressure', or that judges 'got it completely wrong' not handing Radovan Karadžic (pictured) a life sentence. But this is part of the book's appeal. Rather than the overly optimistic rhetoric which often peppers the commentary of international prosecutors, this is a refreshingly honest critique of both the substance and procedure of international justice.
The recounting of Nice's early days at the English bar is particularly enjoyable, as is his discussion on the evolution of oral advocacy and the (welcome) decline of institutional intolerance on the part of the bench. The book's readability will make it appealing not only to practitioners of international justice, but a wider audience interested in how legal systems can be better calibrated to provide meaningful remedies.
It would be a mistake to be mislead by the aspirational title – Nice offers few answers to the questions he raises. Rather, his focus is on what constitutes justice and if it can be delivered. This does not detract from the book's impact. As history has shown, the search for answers is often just as important as the act of finding them.
Kate Gibson is a defence counsel before the international criminal tribunals. She is co-counsel to Radovan Karadžic before the UN-MICT and Jean-Pierre Bemba before the ICC