East West Street: on the origins of genocide and crimes against humanity

Philippe Sands
£9.99, Weidenfeld & Nicolson
This remarkable book is now available in paperback. That it has won awards comes as no surprise. I could not put it down. At university in the 1970s there was a compulsory first-year course on international law. I hated it. I wanted to get on with 'real' law. How wrong I was. If only this book had been available then. The need for international law would have been clear.
Here is the story of the coming of the crimes of genocide and of crimes against humanity – and the need for them. Philippe Sands is a professor of law at University College London and a barrister at Matrix Chambers. He had been invited to present a lecture, delivered in 2014, at the faculty of law in the University of Lviv. From this invitation, made many years before, began a remarkable detective story, so much more readable than any fiction. Lviv has had many identities. During the Austro-Hungarian Empire and under the Nazis it was Lemberg; after the first world war, it was part of Poland as Lwow. Under the Soviets, it became Lvov; after 1944 it has been Lviv in Ukraine. Between 1914 and 1944, control of the city changed eight times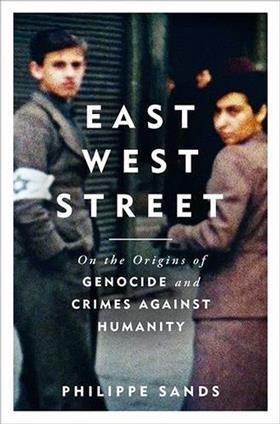 From this relatively small area came a group of quite extraordinary people who escaped the Holocaust. The horror is dealt with lightly but all the more effectively as a result. It is deeply moving. The book discusses three men. The first is Philippe Sands' grandfather Leon Buchholz who left for France alone. The reason for this only became apparent as Sands' detective work began. His mother Ruth also left alone as a child, collected by a Christian missionary. Finally, his grandmother left a day before it would have become impossible – and the reason for that is also discovered. Most other members of the family were murdered in the Holocaust.
The second man to escape was Hersch Lauterpacht who became professor of International Law at Cambridge. His son Eli helped brief Sands. Lauterpacht wrote the works that led to the concept of crimes against humanity. He wrote large parts of the speeches made by the British prosecutors at those trials. He felt that the introduction of the concept of genocide would weaken the individual protection of individuals and lead to the identification of 'groups' that may not be desirable.
The concept of genocide was the creation of another escapee from the Lviv area. Rafael Lemkin moved to the US and fought long and hard for his thinking to be adopted. It was hard work. He became unwell. He was sidelined by American prosecutors.
To complete the research, Sands then explores the life of Hans Frank who became governor under the Nazis of the area around Lviv. His son Niklas briefed Sands and never took his father's part. Frank was tried at Nuremberg and it was then that the concepts of crimes against humanity and genocide appeared. The conflict between their approaches is discussed. But in an enigmatic ending Sands, on one of many visits to Lviv, at the place where 3,500 people were killed, concludes: 'Right there, for a brief moment I understood.'
Anthony Edwards is a solicitor at TV Edwards in London