Stretching the Constitution: The Brexit Shock in Historic Perspective
Andrew Blick
£65, Hart Publishing
★★★✩✩
Since 1973, 11 referendums have been held in the UK. The first UK-wide referendum was held in 1975 on the UK's continued membership of the European Community. Most of the referendums since then have been about devolution. There was also a poll on whether to adopt the alternative vote in 2011 (remember that one?) The turnout for that was less than 50%. I think that all referendums have been decided on a simple majority and have not required a two-thirds majority.
Internationally, referendums have usually been to determine issues of sovereignty and have not been restricted to democracies. In 2004, there was a referendum on natural gas reserves in Bolivia. Voters were asked five questions on the government's policy on natural gas, with all five approved. I wonder why this issue was considered to be one that the people needed to decide on.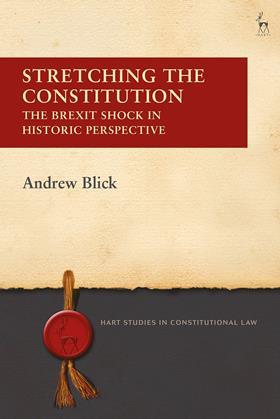 Why elected or unelected governments decide to call a referendum is often debateable. Chris Patten has been quoted as saying referendums are awful as they undermine parliament. There is the rub. What is legal status of the decision and is it morally or otherwise binding on politicians and, if so, how long does the decision stand? Much has been said about the Brexit referendum, why it was called and what has gone wrong (if you think that). It is difficult to get an impartial analysis of anything connected with this subject.
This book is a historical investigation of the constitutional implications from the Brexit referendum. It is written by a senior lecturer in politics and contemporary history at King's College, London. His analysis is impressive, especially his work on parliamentary committees, and prescience of what issues would arise.
The main constitutional questions Brexit raises are about the relationship between government and parliament; the legal status of a referendum; and the role and purpose of courts in constitutional issues. We are now having comparisons made with the parliaments from the time of Charles I, which is quite an achievement.
The historical approach taken by this book examines previous proposals for international government and electoral and parliamentary reform. Free movement of goods and capital in Europe was proposed in 1930s. There is a comparison between the EU and other international organisations but one wonders if the African Union or the Asian international groupings are anything like the EU at all. Much of the literature reviewed is obscure, to say the least. We are left with no firm conclusions.
Another issue is whether Britain should have a written constitution in the sense of a single document and basic law with a court capable of interpreting it. This is a question that Lord Sumption has been discussing in the Reith Lectures. I suspect the country does not want that type of Supreme Court because there is a tradition in this country of judges not being involved in politics. The public does not really like lawyers involved in anything at all but I would not want another referendum on that question.
David Pickup is a partner at Pickup & Scott Solicitors, Aylesbury
Would you be interested in writing a book review for the Law Society Gazette? The Gazette receives books on a range of legal specialisms, as well as fiction, history and biography. If you are interested please write to Nicholas Goodman indicating your specialism.