Making Sense of Homicide: A Student Textbook
Adam Lynes, Elizabeth Yardley, Lucas Danos, Ronald Winch
£35, Waterside Press
★★★★★
As a society, we are intrigued by homicide. We wonder what type of person can commit such a heinous crime. We binge-watch series based on true crimes and our interest in serial killers seems to know no bounds. Murderers such as Ted Bundy still pique the public's interest decades after his crimes were committed. Infamous murderers are mentioned throughout this book.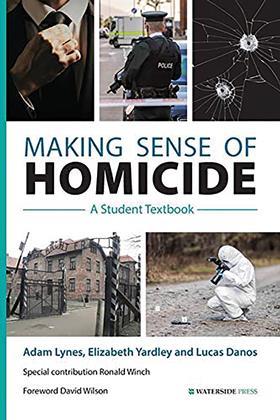 This is the first textbook for criminology students solely based on homicide. The authors take you through each act of homicide, from involuntary manslaughter and voluntary manslaughter through to serial killings and corporate murder. As well as defining particular forms of homicide, the book considers the main concepts and studies surrounding crime.
Is a man or a woman more likely to commit homicide? Is a 15-year-old or a 30-year-old more likely to kill someone? Does a person's upbringing influence the likelihood that they will become a murderer? Are some people predisposed to commit homicide? All these questions and many more are answered in the form of balanced discussion of academics' views. Some of the trends highlighted are surprising – I won't say which ones shocked me, but there were a few!
This is an interesting and stimulating read and I would recommend it to anyone studying criminology; I could not put it down. Even if you just have an interest in the subject, this book dismisses media misrepresentations of homicide, offering accurate facts, trends and explanations.
Lydia Brodie is a law graduate and disability advocate at PIPPS