Three Essays on Torts: Clarendon Law Lectures
Jane Stapleton
£60, OUP
★★★★★
Most practitioners can recall a particularly inspiring lecture for which they wish they had the transcript. By reworking her 2018 Clarendon Law Lectures delivered at Oxford University into Three Essays on Torts, Jane Stapleton QC considers the benefits and limitations of scholarship in examining the law of tort and its everyday application. This is a worthwhile and thought-provoking exploration presented over little more than 100 pages.
Her central concept is one of reflexive tort scholarship as pursued by herself and other scholars. This type of scholarship 'places at centre stage what judges do, how they understand their role, the reasons they give in justification of their decisions and the vital constitutional responsibility they bear to identify and articulate changes in the common law'.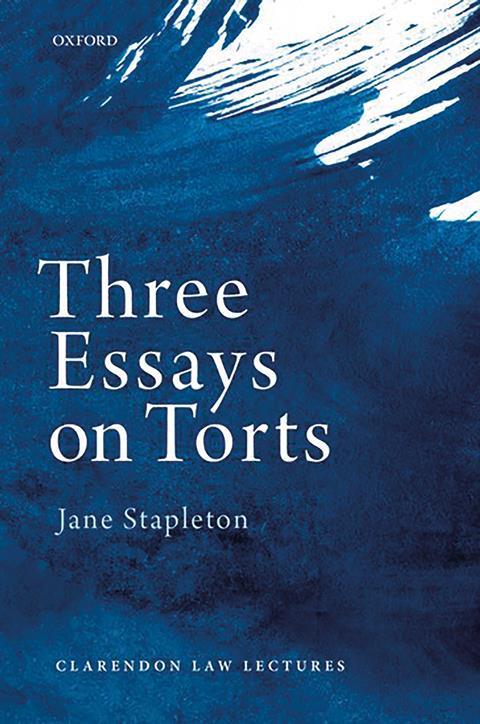 In chapter one, Stapleton contrasts this type of reflexive scholarship with attempts to identify a 'Grand Theory' – having a unifying idea that alone justifies and explains the whole of tort law.
She suggests that tort law is not fundamentally all about one thing and that reflexive scholarship is necessary to take account of the living and evolving common law. Ultimately, her aim is to strengthen the conversation between legal academics and practitioners on the bench and at the bar.
Stapleton argues for the benefits of a collaborative approach. This entails academics, who have the luxury of being able to conduct broad and detailed analyses over time, sharing insights with the bench and bar, which have scant time to maintain such an overview but have a more granular relationship with the law. By opening a dialogue with the bench and bar regarding their work 'on the ground', reflexive scholars seek to identify 'connections and patterns' as well as, importantly, 'overlooked arguments… weaknesses, tensions and anomalies in judicial reasoning'. This provides the opportunity for 'more convincing justifications as well as more illuminating conceptual arrangements' to be identified.
In chapter two, Stapleton seeks to demonstrate how reflexive scholars are also well placed to identify imminently emerging principles in the law. Chapter three examines causal terminology regularly deployed in tort law and argues for more precise framing of the relevant questions.
Stapleton argues her case in a concise and readable manner, providing the practitioner with considerable food for thought.
The book is primarily aimed at the bench and the bar but would also be of interest to scholars seeking a reflexive conversation with the judiciary.
Roisin O'Dubhlaoidh is a solicitor at Royds Withy King in Bath