Doing Justice: A Prosecutor's Thoughts on Crime, Punishment and the Rule of Law

Preet Bharara
£20, Bloomsbury
★★★★✩
This insightful book brings together a series of vignettes on, as the title suggests, the practicalities of working in the US legal system. Taking miscarriages of justice as a jumping-off point – perhaps unexpectedly, given the book is written by an ex-prosecutor – Bharara comments on everything from mistakes in fingerprint evidence, to untrustworthy 'snitches' and the ways in which decisions, erroneous and otherwise, are reached in the court system.
Some 332 pages later, having investigated what 'justice' is, Bharara pronounces law a 'tool' and good people necessary for justice to be done. This sounds trite, but is anything but.
Prosecutors in the US justice system tend to be caricatured as either hero or villain (think Gotham City's Harvey Dent/Two-Face). Bharara takes a wholly different tack, going to great lengths to humanise and praise the hard-working lawyers on the circuit. It is a far cry from the world of television and film: rather than being angels for the accused or a force for corrupt power, these are fallible people who try daily to make the system work for the good of society.
Despite the frequent nods to where justice has plainly not been served, Bharara conveys the conviction and – dare we say it – the 'noble' vocation of the prosecutor. It left this reader with the feeling that, although not a perfect system by any means (and the number of 'it must have been them' moments that lead to one unsafe conviction after another is deeply disturbing), the underlying constant of committed individuals dedicating their working lives to bringing gangs, terrorists and fraudsters to account for their actions is surprisingly affirming.
Hugely readable, this is a genuine attempt to understand a juggernaut of a process.
Small moments – the ways in which judges address defendants and the influence that can have on a trial, the moment at which a bad person becomes a good witness – described with the skill of a novelist give an empirical insider view of a system regarded with a level of incomprehension outside the US (how many of us watched Netflix's Making a Murderer in disbelief?).
Litigators will be intrigued by how it is done differently across the pond, but it is well worth a look for the chapters on the dark deeds of the Italian-American mob alone. Fundamentally, it is rewarding to read about people doing legal jobs with passion, heart and (generally) doing them well.
Tom Proverbs-Garbett is a solicitor at Pinsent Masons LLP
The Regulation of Healthcare Professionals: Law, Principle and Process (2nd edition)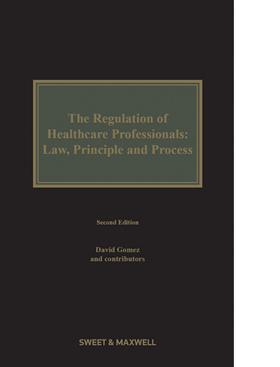 David Gomez
£209, Sweet & Maxwell
This book is a 'one-stop' text for practitioners, as well as for legal assessors, members of fitness to practise panels, policy-makers in the field of health care regulation and all legal representatives. Apart from exploring all recent developments in this area of law, this book also includes an analysis of the Professional Standards Authority's views on the future of fitness to practise, and a detailed look at the duty of candour and the developing case law on dishonesty. Other key features of this book include regulation by the Care Quality Commission, and complaints and discipline in the NHS in England. The case law on 'diffidence', as introduced by the Supreme Court – a concept previously known as deference – also comes under scrutiny.