The Reckoning
John Grisham
£20, Hodder & Stoughton
★★★★✩
Many Gazette readers will be familiar with John Grisham's past books such as The Pelican Brief and The King of Torts. If not, Grisham is a former trial attorney from the American south and now a successful author. According to British author Ken Follett, Grisham is 'the best thriller writer alive'. Praise indeed. So what about The Reckoning?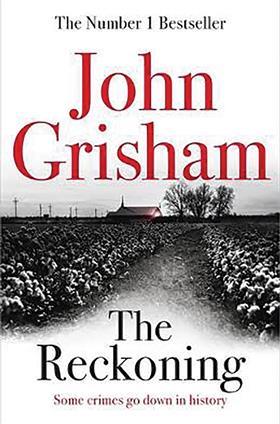 The book is written in three parts. In part one, Pete Banning (having earlier been presumed dead) returns from the second world war in 1946 as a hero. He resumes control of his 640-acre cotton farm in Clanton, Mississippi. His wife has recently been placed in a mental institution; his children, Joel and Stella, are college students; and his sister Florry lives nearby. A murder in Clanton shocks everyone, with the victim's dying words: 'If it's about Lisa I can explain!'. Who committed this horrific crime and why? How did this play out in the Circuit Court of the Twenty-Second Judicial District of the State of Mississippi?
In part two an extended flashback begins in 1925. Pete, a graduate of Westpoint, meets his future wife at a debutante ball in Memphis. They elope and marry. Pete's parents die and Pete leaves the military to run the family cotton farm. In 1939 Pete is called up and eventually captured by the Japanese. Grisham tells us about the 'death march', where the American POWs suffer terrible cruelty at the hands of their captors.
In part three the author returns to the story line of part one. A sharp lawyer (Errol McLeish) seeing an opportunity, befriends the victim's widow and advises her to bring a wrongful death suit against the murderer's estate. This will intrigue probate practitioners.
I will not reveal how the plot unfolds or what Judge Abbott Rumbold decrees in the Chancery Court of Ford County.
Military historians will enjoy Grisham's meticulous detail about the horror of the war in the Pacific. A murder mystery, a courtroom drama and a family saga – The Reckoning is a powerful, surprising and suspenseful thriller.
Richard Hanney is a consultant solicitor at Radcliffe Chambers, London