How to Start a Law Firm: A Practical Guide to Offering Legal Services, 1st edition
Darren Sylvester and Rachel Roche
Law Society

£55
★★★✩✩
Some of us have done it – more years ago than I care to think – and probably all of us have thought about running our own business. What are the advantages and pitfalls – and how do you do it? Is now a bad time when the world is in the middle of lockdown? Many people want to be their own boss because they think they can do better than their current employer, or simply want to develop their own interests rather than be held back, propping up – perhaps as they see it – unprofitable areas. Things may not be as simple as that.
The lure of not having to report to anyone else and take time off when you want is very appealing, and perhaps one day I will be able to take a proper break. I am not sure it is easier now than when I started a new firm over 25 years ago. It is just different. Banks are no longer queuing to give overdrafts and there is much more regulation. However, clients are more used to flexible working, and technology should make everything simpler. Well, it should in theory, when it works properly! There are far more external advisers and consultants to assist you than there used to be.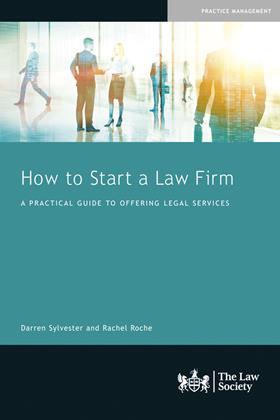 Making the decision to run your own firm is not a simple step and this book is an excellent guide. It is full of common sense advice and stories of how others have avoided pitfalls. The book shows that rule one is to think like a business owner and not only a lawyer. Get that right and you are half way there. There is a long list of things questions to think about. Why, when, where, how and what spring to mind. For some people, opening a business is quite straightforward to start with, but to keeping it going is more demanding, and then deciding on employing staff and whether and how to expand.
This book covers the initial business set-up, financing, the regulatory maze, insurance and all the other 101 things a business person has to think about. There is very good advice about marketing, 'branding' which the current in-phrase. There is a good section on the impact of coronavirus, which is the supreme test for many of us. If a new firm can survive that it can probably survive anything. Being your own boss means realising you are professionals who run a business. The authors make the point that doing a good job for the client is only the start. However, the legal business is still a profession.
There probably will never be a perfect time to start a new firm and new businesses have been set up in recessions and periods of uncertainty. Make a success now in the pandemic and life should only get easier. They are probably the ones that survive longer. Interestingly, this book only has a single nine-line paragraph on legal aid. That is a sign of the times. Surely there must be some people who want to run publicly funded firms. Someone, somewhere?
You cannot set up and business and then sit back and rest. Running a firm never ends. It is 24 hours and the book has a good section on keeping yourself sane and healthy. Overall, there are far more plusses than negatives to being your own boss. Go for it It is actually fun, even on the bad days!
David Pickup is a partner at Pickup & Scott Solicitors, Aylesbury
Would you be interested in writing a book review for the Law Society Gazette? The Gazette receives books on a range of legal specialisms, as well as fiction, history and biography. If you are interested please write to Nicholas Goodman indicating your specialism