Probate Practitioner's Handbook (8th edition)
Lesley King
£74.95, Law Society
★★★★★
Probate is seen as a pretty dry subject. Lengthy, wordy, obsessed with case law on obscure issues encountered maybe once in a blue moon – these are some of the criticisms levelled against such publications. King's book, though, does not conform to type.
From the outset, just glancing at the chapter headings, it is apparent that this book is exactly what it says on the tin – a handbook for the probate practitioner. With the text stripped down, this book contains very helpful and logical step-by-step information which will assist a newly qualified solicitor as well as a very experienced practitioner. The chapters devoted to contentious probate and probate problems are particularly interesting.
As well as containing a range of probate practice checklists, the book is written in an easy-to-read manner with no back and forth to footnotes – a pet hate of mine. Where the text refers to, for example, the SRA Accounts Rules 2011 or a Law Society guidance note, the relevant section of that rule or note is set out within the text itself.
That is not to say that the text is missing detail – far from it. The text is simply set out in a way that ensures that the salient information is right there when needed. If further reading is required, this is signposted with chapter number and chapter division. In short, this book appears to mirror the way my mind works.
We cannot be expected to keep every legal precedent, protocol or practice note we have ever read in the front of our mind. What can be expected of us is that we recognise which issues need further investigation and are able to find that relevant information quickly and efficiently. This book enables the practitioner to do exactly that; and I can see that it will be a firm favourite on my desk.
Deborah Murphy is director of St Helens Law, St Helens, Merseyside
Constitutional Amendments: Making, Breaking, and Changing Constitutions
Richard Albert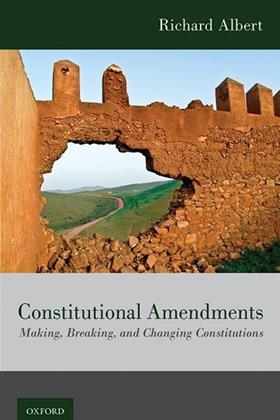 £55, OUP
Drawing from dozens of constitutions from all over the world, this book blends theory with practice. The author strives to answer two all-important questions: what is an amendment? And how should constitutional designers structure the procedures of constitutional change? This book makes the case that no part of a constitution is more important than the procedures we use to change it.