Contentious Trusts Handbook: Practice and Precedents
Carl Islam
£100, Law Society
★★★★✩
Trusts, while useful mechanisms in many circumstances, are known for being complex and difficult. The difficulties are often amplified tenfold when a dispute arises.
Hence, it comes as no surprise that even the seasoned practitioner will look to authoritative literature to support them. This book is an effective resource that will help practitioners to navigate trust disputes.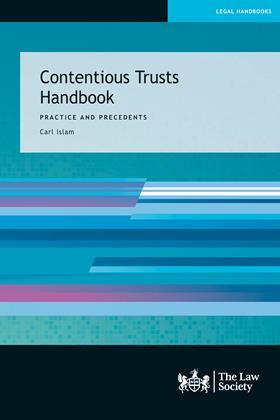 It outlines the duties and powers of trustees and then moves on to explain what constitutes a breach of these responsibilities and how a remedy may be achieved by other trusts and/or beneficiaries. Specific emphasis is placed on seeking remedy through the court process.
The dispute resolution precedents are useful and illustrate what one can expect when dealing with such matters. They provide a step-by-step guide of what to present at the main stages of the litigation process. The author has years of experience in the trust dispute arena and practitioners can take solace in knowing that the book offers a practical rather than academic insight into how to manage trust disputes.
The book does tend to concentrate on dealing with breaches of duties by trustees. While most trust dispute concepts are dealt with inside these parameters, it would be helpful to see discussion of other issues surrounding trusts in the proposed next edition. In particular, it would be interesting to see how the writer deals with issues surrounding clause interpretation and variations to trust instruments.
Overall, the book is detailed, technical and a useful guide for those practising in the area of trust disputes.
Sangeeta Rabadia is a senior consultant in the private wealth department at Allard Bailey Family Law, London