Trust Practitioner's Handbook (4th edition)
Gill Steel
£79.95, Law Society
★★★★✩
Do you know the easiest way to clear a room? Among my top 10 would definitely be a discussion on the law of trusts. Even among practitioners, the language can tend towards the Dickensian. Delving into trusts case law is often the precursor to a good night's sleep.
It is difficult to make such a complex area of law easy to read. Many books on trusts have an index as big as the main text, and footnotes upon footnotes, just to complicate matters. This book, although still containing all the relevant text, is not 'heavy' and is arranged in such a way as to be easily accessible.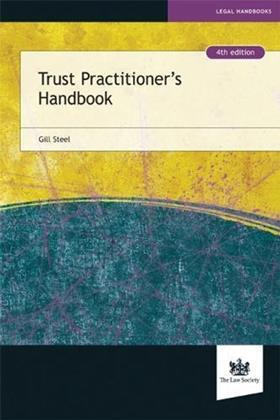 The first chapter, entitled 'Why have a trust?', is an excellent starting point for the thought process that every practitioner will have. This question is answered in a concise manner, seamlessly leading on to the next step.
Of particular interest is the section 'Getting Started', which is essentially a ready-reckoner of the best practice guide to handling trusts on behalf of clients. It is a framework that can be adapted readily to each circumstance and covers everything from risk management to reporting, including handling of bank accounts.
As would be expected in a trust publication, there is a lot of information and guidance relating to inheritance tax, basic tax handling (including income, land and capital gains tax) and signposting to relevant statutes and case law relating to tax-handling within the trusts arena. The chapters are set out in a logical order with helpful sub-headings in clear language.
The use of examples throughout to illustrate commonly encountered types of trust helps to translate terminology, inasmuch as it can be translated, into simpler terms. However, the author does not treat the reader as entirely without knowledge, as one would expect in a specialised textbook.
My view is that a lawyer new to trusts would find it hard going at first. It is not a book for the casual reader, but then the title itself acknowledges this fact. It is aimed squarely at the trust practitioner, and I would say a practitioner who already has some experience.
Deborah Murphy is director of St Helens Law, St Helens, Merseyside