Employment Law in Context (4th edition)

David Cabrelli

£42.99, OUP
★★★★✩
This textbook examines employment law in the UK in detail. From Brexit to an increase in 'gig economy' working and 'zero-hours' contracts and recent case law developments in discrimination, employment status and annual leave, this book gives an account of the current laws relating to the regulation of employment, the workplace and industrial relations.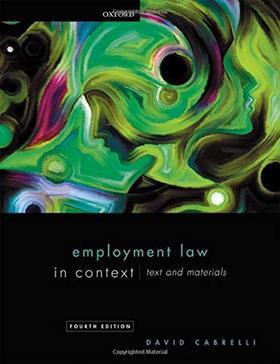 Breaking up the contextual from the substantive, the book evaluates the social, historical, political and economic context in which employment law operates to explain the issues faced by those entrusted with drafting, interpreting and applying employment laws. It then recounts the applicable employment laws designed to deal with such issues. It further captures key academic areas of debate in the subject matter, and suggests where reforms can be expected and how employment law may develop in the future.
Divided in eight clear and relevant parts, the book covers five main areas of employment law. These areas are: relationships between employer and employee; collective bargaining between employers and trade unions; statutory individual employees' rights; industrial action; and trade unions.
The textbook also includes several learning features, and it is supported by online resources for extra learning, including four chapters on collective labour law. Chapters are written in an accessible format and packed with extracts from leading cases and articles, diagrams and statistics. They are ended with reflection points that encourage critical thinking. However, the book does not cover the most important issue since Brexit: the impact of the pandemic or its related regulations on labour law, although recent case law developments have been included where possible. Attractive is the inclusion of a hypothetical case study that follows the life cycle of a fictional employer which helps to place employment law issues in context. This affirms the textbook's value as a tool of contextual learning.
This book will be excellent reading for undergraduate and postgraduate students of employment law and a valuable asset for institutions.
Helene Mansilla-Scholes, LLM, University of Law, London
Would you be interested in writing a book review for the Law Society Gazette? The Gazette receives books on a range of legal specialisms, as well as fiction, history and biography. If you are interested please write to Nicholas Goodman indicating your specialism