In the Blood
Ruth Mancini
£18.99, Head of Zeus
★★★★✩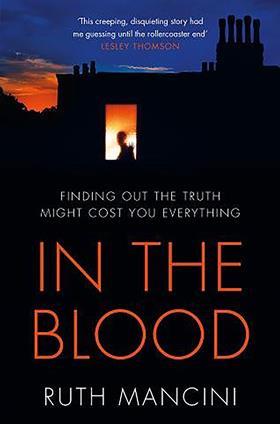 Criminal defence lawyer Ruth Mancini plunges the reader into a world of 'old money', with the Barrington-Brown family at the heart of it. When Ellie Stephens is accused of trying to murder her 11-month-old baby Finn, we learn that his dad is Jay Barrington-Brown, who has a flat in Markham Square, Chelsea. By contrast, Ellie, whose parents were drug addicts and has herself been in care, lives in a housing association flat in Camberwell.
Thus an intriguing dichotomy runs through Mancini's pacy crime novel, drawing in Ellie's dodgy neighbour Marie Thacker and her drug-dealing boyfriend Darren Webb. As counsel Will Gaskin tells Ellie: 'The evidence is against you… the finger is going to point to you.' As well as trying to murder Finn, who is in Southwark St Martin's Hospital on a dialysis machine after kidney failure, Ellie is also in the frame for bruises and burns suffered by Finn when he was eight-months-old.
Someone who may be able to help Ellie prove her innocence is criminal defence lawyer Sarah Kellerman, who is first alerted to her plight by old friend Annalise Finch, a family lawyer. Yet Kellerman has had a tough time of it too, living alone with her son Ben, who has learning difficulties. And her personal difficulties catch up with her at work where her boss admonishes her for billing less than anyone else: 'They feel they're carrying you, that you're not pulling your weight'.
Even so, Mancini's acute characterisation casts Kellerman as someone who not only empathises with Ellie's love for her son but also as a dogged professional who will leave no stone unturned in her quest to prove her client's innocence. But what really sets alight this novel is Kellerman's apparent chance meeting with handsome Alex, who seems to dote her and helps out with Ben. What follows contains some brilliant foreshadowing when Kellerman's personal life becomes so entwined with the inherent perils of defending Ellie you have to keep turning the pages to check if Kellerman has pulled herself back from the abyss.
Mancini's punchy dialogue is a particular highlight, especially in Kellerman's presentation of how prosecutor Carmel Oliver will make mincemeat of Ellie unless she gets her act together and, later, in the electrifying courtroom scenes.
A deftly plotted story that is always absorbing.
Nicholas Goodman is a sub-editor at the Law Society Gazette