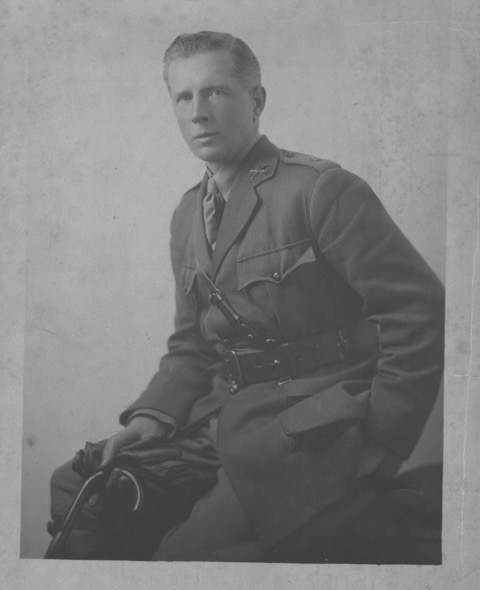 A century ago, RCW 'Clive' Burn (pictured), admitted to the roll in December 1912, found himself at Gallipoli as a machine gun officer. These are extracts from diaries and letters to his wife. They contain graphic descriptions of the front line - amid repeated attempts to make light of the extreme danger he was often in.
We join him on board the liner RMS Olympic.
'We have been lucky in getting to the best beach of the lot and the Turks are not right over us and we're only 100 yards from the cliff. I believe we are not always under shell fire which is lucky. I hear it is very peaceful where we are going.'
He goes on to described the scene on landing as 'more like Henley by night... The hospital ships all brilliantly lit up and the dugouts twinkling with candles, one of my men was a bit unfit so I carried his rifle and I've sworn not to add a rifle in future to my kit! Odd stray bullets flicking about, machines firing and a battery or two at it just above us. It was very odd and new, but amused me and the men were pleased. I found a hole and slept well in my coat and poncho.
'I went to the firing line, had a look at the Turks through a periscope. There is not much danger unless you look over the parapet when they always get you. The place is a sort of vast graveyard and you see dead Turks in odd places, no one can get at them to bury them. The trenches are deep and very confusing but will not take long to find the way about.
'I have burrowed out a shelf about 6ft broad. Longways from end to end is my Woleseley valise in which are most of my clothes and on which I am lying! In a niche is a fluttering candle which the wind cheaters every minute; outside the bed is my kit bag and then a gap. The outside is open to the elements and the ends, top and bottom banked up with sandbags. There is a slight overhanging ledge to keep off some rain and I have rigged up a sheet overhead to fend off the rest. I cannot stand up or sit up if it rains and the sandy sides are continually covering my things with grit etc. There is a perpetual rattle of rifle fire and stray bullets flick over the gully and hit the opposite bank. I am lucky, many others have no covering at all - however Humphrey and I are making a very superior dug out near the gun section and have found some wood which is much more valuable than gold .
'The washing water is too filthy and so I don't do it! I rub down with a towel and bathe when I can in the sea which is simply gorgeous. Today I swam a long way escorted by Sgt Thomson who can swim well. I have cut down my drill slacks into very short "shorts".
'Another of the East Kents was killed today, poor devil simply doing some digging.
'We live well, cocoa, coffee, tea - I never drink water, anyhow my lovely porridge, eggs, bacon, rice, meat, bread, rum!! butter, jam, so one cannot complain. When sending parcels disguise the contents as there are a lot of thieves in this country. We go to bed at about 8 o'clock!! It is so dark and there is nothing to do - this pencil has worn out and I dare not search for a knife or I shall bring down a shower of sand.'
At Gallipoli, the opposing front lines were frequently very close together.
'I am just out of the trenches where we had a very exciting time with one or two incidents. The Turks are about 12 yards from us in one place across a large crater, caused by the explosion of a mine some time ago. I asked the CO of the 2nd Lancashires to whom I was attached to show me the crater and on Wednesday night we went round, we had a party of bombers on our side of the barricade of sandbags. The CO talked to them and then we walked along a trench to the right of the opening to a mine shaft where we were mining - the opening is about 4ft x 4ft, a party of men were in this shaft handing out the earth which the miners dug out, the CO put his head in.
'I was following to see how things were going when there was the devil of an explosion, a blast of flame came back up the shaft and knocked the CO down and another man and I were thrown back against the back of the trench and on our left from where we had just come the parapet was blown in and a mass of earth shot over the trench. We were unhurt and the CO got the men on the parapet to be ready to repel any attack, then the bombing began on both sides and I didn't much like these horrible things exploding just the other side of 3 or 4 sandbags, showering me with dirt, luckily not one came into the trench.
'In the meantime the poor devils down the shaft had to be got out and four gallant fellows - one a Sussex Yeomanry went down, one fellow came out badly cut about but the others [were] buried there.
'I had a fair escape, nothing much else happened, we saw some shrapnel bombardment. Not very serious - until you get used to it you think every shell and every bullet must hit you, which is not nice and a little upsetting! The whole place is under fire and I am glad to say they don't shell us very much at present, it is amusing to see the aeroplanes being fired at, the shells never seem within miles of them.'
Domestic discomforts often figure more highly than shells and bullets in Burn's letters.
'When you send anything, make it look as little as possible like something to eat. Col X had two Fortnum and Mason boxes arrive safely but empty. Poor old Gallipoli, I shall not forget it but it is very funny and I am quite happy and very well.
'It is my birthday, there is no present you could give me except a tarpaulin, corrugated iron and some beams.
'The wind has made eating uncomfortable but after scraping off the top layer of dust, the butter and jam tastes good, if one can get it into one's mouth without the flies eating it first! Tea and cocoa are also good but water has been scarce, quite unnecessarily so.
'The fly wisp is a great joy, send another of that same sort if you can, it does a lot of execution and is nearly worn out, the flies always came up again as soon as the sun comes out.
'It is funny that I should be lying down here on the ground - the Turks 200 yards away, shells moaning overhead, odd rifle fire and machine guns, and yet I feel quite peaceful and rested. If I jumped up and stood on the wall about 3ft above me, I should be shot for an absolute snip.'
In December 1915 he adds: 'Incidentally we have had a bad time up here, the Turk is getting more ammunition and has got, I think heavier guns, anyway he fires a lot more shrapnel and in the fortnight the Sussex have lost at least 8 or 10 men and more wounded. I was sitting with the Sussex yesterday and there was a continual rain of shrapnel over our heads into the opposite side of the ravine, very irritating and upsetting to anyone.'
During the final evacuation of the Gallipoli landing force - which was carried out in secret, while still closely engaged with the enemy - Burns may have been the last officer off the beach.
On 3 January 1916 he wrote:
'There is a real excitement in this evacuation. It is such a gamble. The Turk cannot fail to know that there is more than a possibility of the attempt being made and obviously he can make things very uncomfortable with his artillery on the beaches. Whether his intelligence is good enough to tell the exact date is the point.
'If he knows and attacks with fresh and determined troops we shall be in trouble. The whole show will be done in two nights and our beach will be used till the last night, when 4,000 men will be taken off.
'We are the nearest beach to the Turkish lines, but I think it is the safest of the lot, anyway it seems to be at present. Every night will be interesting to see whether they shell us or not in the dark on the beach, and above all the weather. The awful idea is, that after the 6th [of January], a big gale may collect and keep us here waiting with only half an already small force to hold the line, and information of an evacuation must sooner or later come out.'
In the event, and in contrast to the original landing, the evacuation went almost without a hitch.
Burn writes: 'Two wretches had sprained ankles and had to get up and walk to W - at least 35 minutes walking fast. Chance and I came along in the rear of the party and found these fellows hobbling along, so we took their rifles; I also had my own kit; and they came along well. Further on I found a man lying across the path; he did not seem to care a damn what happened. We picked him up and took him on. Poor devil, he was quiet exhausted. I carried his rifle also.
'When we got this collection to the beach we WERE glad. They were rushed on board and then I was a bit anxious about a party of two officers and a man, whom I had left behind to light the fuses of the bonfires which were to go off at 4am. I told the General at W Beach and suggested I could come off in a picket boat; but I was certain they were just behind. I ran back to the beach but no sign of them. (They had got off on previous lighter).
'I reported to General O'Dowd and he told me to get on board. As we were casting off there was a most terrific explosion and the fires began to blaze - the magazines had gone off!! I've never seen such a show - a column of smoke 150 feet high - smoke, rock and debris everywhere. The lighter [barge] began to move and the sea was quite bad, even at W Beach; however we got enough way on and slowly turned and steamed out - the last lighter from No 3 Pier. By this time, the whole beach was one vast furnace; the rifle ammunition crackling, explosions everywhere; a whirl of smoke and then the Turkish shells began to come.
'It was an unforgettable sight and even coiled up on the miserable tug I could not help feeling what a sad thing it was the number of lives lost on that infernal place. However we were lucky to get off.'
On 10 January 1916 his diary records: 'And so ends a most interesting time, which I would not have missed.'
Burn survived the war, though was wounded in March 1918, and rose to the rank of major. He resumed his career as a solicitor, and was knighted for his services as secretary to the Duchy of Cornwall.
The Gazette would like to thank his grandson, Marty Burn, partner at Oxford Employment Law Solicitors, for giving us access to this material.
First world war: record of service
1

2

3

4

5

Currently reading

War stories: 'a most interesting time' - at Gallipoli

6

7