'Warfare no longer looks like a tank driving over a battlefield,' says the head of Army Legal Services. These days lawyers are on the frontline – in every sense
The low down
'I would not,' a serving brigadier tells the Gazette, 'go anywhere now on any operation without a lawyer by my side.' Army Legal Services is more integrated into service life and operations than ever before, with its lawyers moving at the same short notice as any other member of the armed forces – from Sierra Leone, Afghanistan and Iraq, to the Falklands and Germany. The army trains to be ready for surprise deployments, but these seldom occur on home soil. So when the coronavirus pandemic looked poised to overwhelm the capabilities of government and commercial actors, the army's lawyers were called on to do what they had increasingly done abroad: find safe, legal ways for the army to complete an operation around a civilian population.
The Ministry of Defence's health and safety concerns nearly scuppered plans for what became one of the most iconic images of the coronavirus crisis. But assurances that troops would be physically distanced and in no danger of spreading infection meant members of the 1st Battalion The Yorkshire Regiment were able to provide a guard of honour as 99-year-old Colonel Tom Moore completed his walking challenge that raised over £32m for NHS charities.
Advising on social distancing and health and safety issues is just one of the many aspects of the work done by the army's in-house legal team, Army Legal Services (ALS).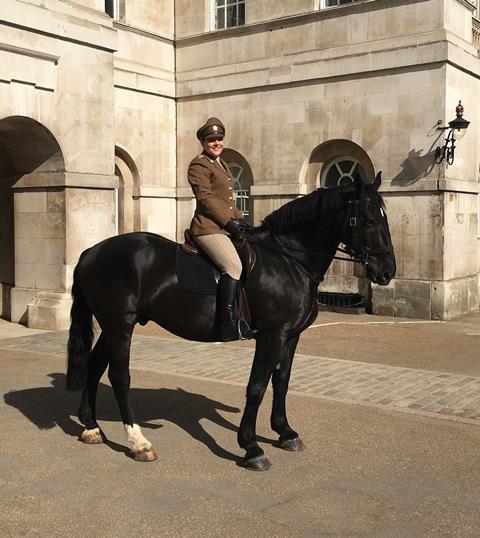 The work of the British army is seldom seen on home turf. But the coronavirus outbreak provided the opportunity for the army to show what it can do, helping the public authorities deal with the pandemic. The military operation to assist the UK's efforts to tackle the virus at home, Operation Rescript, saw 20,000 troops put on readiness to form the Covid Support Force. Their work included delivering ventilators and personal protective equipment, driving oxygen tankers, providing assistance at mobile testing units and helping to build the Nightingale hospitals. An integral part of that work was done behind the scenes by the ALS.
Seeking help from the armed services for domestic matters is known as a request for 'military aid to the civil authorities' and must be approved by the MoD. The legal authority to deploy service personnel on operations in the UK under Military Aid to the Civil Authorities (MACA) is governed by the Civil Contingencies Act 2004 and the Emergency Powers Act 1964.
Unless there is an immediate and clear present threat to life, for the armed forces to assist in a civil matter there must be a clear task they are being asked to perform that the civil authorities lack the capacity to fulfil, and, after considering all other options, there is no commercial alternative.
The first thing ALS had to do when dealing with the large number of MACA requests was consider whether help could be given within that policy's framework to establish the army's authority for acting.
Captain Katy Charlotte Campalani had been a funds and financial services solicitor at Fieldfisher, and worked in-house at Credit Suisse and Goldman Sachs, before joining the army. Covid-19 meant she moved from advising commanding officers on disciplinary proceedings to being embedded in a team planning military operations to support the civilian frontline.
Campalani's task was to anticipate where the civilian authorities might need help and deal with the legal issues and risks attached, to avoid delay in providing support. This included considering indemnities required from government departments, and ensuring the health, safety and training of those carrying out the tasks. This work, she says, was not dissimilar to the due diligence done in her previous career.
'Although there is a change in culture and etiquette when joining the army, you're still a lawyer, poring over the law and assessing legal risk,' she observes.
Lieutenant Colonel Stephanie Beazley, a Scottish-qualified solicitor and former Crown prosecutor, had also been dealing with disciplinary matters before switching to Covid-19 response.
Working from home, she was physically dislocated from the rest of her team. With soldiers potentially having to go into hospitals and deliver supplies to the NHS, that meant getting up to speed with health and safety law.
'We need to think through all issues that may arise before they happen. What you don't want is a soldier who is not prepared for an eventuality, who does the wrong thing, and ends up on the front page of the Sun, or worse, does something illegal,' says Beazley.
The increased incidence of domestic violence due to the lockdown threw up the question of what a soldier deployed to a testing unit should do if a member of the public, who had been locked up with their abuser, took the opportunity of getting out of the house to ask for help.
Now, as our constituent nations come out of lockdown differently, more headaches are created. For example, Beazley says: 'Can we do training or recruiting in Wales or Scotland, and what happens if we want to go on exercise?'
More than two months on, the army is scaling back operations to support the pandemic response, shifting its focus, under Project Pheonix, to 'reboot the British army', as Major General Alex Taylor, the head of ALS puts it. Part of this involves a recruitment drive to build up the ranks of the army, which have diminished over recent years. That recruitment extends to the ALS. While its numbers have fallen in the last couple of years, from around 130 to 108, the size of the ALS has more than doubled since the mid-1990s.
Officer classes
Army Legal Services (ALS) is part of the Adjutant General's Corps and has its roots in the 17th century. Its responsibilities are extensive, from prosecuting in courts martial and giving legal advice on international, civil and military law, to advising on operational law, the law of armed conflict and rules of engagement, and all aspects of service discipline.
It encompasses three broad elements – prosecutions, general advisory and operational law – but its lawyers will work in all areas during their army career, from advising the chain of command on the finer points of international law in the middle of a war zone to deciding whether to prosecute a soldier by a court martial.
Each year, ALS looks to recruit eight to 10 fully qualified solicitors, barristers or Scottish advocates who are physically fit and aged between 23 and 32.
In recognition of their professional qualifications, the ALS is an officer-only branch of the army. After two weeks of initial training, recruits attend a nine-week commissioning course at the Royal Military Academy Sandhurst. There they are put through their paces learning basic military skills, including weapons training and drill, as well as the relevant areas of law and developing their ability to lead and command.
They are then sent out on attachments to combat units where they operate as non-lawyers for three months to give them first-hand experience of army life.
Taylor, an insurance and reinsurance solicitor at City firm Wilde Sapte (now Dentons) until he joined up in 1997, became head of Army Legal Services last July.
The army's greater appetite for legal input, he explains, has been fuelled by the increased need for operational advice during its campaigns in Iraq and Afghanistan, coupled with the expansion of health and safety issues, and the creation of the independent Service Prosecuting Authority in 2009. The authority was established after the European Court of Human Rights' 1997 finding that a court martial of Alexander Findlay, a soldier in the Scots Guards, did not constitute a 'fair hearing' by 'an independent and impartial tribunal'.
More recently, the rise in the army's intelligence function to counter threats from hostile cyber activity has increased the demand for legal support among the top brass.
'Warfare no longer looks like a tank driving over a battlefield,' Taylor says.
He sits as an adviser to the Army Board, the army's senior decision-making body, which is populated by the chiefs of the general staff and a number of lieutenant generals who are three-star generals.
'There are only two officers of my rank in that room and I'm one of them,' says Taylor, demonstrating the chain of command's recognition of the importance of legal advice when making decisions.
'Before I came into the army, I hadn't ever worn a uniform in my life,' Taylor says. Drawn by the diversity of work and possibility of serving overseas, army life put him outside his comfort zone, but he found the new working environment – one without the worry of billable hours – liberating.
'Much of commercial practice is about serving a host of clients, being at their beck and call, and having to record chargeable hours every day. In the military we serve one client: the army's chain of command,' he says.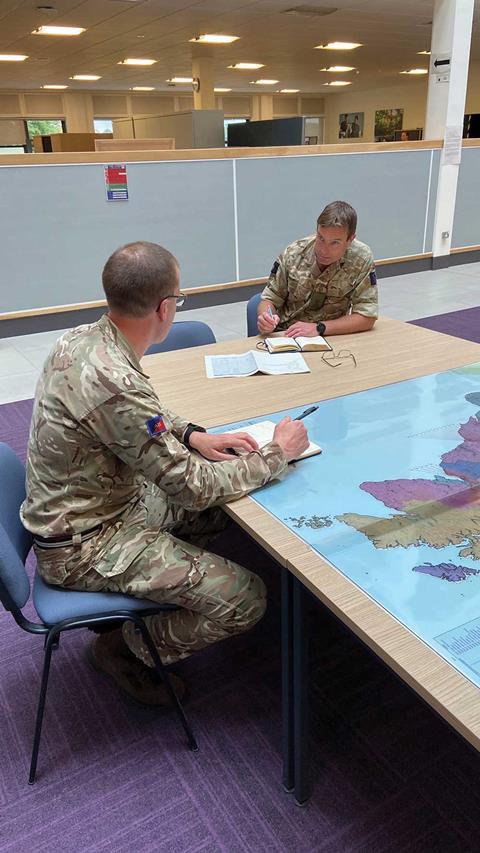 The dread of billable hours was one reason Major Jamie Burnett quit private practice. Born into a military family, he studied law and qualified as a solicitor, specialising in prison law, before following his father and brother into the army in 2005 and serving in Iraq and Afghanistan.
Like law firms, the army, says Burnett, is very hierarchical: 'Captains or majors are the junior and middle-ranking lawyers, lieutenant colonels are the senior associates, and the colonels, brigadiers, and two-star generals are like the managing and senior partners or board and equity partners.'
The key difference between being a military rather than a civilian lawyer, he suggests, is the need to be adaptable. Army lawyers do not stay put in one job and have to be prepared to move at short notice.
While commending the ability to maintain a healthy work/life balance and support from the army, he recalls once being deployed with two weeks' notice and having to leave his wife, a solicitor in a London law firm, and their young children just before Christmas.
Major Chris A is from Northern Ireland. (For safety reasons, the army requested that his surname be withheld.) Although Major Chris was a law graduate, he joined the army as an infantry officer.
For eight years he was in the Duke of Wellington's regiment, serving in Germany, Kosovo, Iraq and Afghanistan, before joining the ALS through a transfer scheme that has since closed. He studied the graduate diploma in law and the bar vocational course, which were paid for by the army.
After completing a criminal pupillage and qualifying as a barrister, he returned to a posting with the Service Prosecuting Authority. The army's courts martial prosecute any offences, including rape and murder, and, says Major Chris, offer great advocacy experience, as lawyers handling cases from start to finish face civilian lawyers acting for the defence.
'Our purpose as an army is to train for war. When not at war, we are training so that we are ready if we are required to go war,' Major Chris notes. In January, he spent nearly four weeks in Germany on a war exercise, during which the army, with advice from its lawyers, had to 'fight' in accordance with the law of armed conflict, international humanitarian law and international human rights law.
'The enemy were making it as hard as possible for us to do our job,' he says, 'for example by putting their artillery pieces in a school playground. We might be asked for advice on whether we can strike a target, demolish a bridge, or whether to allow the Red Cross to see our detention facility.'
Legal advice, whether it be on dropping bombs or discharging soldiers who have committed offences, says Beazley, is generally requested and well-received.
'Commanders have grown up with lawyers embedded in everything they do and dealing them with them on a day-to-day basis,' she says. That has not always been the case. In the past, lawyers would only be asked for when things had gone wrong. 'You'd turn up to a meeting and people would joke "Here's the lawyer again – here to tell us what we can't do".'
Much of commercial practice is about serving a host of clients… and having to record chargeable hours every day. In the military we serve one client: the army's chain of command

Major General Alex Taylor, Army Legal Services
While the lawyers advise, the commanders make the decisions. 'It's a double-edged sword,' says Beazley. 'You are part of the team, but you're saying things your client, for whom you work and whose badge you wear, doesn't always want to hear.'
Captain Laura Fearnfield was a criminal barrister until she joined the ALS in 2014. She has always found commanders positively inclined towards their lawyers. 'They really want to have the lawyer by their side and run everything past you, working as a real team,' she says, adding that from the commander's perspective 'having a good legal adviser is very freeing – helping you understand what your options are'.
While there are occasions when commanders may not want to hear a lawyer's advice, she stresses it is the duty of being an adviser: 'I'm outside their chain of command and it's not my job to tell the commander what he wants to hear.'
On the client side, Brigadier Ginn is the chief of staff of the Joint Standing Committee. He admits that lawyers can be viewed 'with slight trepidation'. This is because young officers first encounter them when taking their soldiers before a military court. But, he says, when you rise through the ranks and see the support they provide, 'you come to appreciate their support and realise how utterly vital they are to modern operations.
'I cannot stress that enough. I would not go anywhere now on any operation without a lawyer by my side,' he states.
The work of the ALS varies widely and takes its staff all over the world. 'The role of the British army is not just dropping bombs and fighting the Taliban – sometimes it's going in and exercising soft skills' in the forming of training, Beazley adds.
After her initial posting with the army prosecuting service, she spent six months embedded with Sierra Leone's armed forces in the aftermath of the civil war, helping to recruit and train the country's own Army Legal Services and set up a court martial system, as the country sought to rebuild its armed forces.
Such experiences, she concludes, are among the attractions of serving: 'One minute I'm standing in a court martial in England, the next I'm standing in the dusty streets of Freetown helping with legal work for their armed forces.'
Few legal callings, surely, offer such a rich variety of experience.

Catherine Baksi is a freelance journalist