Our criminal defence solicitors are at the front line of keeping the wheels of justice turning, and have been bearing the brunt of the current crisis. While many of us have been self-isolating, they have been turning up at police stations, courts and prisons to ensure that our justice system still functions and still delivers fair trials.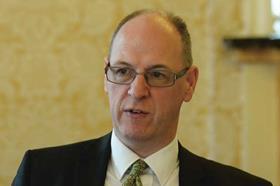 Looking after them has been a key priority for the Law Society. Early on, we considered whether we should call for a complete boycott of the courts, and police stations, but decided against it for a number of reasons. First, the effect of that would have been to bring justice to a halt. Second, as your representative body, what we say could not trump what a judge or regulator might say. While the national guidance remained that proceedings could continue, subject to limitations and safeguards, a blanket decision not to attend would likely have been seen as unreasonable. Nobody would thank us if they followed our advice and as a result ended up facing disciplinary proceedings.
From the outset, therefore, we have concentrated on lobbying to try to ensure a safe environment for criminal practitioners. We have pressed for clear guidance from HMCTS both as to what cases can still go ahead, and as to what our members can reasonably expect in terms of processes and facilities to minimise risks. We have been engaging with the Home Office to deal with concerns we had around police stations and prisons. We are continuing to have daily discussions with all these agencies to keep the pressure on to ensure consistent compliance with best practice.
It remains our view that where the courts, police and prisons are not implementing appropriate safeguards, it would be legitimate for you to take a view that you could not safely undertake work that would otherwise be required.
We have also been lobbying the LAA on various issues. First, we pressed for and obtained confirmation that a pandemic-caused failure to comply with contract provisions such as the rule requiring 14 hours of contract work per week, 36 attendances, and an office with a supervisor open full time will not result in any contractual sanctions.
Second, we have obtained pragmatic changes to the need for wet signatures.
We are continuing to lobby on the need for an urgent injection of cash into the system by way of major improvements to the provisions for interim billing.
On top of that, the crisis has brought into even more stark relief the economic crisis the profession was already facing, and we are continuing to urge the ministry to move on swiftly to finding measures to address this deeper crisis, in order to ensure that there is still a criminal defence profession to maintain our world class justice system once this pandemic is over.
Richard Miller, head of justice, Law Society of England and Wales
*The Law Society is keeping the coronavirus situation under review and monitoring the advice it receives from the Foreign & Commonwealth Office and Public Health England.