Queueing for the Supreme Court in order to witness the momentous event inside revealed a diverse crowd of members of the public determined to be part of the proceedings.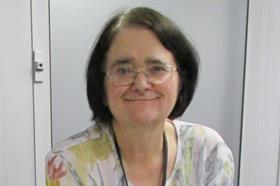 The first to arrive, at 5.00am, was a man who had attended before for the Article 50 Miller case and had come back for more.
Thirty places were available in Court 1 and screens in Courts 2 and 3 provided for the overflow. I arrived to a lively conversation among enthusiastic followers of constitutional law.
A retired teacher broke her holiday and travelled from Aberdeen on the Megabus. The queue included a German man with his fold-up seat. He had attended at the RCJ and gave us his views on the previous proceedings. No lawyer, he regaled us with a summary of the arguments. A retired child psychologist and grandmother woke up and decided that she would join the queue. She was not a political activist, but expressed deeply-felt concerns for our collective wellbeing in the face of prorogation of parliament.
I met a solicitor who specialised in refugee law and sadly in deaths such as people who drowned in the Mediterranean. He told us about his many visits to Lesbos to interview refugees from conflict areas. An Irish doctor told us he feared crashing out of Europe would harm the delicate balance achieved since the cessation of conflict on the island. There were law students and politics students, including one from Loughborough University who was there to participate in what for him was a great learning experience on constitutional law.
I sat next to a private client solicitor who had started driving from Cardiff at 2.00 in the morning, and whose sense of justice and humour gave a poignant view on a time never to be forgotten. I shared a conversation with a researcher from University College's Constitutional Unit, who enlightened me with his insights. A conversation arose on the consequences of cutting legal aid with an Italian criminal law solicitor practising in Hammersmith. We shared lunch with a judge in the Immigration Tribunal, who had arrived late but got a good view from the screen in Court 3. A lively discussion with a South African writer who had travelled up from Worthing united us in our defence of the rule of law.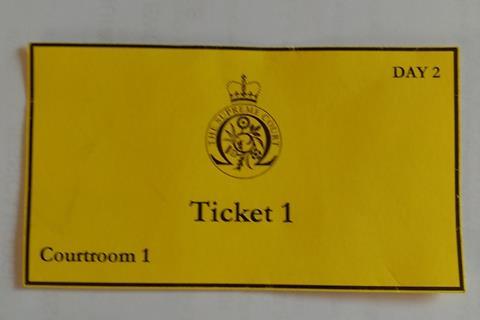 While TV coverage focused on legal comment and the protestors, those of us in the queue had our own stories to share. A large and fairly quiet group of demonstrators against prorogation, accompanied by robo-cop and the Hulk, caught the attention of the huge press contingent. They ambled along in front of the queue to take up positions at either end and were soon enclosed by police barriers. Immediately by the main door stood a grey-haired woman with a gag across her mouth. A placard hung round her neck: 'No Parliament: No Voice'. A police constable attempted to move her on, but she had been vetted by a court officer who assessed her symbolism as low-risk. After a tense few seconds, the police constable relented and allowed her mute protest. As one member of the queue commented, the encounter was a microcosm of the conflict between individuals and the state, perhaps analogous of the matters before the court.
The 'hot ticket' for the Supreme Court enabled me to gain not only the experience of hearing legal argument from the formidable advocates but also to understand what it is that drives citizens to feel strongly about defending democracy and the rule of law. We were united with the Supreme Court Justices, the advocates and the parties in a shared commitment to a very British defence of the constitution.
Professor Sara Chandler QC is chair of the Law Society Equality Diversity and Inclusion Committee