The lack of judicial diversity and the reasons have been much debated in recent years. The Constitutional Reform Act 2005 changed the way judges are appointed and set up the statutory duties of the Judicial Appointments Commission (JAC), including the duty 'to encourage diversity in the range of persons available for judicial selection'. Yet official statistics, as well as today's report Increasing Judicial Diversity: Update 2019 by Justice indicate that, despite efforts to increase diversity on the bench, certain groups – including solicitors – remain underrepresented, especially in senior roles.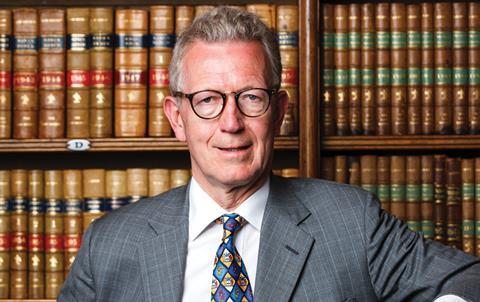 Official judicial diversity statistics present a mixed picture. Women now make nearly a third of all judges in courts, but the number of women in senior courts is still fragile. BAME judges amount to 7% of the entire courts' judiciary, with a noticeable drop in senior courts. BAME applicants were significantly less likely to be recommended for appointment compared with white applicants (in legal exercises in 2018-2019).
The proportion of solicitors amongst all courts judges is currently 33%, a fall of four percentage points since 2014, whereas 63% of judges in tribunals are solicitors. Currently only four sitting High Court judges were appointed from solicitor practice. Sir Garry Hickinbottom is the only solicitor judge in the Court of Appeal, and the Supreme Court remains exclusively populated by former barristers. Solicitors apply now in greater numbers and in 2018-2019 made up 55% of applicants. However, in most legal exercises barristers are still significantly more likely to be recommended for appointment than solicitors.
The position is particularly concerning when we consider the posts of deputy High Court judge and recorder, which are the two key 'feeder' roles to the senior judiciary. In 2017/2018 solicitors represented 28% of applicants to be a recorder but only 4% of those recommended for appointment. This increased to 7% in 2018/2019. Currently only 6% of sitting recorders are solicitors. As for deputy High Court judges, in 2018 only 9% of the Section 9(4) deputy High Court judge appointees were solicitors. Of 24 DHCJ appointees announced in November 2019, only six were practising solicitors. In contrast, solicitors make up more than 60% of district judges, and half of upper tribunal judges.
The Law Society and its Solicitor Judges Division (SJD) have been advocating for greater diversity in the judiciary and are determined to lead efforts to increase the number of solicitor judges. We work closely with stakeholders including the JAC and the judiciary as well as with our members, to understand better the challenges faced by aspiring solicitor judges, and to support solicitors in preparation for the application process.
The Justice report, as well as feedback from our members, suggests that the application process and selection materials might not properly weigh the legal experiences and skills which solicitors would typically possess. Therefore, Sarah Austin, an experienced solicitor member of the Law Society Council, was recently nominated to the JAC Advisory Group, which aims to ensure that the content of selection materials is not inadvertently advantageous to candidates from a particular legal background.
A challenge which some solicitors face is lack of familiarity with the application process, the preparation required and with members of the judiciary. Our efforts in this respect are focused in several areas of our work:
The SJD provides networking and support to aspiring and sitting solicitor judges, including a range of online resources, events and workshops. Our webpage explains the range of judicial roles available and the application process. It includes case studies of recently appointed solicitor judges, as well as the Judicial Pathway Toolkit which reviews eligibility and preparation for judicial application.
The SJD also works to facilitate shadowing opportunities. We recently expanded our pool of judges willing to assist aspiring solicitor judges by contacting all Diversity and Community Relations Judges, with the assistance of the Judicial Office.
As part of our involvement in the Judicial Diversity Forum, we deliver judge-led workshops of the Pre-Application Judicial Education (PAJE) programme which supports talented lawyers from underrepresented groups who consider judicial application. We delivered eight PAJE workshops in 2019 and will run 12 more in the upcoming months.
In addition, the Law Society offers a workshop to help solicitors enhance their application and interview performance. The workshop is convened by a business psychologist who previously worked as a JAC assessor.
There are still areas for further improvement. In line with the Justice report we are concerned about the lack of judicial career path from entry/junior roles to the senior judiciary. The large number of talented solicitors in tribunals is an obvious pool for appointment at higher levels. We are also aware of the current gaps in existing diversity statistics and analyses, meaning that little is known about the reasons for the differential success of particular groups, e.g. solicitors, BAME, etc. Improved quality of data would enhance our understanding of potential barriers and help us tailor our support accordingly. We encourage the JAC to continue reviewing performance of such groups and to publish its findings widely. We also reiterate the importance of having diverse selection panels including judicial panel members from a variety of backgrounds and experiences.
If you are interested, we are here to support you in becoming a judge. Do join the Solicitor Judges Division. If you need advice or would like to share your experiences relating to judicial applications, please get in touch directly with the division at solicitorjudges@lawsociety.org.uk.
Simon Davis is president of the Law Society of England and Wales; Dr Yael Levy Ariel is policy lead in the Society's Solicitor Judges Division