An influential legal thinktank has attacked the lack of progress in the three years since it called for 'targets with teeth' to broaden the diversity of the senior judiciary. The circuit bench, High Court and Court of Appeal continue to be dominated by white men from the bar, Justice reports in an update published by its judicial diversity programme.
In the three years since its last report on the demographics of the judiciary, Justice says gender has seen the most positive developments, with 'noticeable gains' on the circuit bench. However, progress is 'fragile'. Applications from black, Asian and minority ethnic people have increased, but the number of BAME appointments has stagnated.
Solicitors continue to apply for senior judicial office in much lower numbers than their proportion of the estimated eligible pool and their relative success rates compared with barristers remain poor. Solicitors struggle to be appointed a recorder or deputy high court judge - two 'key feeder roles' to senior appointments. Only six solicitors and two barristers who originally qualified as solicitors were among 24 deputy high court judges announced last November.
Justice was struck by the profession's inaccessibility to disabled people and the severe practical difficulties of sitting as a judge - though it noted a lack of quantitative data. Limited data suggests lesbian, gay and bisexual candidates stand an equal change of being appointed. The group was unable to gather evidence on the appointment of trans judges.
Justice says some minor recommendations made in 2017 have been adopted, but not the 'key structural' ones.
The report concludes that the current system lacks real accountability. As well as 'targets with teeth', the group renews calls for a senior selections committee for Court of Appeal, heads of division and Supreme Court appointments.
It restates the case for creating an internal judicial career path because the 'de facto career path' into the senior judiciary remains via the fee-paid roles of recorder and deputy high court judge. Further efforts shoud be made to ensure the appointments process tests for judicial potential, not prior advocacy experience.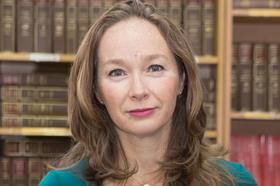 Andrea Coomber, director of Justice, said: 'Our senior judiciary continues to be dominated by white men from the independent bar. We are continually assured that change is right around the corner and yet the homogeneity of appointments to the key feeder roles of recorder and deputy high court judge give little reason for optimism.
'The judiciary play a critical role in our democracy and hold immense power in society. They can take away people's liberty, their children, their rights and more. That such power is held by such an unrepresentative group of people - however meritorious - should be of concern to us all.'
Law Society president Simon Davis said: 'Solicitors are under-represented on the bench - comprising just 33% of all court judges and significantly less among the senior judiciary. While the number of BAME applications has increased, the number of appointments has remained low.
'Judges are central to upholding the rule of law and it is important that the judiciary reflects the diversity of our profession and our society.'
A Ministry of Justice spokesperson said: 'We are working across government to ensure we have a judiciary that represents the communities it serves. A programme which supports candidates from underrepresented groups to become judges is ongoing and we are looking at other ways to increase representation across the criminal justice system.'