Looking back at the events that are about to unfold in parliament this week, historians may wonder how the future of the United Kingdom could have depended on the relationship between its smallest constituent part and the republic with which it shares a land border. But I shall spare you any further discussion of the backstop. My aim this week is to bring you some of the fascinating legal conundrums that have emerged from Northern Ireland – and to explain why many of them concern us all.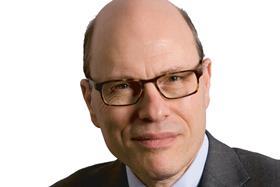 It is now a year since the UK Supreme Court declared that social security legislation in Northern Ireland was incompatible with the human rights convention because it denied widowed parent's allowance to the survivor of an unmarried couple. Lady Hale, for the majority, held that the benefit was intended to reduce the financial loss suffered by children from the death of a breadwinner. That loss was the same whether or not their parents were married (or civil partners).
This was a victory for Siobhan McLaughlin (pictured, right), who never married her partner John Adams during the 23 years that they lived together in Belfast. But her success had much wider implications. The benefit is available across the UK to qualifying widows, widowers and surviving civil partners with a dependent child who were bereaved before 6 April 2017. But the government has not yet extended it to surviving cohabitants in that position.
'We recognise that we have incompatible law on the statute book,' a minister at the Department for Work and Pensions told MPs in July. Will Quince said he wanted to take a decision as quickly as possible but every potential solution turned out to have unintended consequences. McLaughlin's solicitor Laura Banks (pictured, left) told me she was very disappointed that her client – and thousands of other bereaved families – had not yet received any payments.
In another case last year, the Supreme Court was asked to consider legislation that still makes it illegal to procure an abortion in Northern Ireland, unless terminating a pregnancy is necessary to preserve the life of a woman. The Northern Ireland Human Rights Commission argued that this provision was incompatible with human rights law. But the Supreme Court found, by a majority, that it had no jurisdiction to make a declaration of incompatibility because the commission did not have the necessary standing to make an application in its own name.
Failing to give the commission the power to bring an application in its own name was a legislative error that the government would rectify at the earliest opportunity, Karen Bradley, who was then secretary of state for Northern Ireland, promised last year. We are still waiting. In the meantime, though, parliament has recently passed legislation that may shortcut the entire process.
The Northern Ireland (Executive Formation etc) Act 2019 will make major changes to abortion law in Northern Ireland on 22 October unless a power-sharing executive government is formed there in the next seven weeks. Women or girls who have abortions, and healthcare professionals who assist them, will no longer face the threat of life imprisonment. The secretary of state will be required to make regulations permitting abortion if there is a threat – which does not have to be 'long-term or permanent'– to a pregnant woman's physical or mental health; in cases of rape or incest; and in cases of severe foetal impairment. These regulations must be in force by the end of next March.
The best-known appeal from Northern Ireland to the Supreme Court last year involved a different public body, the Northern Ireland Equality Commission. That was the so-called 'gay cake' case, in which the commission supported a man whose order for a cake printed with a slogan supporting gay marriage was turned down by a Christian-owned bakery. Gareth Lee's claim was dismissed by the Supreme Court, which held that the bakery's objection had been to the message, not the customer. The court's reasoning was that the bakery could not have been objecting to Lee's sexual orientation because you don't have to be gay to support same-sex marriage.
Lee instructed new solicitors and, last month, they announced that he had lodged an application against the UK at the European Court of Human Rights in April. He complained that the judgment had left him without adequate protection against discrimination on grounds of his political opinions.
There has been no response from the court so far. But perhaps Strasbourg is waiting to see whether the problem becomes academic. If no executive is formed by 21 October, the secretary of state must also make regulations permitting same-sex marriage and opposite-sex civil partnerships in Northern Ireland. These must be in force by 13 January 2020, just two weeks after the deadline for opposite-sex civil partnerships in England and Wales.
Unless, of course, the backstop stops everything.
Joshua Rozenberg is the keynote speaker at the Small Firms Division annual conferences. For more information and to book your place click here.