Yesterday I was kicked out of court. Not a court hearing, I hasten to add, but the court building.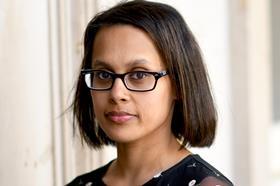 To briefly recap, I visited a county court to hear certain civil proceedings (not family) for an article I'm working on. Security checked my bag, I was told to report to the usher on the first floor. I informed a security guard on the first floor that I didn't have a case myself, that I was a journalist, but I was told to still report to the usher. So I did.
The usher checked with the judge if I could sit in court for the cases I wanted to hear. She was told they were private, so I couldn't. I didn't challenge this because it didn't make a huge difference to the purpose of my visit. Instead, I sat in the public waiting room for about an hour, making notes of my observations to help inform my article.
Just as I was about to leave, a stern voice behind me asked: 'Are you a journalist?'
It was a uniformed security guard. I was told I shouldn't be there, that I should have written to the court manager to get permission to be in court, that I couldn't use anything I had written in my notebook that morning.
Conscious that this hostile conversation was taking place in front of members of the public waiting for their cases to be heard, and that I was brought up by parents who always try to avoid confrontation, I left the building. I've covered court proceedings for many years but I called my news editor anyway to check. He confirmed that the security guard was in the wrong about needing permission.
I went back in to the building to speak to the guard again to clarify what she believed to be the correct process.
Like my parents, I always remain polite, even when I'm treated disrespectfully. That said, I wasn't impressed when I was told that I had lied about why I was in court. I didn't lie and I made that clear three times. (On the third time, I was met with the response, 'Whatever'.)
When I sat down in a waiting area closer to the building's exit, the security guard approached me and said: 'Excuse me, would you mind leaving the building until you get permission please.'
Had I known what would have happened that morning, I would have prepared myself to be more forthright. I would have asked the judge to confirm what provision of paragraph 3 of Civil Procedure Rule 39.2 was being applied to hold the hearings in private?
Which rule states that journalists must get permission from a court manager to be in a court building and that I must inform a security guard that I'm a journalist? I would have brought a copy of HMCTS's Guidance to staff on media access to courts and tribunals document, which states on the first page that HMCTS has a 'clear interest and obligation to encourage and facilitate media access to our courts and tribunals'.
The incident is another reminder of the challenges journalists face when it comes to open justice and transparency.
I have informed HMCTS about what happened (minus rambles of how upset I was about the security guard's hostile attitude) and look forward to revisiting that court and being treated respectfully. That said, I'll take a copy of the Civil Procedure Rules and HMCTS guidance, just to be on the safe side.
Oh, and the article I'm working on which prompted my visit: concerns about suspicious people going to court to prey on vulnerable individuals.
Update (Thursday 20 February): After requesting further details about the incident, HMCTS told me this morning: 'Thanks for your patience while we looked into this. It's clear our security officer on duty made a mistake and you should never have been asked to leave the building. Please accept our apologies for asking you to leave and for the manner in which this was done. We'll provide refresher training to court security officers at the venue, including on our media access guidance.'