On Wednesday of last week David Davis, the Conservative former cabinet minister, made a devastating speech affecting the reputation of the prime minister. Each of us doubtless has our own view on that intervention.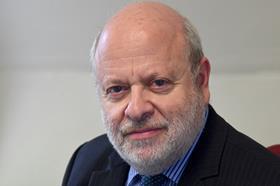 On the following day, Thursday, he made a devastating speech affecting the reputation of our own profession. That should concern us all, whatever our politics. It is rare for solicitors to feature as central players in a debate in the House of Commons. It is a shame that, when we did so last week, we were portrayed as villains.
David Davis led a debate in the House of Commons called 'Lawfare and the UK Court System'. I urge all solicitors to read the debate in full, because it raises fundamental questions about our role in the rule of law and the administration of justice.
The Gazette briefly covered some of the debate outcomes, which I will not repeat. I will focus on other worrying aspects.
First, I think we are going to have to get used to a new word, 'lawfare'. Its origin is in the use of law to achieve an operational military objective. It may seem odd to use it for UK law and lawyers, but much of the debate centred around the way the Russian state now uses the UK courts – and our profession – to achieve its ends. That is presumably why 'Lawfare' featured as the first word in the debate title.
Bob Seely, Conservative MP for the Isle of Wight, spoke about 'the cancer of the selling of intimidation services by high-end legal firms'. He said that 'these tactics are sold by law firms to many different actors, including organised crime and corrupt corporations, I think they are very much part, as some Members have said, of the Russian state playbook and Russian hybrid war tactics: the tools of non-military conflict in the west against the west.' He went on to name London law firms and lawyers whom he believed to be part of such activity, which he claimed to be 'a moral abuse of the law, and they know it'.
David Davis also accused those with nefarious intentions of using the UK justice system 'to threaten, intimidate and put the fear of God into British journalists, citizens, officials and media organisations', and added 'This is lawfare—lawfare against British freedom of speech, lawfare against the freedom of the press, and lawfare against justice for our citizens. Lawfare is the misuse of legal systems and principles by extraordinarily rich individuals and organisations to destroy their critics and opponents.'
The effects of legal intimidation are not felt just by the groups named by David Davis. UK regulatory bodies are not exempt, and Clive Efford (Labour, Eltham) said that individuals in those regulatory bodies are targeted in order to silence them. This has the effect of menacing the conduct of due diligence against potentially corrupt actors who would threaten the health of our institutions. 'There is a massive potential issue if we allow bad actors into our energy, food or telecommunications markets' (Bob Seely).
'Lawfare' has now joined 'professional enablers' as a term of criticism when others describe the practices of some in our profession. The point about these words and phrases is that, once they are lodged in public discourse, they are very difficult to remove and even to argue against. There is a danger that, if we do not act on this matter, damaging labels will stick to us for a long time.
There were inevitable calls for our own professional regulator to step in, given the misery and gigantic bills inflicted on those whom the rich and powerful are trying to silence. A number of cases were cited, with names, background stories and the exorbitant cost of litigation that they faced.
Liam Byrne (Labour, Birmingham, Hodge Hill) said of legal regulators: 'it is now time for the regulatory body to pass new rules to ensure these firms follow a good model of litigation principles that ensures rules of good conduct and even liability for clients who refuse to pay their bills when they lose their case'.
Sir Roger Gale (Conservative, North Thanet) said: 'I cannot help but feel that the regulatory bodies of the solicitor profession and the Bar need to ask some rather more searching questions.'
Of course, much of the debate circled around the need to pass legislation against intimidatory litigation of this sort, so-called anti-SLAPP legislation (where SLAPP stands for strategic litigation against public participation). But, as the Gazette pointed out, there were other suggestions more directly affecting our profession: a foreign agent registration act which would apply to lawyers, and 'a windfall tax on the law firms making millions from the misuse of our courts' (Liam Byrne).
This should now be a matter of urgent concern for our professional bodies.
Jonathan Goldsmith is Law Society Council member for EU and international matters and a former secretary general of the Council of Bars and Law Societies of Europe. All views expressed are personal and are not made in his capacity as a Law Society Council member, nor on behalf of the Law Society