Michael Gove must prove his commitment to the rule of law, or justice will be relevant to fewer people.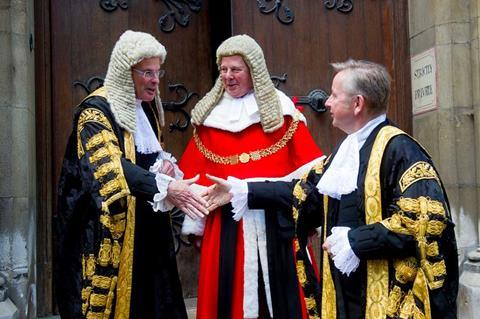 Solicitors can be forgiven for attacking the passages in Michael Gove's inaugural speech that seemed to affect them the most.
City lawyers resented his observation that not enough of them were doing pro bono work. Legal aid lawyers, who launched a boycott in support of access to justice, resented a concession that seemed to favour the criminal bar.
And Gove's political opponents may wonder whether a Conservative lord chancellor – whose predecessor had done so much damage to legal aid – can now deliver a 'one-nation justice policy'.
But Gove's first public commitment is one we should never let him forget. 'The most important thing I need to defend in this job – at all costs – is not a specific political position, but the rule of law.' He spent the rest of his speech to the Legatum Institute thinktank explaining that the key to doing more work for less money was court reform.
Recommendations for streamlining criminal proceedings had been put to the justice secretary by the lord chief justice, Lord Thomas of Cwmgiedd, and the most senior criminal judge, Sir Brian Leveson.
To their profound relief, Gove seized on their recommendations. 'It is my intention to do everything I can to support the lord chief justice, Sir Brian and his colleagues in their work,' Gove said. 'Sir Brian Leveson's report on the need for change in our criminal justice system makes the case compellingly. He argues with great authority and makes a series of wise recommendations. They need to be implemented with all speed.'
Leveson's recommendations were published in January and amount to a series of commonsense procedural changes, some of which are already being put into effect. He also pulled together some more wide-ranging proposals – such as allowing defendants to waive the right to jury trial and reducing the number of appeals from magistrates' courts – that need to be considered by parliament.
Legislation would also be needed for a far-sighted sentencing reform currently being developed by the Law Commission. Its aim, as described in a consultation paper last week, is nothing less than a single sentencing statute that would act as the first and only port of call for all sentencing courts. In sharp contrast to the current law, which is to be found in hundreds of overlapping provisions scattered across dozens of statutes, the new act would set out the relevant sentencing provisions in a clear, simple and logical way, allowing for all future updates to be made in a single place.
In his speech last month, the justice secretary also gave his blessing to reform of the civil courts. Some disputes could be resolved without the need for formal court hearings, he argued. 'Thanks to pioneering work the judiciary have commissioned from reformers like Professor Richard Susskind,' Gove said, 'there is now a huge opportunity to take many of these disputes online.'
Gove confirmed that the government would invest more than £700m in updating courtroom technology. 'This reform programme could liberate tens of thousands of individuals from injustice and free hundreds of thousands of hours of professional time,' he said. 'Online solutions and telephone and video hearings can make justice easier to access and reduce the need for long – and often multiple – journeys to court. And we can reduce our dependence on an ageing and ailing court estate, which costs around one-third of the entire courts and tribunals budget.'
That means selling off redundant buildings and making more flexible use of what's left. It also means courts sitting part-time in rented premises. It will be for the judges, acting through the courts and tribunals service, to decide what courts to close. But Gove accepts that he must take ultimate responsibility for what may prove to be unpopular decisions.
The lord chief justice welcomed Gove's support for the judges' proposals. 'I regard his acknowledgement that this is a policy that can be taken forward, subject of course to the final financial agreements, as very welcome and very important for everyone in our country,' Thomas told me in a rare interview. He dismissed suggestions that new ways of delivering justice would mean a decline in quality.
'Our traditional way of doing things has, unfortunately, become unaffordable to most people. However, if one can simplify the process… we think they will get an equally good decision, but delivered at a fraction of the previous cost.'
As the lord chief justice said, failure to act now will mean that justice becomes relevant to fewer and fewer people. 'This gives us an opportunity to reinforce the centrality of justice and reconnect justice with ordinary people – and to show them how important it is in their daily lives, to the holding of government to account and above all to our economic prosperity.'
We really have no choice.