I try to avoid beginning pieces with statistics. But these will make your jaw drop. If you bring an appeal to the Social Security Tribunal against the government's refusal to award you a personal independence payment, there is a 73% likelihood that you will succeed. In the Special Educational Needs Tribunal last year, the overturn rate for local government decision-making was 89%.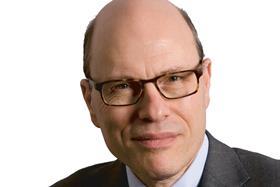 Sir Ernest Ryder, the senior president of tribunals, explained in a speech last month that judges need statistics like these because preventing government errors is better than remedying them in court. If the judges could provide case data to regulators and others, he argued, decision-making could be improved. Ryder acknowledged that the figures would have to be shared on an anonymised and unattributable basis. But that should lead to greater access to justice, particularly for the vulnerable.
All this assumes that the data is being collected, processed and made available only for proper purposes. A report published last week tells us that it is not. The current £1bn court digitisation programme provides the ideal opportunity to put that right.
Dr Natalie Byrom is director of research at the Legal Education Foundation, a grant-making charity that seeks to improve public understanding of the law. To help HM Courts & Tribunals Service (HMCTS) appreciate what data was needed and how it could be collected, Byrom was seconded to the public body as an unpaid expert adviser for three months at the end of last year.
'There is an urgent need to ensure that HMCTS collect the data necessary to deliver on their public commitments in relation to evaluating the impact of reform and facilitating continuous improvement,' Byrom reports. 'The current reform programme is fundamentally altering the processes through which justice is delivered and it is incumbent on reform leaders to demonstrate (or create the data that enables others to demonstrate) that new systems do not impede access to justice by creating barriers to bringing a claim.'
Fine words; but what needs to be done? First, and perhaps most controversially, Byrom's report recommends that HMCTS considers the benefits and risks of introducing ID numbers for each court user. Individuals would have to provide personal identifiers each time they used a court service.
"If even a few of Byrom's recommendations are accepted, HMCTS will begin to build up a hugely valuable database that should help it run the courts and tribunals more efficiently. But who should own and control the data?"

Dr Natalie Byrom, director of research, Legal Education Foundation
Experts in privacy law and data ethics should be consulted to ensure that the data is captured, stored and used in a manner that respects established legal and ethical requirements, Byrom recommends. But tracking individual litigants would provide a detailed understanding of how people used the courts.
Byrom also wants HMCTS to start asking all court users 13 questions designed to assess their level of vulnerability. These would include questions on disability, income, knowledge of English, race and religion, gender, sexual orientation and fear or distress relating to the case. Replies would be optional.
Byrom's recommendations were welcomed by Susan Acland-Hood, chief executive of HMCTS. 'We have already made good progress in many of the areas highlighted,' she said, 'and, alongside the senior judiciary and Ministry of Justice, will work carefully through all recommendations before setting out our plans in full.'
If even a few of Byrom's recommendations are accepted, HMCTS will begin to build up a hugely valuable database that should help it run the courts and tribunals more efficiently. But who should own and control the data?
Last month, Doctrine, a French case law publisher, announced that the MoJ had given it written permission to download cases in bulk from BAILII, a charity that provides free access to court judgments. In response, Sir Ross Cranston, the former High Court judge who chairs BAILII's trustees, said the government's letter to Doctrine had been written without consulting the charity and in ignorance of its status. 'No one can download judgments from our website without our permission,' Cranston tweeted.
Meanwhile, a government-supported legal access challenge fund is providing development grants to broaden access to justice. One project, called Litigation Friend, will use artificial intelligence to analyse thousands of employment tribunal judgments and help claimants and employers decide whether to fight or settle. What is not clear is whether the analysts will have to pay for access to these judgments and who will pocket the fees.
In his lecture last month, Ryder said information obtained by digitising court processes may be held by HMCTS, the MoJ or other government departments. But, he insisted, it was the judges who controlled it: 'Use of this information is … a matter for the judiciary to determine'.
He was right to say so. But senior judges must fight to make sure that happens. They have not been receiving all the information they need from HMCTS. And they will have to make absolutely sure that sensitive personal data – and intelligence that could give wealthy litigants an unfair advantage – are not sold to the highest bidder.