I've been clear from the outset that our review of criminal legal aid isn't just about pay and conditions – as important as they are. It's about seizing the opportunity to transform our whole criminal justice system for the better.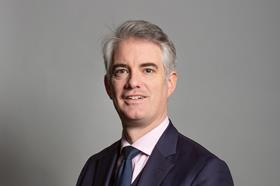 The reforms we set out in March included a proposed £135 million a year investment, and an immediate pay uplift, to give the sector the boost it needs right now, as recommended in the Independent Review of Criminal Legal Aid.
Yesterday marked a critical step in that journey, as we announced the first phase of our reforms – a 15% increase to most criminal legal aid fees.
I'm restless to move on to the next phase and hope Law Society Gazette readers, as valued members of our legal profession, will join me. We want to drive forward a better criminal justice system for all who work in it, and above all, for the public who rely on it.
Our phased approach to reform had the support of all our stakeholders, including the Law Society, Bar Council and Criminal Bar Association.
The reasoning behind it is straightforward. It allowed us to act quickly to introduce an uplift, while laying the groundwork for more complex, wholesale reform.
Had we tried to reform everything at once, it would have delayed the initial fee increases that the sector so urgently needs - and that have now been confirmed for September.
I know that some would have liked us to go faster, but we've delivered this pay boost as quickly as possible - given the parliamentary process and operational changes needed, and the importance of fully considering our consultation responses.
So, getting remuneration right is vital. But, like the Independent Review, our ambition is for long-term transformation of criminal legal aid.
Our consultation proposed a number of longer-term changes. We'll publish our full response to these – driven by the evidence and the views of the sector – in autumn.
This second phase of our reforms will be of interest to all practitioners, including proposed changes to the Litigators' Graduated Fee Scheme (LGFS). The Pages of Prosecution Evidence element is one of the areas we haven't increased initially due to the 'perverse incentives' highlighted in the independent review. We know that LGFS reform could be complex, but any decisions will be rooted in evidence, and our work with stakeholders.
Our consultation also covered reform of the Advocates' Graduated Fee Scheme (AGFS), specifically looking at written work, special preparation and how Section 28 cases are paid. Now we've finished our urgent work to uplift fees, we are considering our options for longer-term reform, with more detail to come in the autumn.
As well as reform to fee schemes, we're considering wider changes, including introducing a new advisory board to help shape legal aid policy, and reforms that will make for a more diverse criminal legal aid profession.
This includes making it easier for CILEX professionals to become duty solicitors without having to achieve extra qualifications and finding ways for duty solicitors to work remotely – benefiting those with caring responsibilities.
We are also considering the wider roll-out of the promising 'opt out' trials for children. This is an initiative where children automatically receive legal advice, currently taking place at Brixton and Wembley police stations.
While it's still early days, having visited both trials, I was struck by the difference they are making – particularly in reducing custody time. Our consultation sought views on expanding this trial to other groups, and we'll say more about this in the autumn.
For me, the trial shows the importance of early engagement in the system which was also one of the key lessons from the Independent Review. This is why we are not only increasing police station fees by 15% but also considering further reform.
But, no matter how much we improve early engagement, there will always be people who reach the Crown court for the most serious offences.
For this we need high quality advocates. I have the greatest respect for our criminal barristers, but I'd rather they focused their unique skills of persuasion on criminal defence, than on the 'picket line' - especially in light of our fee uplift, which means a pay rise of £7,000 for the typical criminal barrister. As I've said, we are now considering proposals for further reform of AGFS and want to work with the Bar Council, CBA and others on this.
For those who took part in disruptive action this week, going back to work doesn't mean your arguments for further reform will have less force.
We have heard them loud and clear, and we're committed to the long-term reform of legal aid. We are carefully considering all the responses to our consultation and welcome further engagement. The only impact of further strike action will be to worsen delays for victims. 
This is a critical moment for legal aid reform. We aren't just increasing spending on fees as recommended by the Independent Review. We're investing in wider access to justice through the Means Test Review consultation. This will mean that two million more people in England and Wales will be eligible for civil legal aid each year, with 3.5 million more eligible for legal aid to fund their defence at the magistrates' court.
The pandemic has been incredibly challenging, but the Crown court outstanding caseload has fallen. Let's build on that progress together. Forging ahead with these reforms as swiftly as possible, and creating a stronger system - rather than worsening delays for the public.
I'd urge the legal profession to work with us. After all, we share the same aims. We all want a better system – one that is stable, diverse, fairly paid and, above all, that delivers for all those seeking justice.
James Cartlidge MP is parliamentary under-secretary of state for justice