Towards the end of April, Mr Justice Snowden (pictured below) made a ruling that will not have made him popular with litigation funders.
His judgment in Davey v Money [2019] EWHC 997 (Ch) delivered a body blow to the so-called Arkin cap, which has afforded funders a generous level of protection from adverse costs by limiting their liability to the amount they invested in the case. The cap was already reeling from a previous punch delivered by Mr Justice Foskett in Bailey v GlaxoSmithKline UK Ltd [2017] EWHC 3195 (QB). While not toppled completely, the cap has certainly been left looking a lot shakier.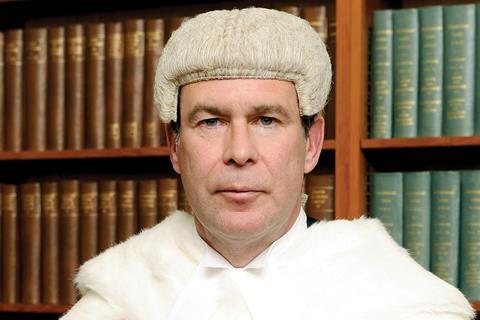 As readers of this column may recall, Bailey was an application for security for costs, in which Mr Justice Foskett got himself crossed off funders' Christmas card lists by declining to limit the amount of security ordered against the funder to the £1.2m it had invested in the claim. That was because he could not ignore the 'possibility' that the cap might not ultimately be held to apply. This was a bad omen for funders. But the latest ruling in Davey is much more significant, because it deals specifically with the status of the Arkin cap.
Ms Davey failed in her claim of breach of duty against the administrators of her company, and in April 2018 Mr Justice Snowden awarded indemnity costs to the defendants amounting to around £7.5m. When Ms Davey – who had no after-the-event insurance – failed to produce the £3.9m ordered as payment on account, the defendants went after the funders instead, seeking a non-party costs order against them.
Naturally, the funders waved the Arkin cap above their heads and asserted that they should only have to pay a maximum of £1.3m, as that is how much they had put into the case. Given that there was no prospect of recovering the cash from Ms Davey, this would have left the victorious defendants seriously out of pocket. So Mr Justice Snowden was left to rule directly on the issue of the Arkin cap and whether he was obliged to apply it.
Sadly for the funding industry, he concluded that the Arkin cap is best understood as a way of achieving a 'just result' in cases involving funders 'in all the circumstances of the particular case'. But it is not a 'rule to be applied automatically' in all cases involving commercial funders. So while it may still be possible successfully to invoke the Arkin cap, funders cannot bank on it. They will need to convince a judge that it should apply in their own particular case.
When you delve a bit deeper into Davey, however, there may be some comfort for funders. This is certainly an instance where applying the Arkin cap would have resulted in a very unfair result. Outlining the factors influencing his decision not to apply it, Mr Justice Snowden pointed out that funder Chapelgate had 'approached its involvement throughout as a commercial investment' and at one point had halved its own funding commitment, while keeping the same potential share in profit.
What is more, this was a case where the conduct of the claim was considered bad enough for the judge to order indemnity costs. And as the judge put it, 'a commercial funder chooses which claims to support', adding: 'there is not really a principled basis upon which the funder can disassociate itself from the conduct of those whom it has enabled to conduct litigation'. If the Arkin cap were applied, the funder would effectively be shielded from the consequences of the poor conduct, which would not seem just.
The funders in Davey sought to argue that a failure to apply the cap would discourage funders from investing in cases, because that commitment would be 'open-ended'. But while that argument may have had force 14 years ago, when Arkin was decided, these days it rings somewhat hollow. As the Gazette regularly reports, the litigation funding industry is having no trouble in attracting investors and new players are entering this thriving market all the time. It is hard to imagine that this ruling will do much to dampen the flames of a sector that is currently burning so bright. What it may do, however, is throw some fuel to the ATE insurers, who offer the solution to the problem of open-ended adverse costs.
In truth the Arkin cap has been under threat since at least 2009, when Sir Rupert Jackson recommended its abolition in his final report – noting that funders in other jurisdictions get on just fine without it. Its demise has been alluded to in a number of court rulings since then. Professional funders already place no real reliance on the cap when they are structuring their funding agreements. But if any funders out there are looking nervously at an unforeseen and sudden upward trajectory of their potential costs exposure following Davey, then they have not been reading the writing on the wall.
Rachel Rothwell is editor of Gazette sister magazine Litigation Funding, the essential guide to finance and costs. For subscription details, tel: 020 7841 5523

Rachel Rothwell is a Gazette columnist and editor of Litigation Funding magazine