Growing numbers of law students are aiming to become US-qualified, hoping to practise in north America or gain an edge in international legal practice. Marialuisa Taddia looks at the advantages and challenges of sitting US bar exams
THE LOW DOWN
'If only they didn't speak English,' was BBC journalist Jon Sopel's way of observing the pull that the United States has on our attentions. Generations have now been reared on US legal dramas, from Ironside to Ally McBeal and Suits – and many solicitors name To Kill A Mockingbird's Atticus Finch as an inspiration. The draw is also practical. The US is an enormous legal market and, drawn by the work and the rewards, more and more international law students and lawyers are pursuing the US bar. UK law schools are offering preparation courses for the New York and California bar exams, and some point out that there may be a saving to be made by becoming US-qualified, then taking the QLTS to become a solicitor. Failure rates are high, though, and exams are based on a legal education system that is specific in style and content to the US.
On an October morning in Las Vegas, the temperature is already 25°C and Cindy Nicolson, a newly minted attorney-at-law, is in her shorts. As a Scot, the contrast with back home could not be greater: 'It's wonderful living here. The weather is one of the perks. And then you have got so much to see in America.'
Nicolson, a law graduate from Abertay University in Dundee, says she 'wanted to travel and to do law, but didn't know what could give me both options'. Until she discovered that with her British LLB she could sit the New York bar exam.
Despite the considerable efforts involved, more and more international law students and lawyers are pursuing the US bar.
The climate, which differs widely from state to state, is not the main pull, however. 'The earning potential is insane,' says Nicolson, who was admitted to the New York State bar in August.
'Salaries in the US are generally a lot higher across the board,' according to Kushal Patel, an associate attorney in the New York office of Laura Devine Immigration (LDI), a transatlantic boutique firm. Patel, from south London, spent two years practising as an immigration solicitor in the UK capital before cross-qualifying into New York in 2016.
'Big Law' is a nickname for the country's biggest law firms, such as Cravath, Swaine & Moore, Milbank, and Simpson Thacher & Bartlett. They set the higher benchmark for first-year associate salaries, which rose to $190,000 in 2018 (excluding bonuses). The median first-year salary on 1 January this year was $155,000. That is an increase of $20,000 (14.8%) over the past two years, according to the National Association for Law Placement.
Raised in Scotland and with an LLB from the University of Glasgow, Paul Hughes qualified as a New York attorney and started as a litigator at 'white-shoe' defence firm Davis Polk & Wardwell in the city.
'Unlike in the English system, where I would have been required to undergo a traineeship, I was treated as a fully qualified associate from day one and given substantial autonomy,' he says.
'In addition to the thrill of living in Manhattan, I got the benefit of a much larger starting salary than I would have received in the UK, as well as the chance to be involved in some of the most interesting and challenging cases of the past decade,' says Hughes, who is of counsel at McAllister Olivarius, a UK-US boutique employment and anti-discrimination firm. Moreover, because the US has a fused legal profession, he was involved in 'all aspects' of the cases, including depositions and oral arguments.
Global options
The opportunities are not confined to private practice or the US. Nicolson says that when she sat the New York bar exam in July 2018 she met another candidate who was already dual-qualified in Australia and England, and was working as legal counsel in Singapore for a US company.
Professor Thom Brooks, dean of Durham Law School, which last year introduced an 'on-campus' preparation course for the New York and California bar exam, says that the main motivator for students to enrol on the course is to work in the US. That is particularly true for those interested in commercial and international law.
'There is strong interest from those who want to qualify and work in London while bypassing the LPC,' he says. 'The growing expansion of US law firms in London is a new major source of training contracts attracting highly talented graduates too. This is set to increase.'
Hughes is chair of American-Qualified Lawyers in London (ALIL), a social and networking group. He says that in the past few years there has been a notable increase in queries from UK-qualified lawyers seeking a US qualification, and vice versa.
'We are contacted for advice on a regular basis,' he says. 'UK-based students are increasingly realising that US firms offer a number of benefits not available at traditional English firms, including a higher starting salary and greater autonomy from an earlier stage.'
As business becomes more global, inevitably so does the practise of law. 'Students, and lawyers already in practice, are increasingly seeing the value in having cross-jurisdictional exposure and experience,' according to Hughes. 'This applies equally to transactional work and disputes work, both of which are increasingly international and cross-border in nature.'
Tapping into this demand means providers of cross-qualification tuition programmes have become 'more aggressive and effective in their marketing efforts', Hughes notes.
Founded in 1967, Barbri is a major player in the market for US bar review courses, both domestically and internationally. Its 1.3 million alumni include Barack Obama and Hillary Clinton. In 2015, the Dallas-based company launched Barbri International (incorporated in Ireland) to prepare non-US law graduates for the New York and California bar exams.
GETTING TO WORK
Having become US-qualified, the trickiest next step is securing a work permit.
For a US law firm, hiring non-US citizen lawyers to work in the country means going through 'a visa process which is very unpredictable' says Anastasia Tonello, managing partner of the New York office of Laura Divine Immigration, and global head of its US immigration team.
But there are ways around it. One is the L1 intracompany transfer visas for non-US citizens. These allow US companies to transfer employees to the US from their overseas operations. This is 'a much more likely scenario', according to Tonello, as most of the big US law firms have offices around the world from where they can send lawyers to the US.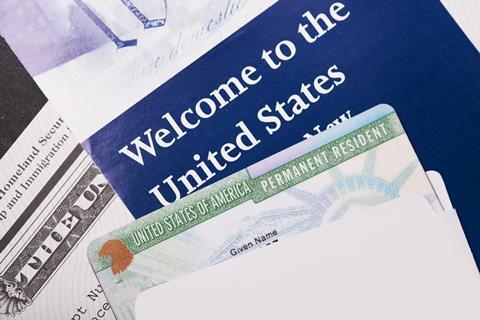 Another option is the E2 treaty investor visa, whereby companies owned by nationals of 'qualifying treaty countries' (for example the UK) can establish in the US and employees of the same nationality can then apply for individual E2 visas. Tonello's firm, which is UK-majority owned, employs British nationals under this arrangement.
Spouses of US citizens can apply for an immigrant visa, better known as the 'green card'. 'It technically takes three years after you have become a green card holder [to get US citizenship],' says associate attorney Kushal Patel, a colleague of Tonello who secured a green card through marriage. 'But actually obtaining the green card can take a while, especially in the current climate where there are a lot of delays,' he says. Most successful applications take about a year.
The spouses of people holding E2 or L1 visas are also allowed to work by applying for work authorisation. 'If you are a couple, the tip would be to leverage which of the spouses is able to get their sponsorship, and the other one can benefit,' Tonello advises.
Chris Jorgenson, Barbri's head of international bar review, says the global expansion of US firms has undoubtedly 'helped to raise the visibility of a US qualification'. Overseas student numbers have risen from 142 in 2015 to 781 this year, with a significant proportion (averaging 100-150 each year) based in the UK.
Taking the New York or California bar can raise job seekers' profile with US law firms based in London and in other international financial hubs such as Frankfurt, Hong Kong, Shanghai and Singapore, Jorgenson says. 'It can also be the basis for entry into practice as a solicitor by qualifying first in the US, then completing the Qualified Lawyers Transfer Scheme (QLTS) to [become] a solicitor in England and Wales,' he says.
Most of Barbri's overseas students pursue the US bar 'to complement their current qualification or to serve as their primary qualification for practice in their home jurisdiction', Jorgenson says, adding that only 'a smaller number' of Barbri's international students 'intend to emigrate to the US'. He concludes: 'Our alumni report significant career enhancement from being US-qualified. Particularly for those seeking careers in an international practice.'
Compared to the Legal Practice Course and Bar Professional Training Course, costing £17,000 and £18,000 or more respectively, the Barbri course is relatively inexpensive.
The course, which can be completed in six or 10 months, is primarily delivered online and costs $5,995 (about £4,700). For an extra $300, students can combine online study with classroom sessions held in cities such as London, Dublin, Paris, Dubai and Madrid.
The offline sessions are being delivered through recent partnerships with a number of universities, including King's College London, Durham Law School, and Paris Dauphine University.
British LLB students regard a US qualification as a more 'viable career track' than in the past, according to Jorgenson. Barbri has also partnered with City Law School, Queen Mary University of London and Middlesex University London. Students and alumni from those universities receive a discount on Barbri's course.
The costs of taking the US bar includes a registration fee to sit the exam ($750 for New York and $1,400 for California), plus the flight and accommodation, as it is best to arrive in the US at least two or three days before the exam to adjust to jet lag.
Barriers to entry
But aside from the costs involved, there are other hurdles to practising US law. The first is preparing for and taking the bar exam itself.
Admission to the bar is done on a state-by-state basis, and the vast majority limit eligibility to Juris Doctor (JD) graduates of law schools approved by the American Bar Association (ABA). The JD is a postgraduate degree that follows a three-year BA.
The states of New York and California are more open than most. The board of law examiners in New York accepts an LLB from a UK university, while the California board allows holders of a US LLM and foreign-qualified lawyers, such as solicitors and barristers, to sit the bar there. Only 25% of Barbri's international students take California's bar exam, with most (75%) choosing New York.
Anastasia Tonello, managing partner of LDI's New York office, was admitted in New York in 1999 after completing a JD from the University of Notre Dame in Indiana. She says that foreign-educated students are competing with candidates who have spent the previous three years at a US law school and two more months focusing on the bar exam.
Tonello, who is also an England and Wales-qualified solicitor, points to the 200 multiple-choice questions that make up half of the overall score of a bar exam.
'Americans are very used to multiple-choice questions,' she says. The perception in the UK is that this type of test 'would be easy, but it is actually very hard because you really need to know the answers. You can't just fluff your way through it'.
Once you pass the bar exam, the rest just falls into place

Cindy Nicolson, Abertay University graduate and Las Vegas immigration attorney
The bar exam involves two six-hour sittings taken over two days: one day of testing is essay-based and the other is the multiple-choice test – known as the multi-state bar examination (MBE) – where candidates are tested on areas such as constitutional law, criminal law and torts.
'Navigating such a time-sensitive assessment comprised of dense subject matter can be especially difficult for those applicants who are non-native English speakers,' says Jorgenson on the MBE.
Patel remembers his own exam preparation as 'very painful' and 'very intense'.
'There is a great deal of time that needs to be devoted to it,' he says, recommending candidates take two or three weeks off work before the exam to prepare. 'The main reason people fail is because they don't devote enough time or energy to it.'
'One of the most critical parts of preparing is just practising' so that 'you are physically and mentally up for' the two days of testing and are able to 'manage the pressure' advises Patel. This is where Barbri, and other providers such as Kaplan, come in, as they 'give you milestones that you should try to achieve' and have stacks of past papers.
'The best advice is to follow the study plan that Barbri gives you and that you do as many questions and practice exams as you can,' says Nicolson. She sat her exam in a 'huge hall' in Buffalo – an arena where Ariana Grande had held a concert. In July 2018, 9,679 students sat the New York State bar examination. 'It's nothing like what people back home will have experienced,' Nicolson says.
Which exam: hard or harder?
Covington & Burling partner Jonathan Gimblett arrived in the US in 1988 as a UK diplomat and a non-lawyer. In the last year of his four-year posting to the British Embassy in Washington he started a JD at Georgetown University Law Center. After graduation, he took the Virginia bar, joining Washington-based Covington as an associate in 2004.
'The difficulty of the bar exam varies from state to state,' he says. 'California's is notoriously difficult. Virginia's and New York's are generally considered to be of middling difficulty.
'It is worth paying the fees for a commercial bar preparation course. Without it, even as a US-trained [JD], it would have been very hard for me to master the material spanning so many different areas of the law in the time available. For those attempting it without the benefit of a US legal education, I imagine the challenge is correspondingly tougher.'
Either students are getting worse or exams are getting harder because, nationwide, pass rates have declined over the past decade, from 82% in 2008 to 69% in 2018, data from the National Conference of Bar Examiners shows. At 52%, California had the lowest success rate among first-time takers in the country, while it was 71% in New York.
Foreign-educated students perform significantly worse than their US counterparts. Bar exams take place twice a year, in February and July. In February 2019, there were 4,129 candidates for the bar exam in New York, including a 'record' 1,885 from overseas, or 46% of the total, the latest data from the New York State Board of Law Examiners shows. Only 45% of the foreign-educated candidates who took the exam for the first time passed it, compared with a 72% pass rate for graduates of ABA-accredited law schools. In California, only 31.4% of all such applicants passed the exam in February 2019. Jorgenson says that the alumni who follow Barbri's programme are 'reporting success rates that exceed the published pass rates'.
Life after the bar
Success in the bar exam is not the end of the story. For admission in New York there are further requirements, including the New York Law Exam, the Multistate Professional Responsibility Examination and 50 hours of pro bono service. But as Nicolson observes: 'Once you pass the bar exam, the rest just falls into place.'
As George Bernard Shaw wrote, 'England and America are two countries separated by the same language'. But the differences are not just linguistic. Gimblett was 'shielded from most relocation challenges' when he first arrived in the US as a British diplomat.
'From my experiences upon leaving the British Embassy, however, I recall spending a lot of time navigating the immigration formalities, getting myself set up under the US social security system and dealing with the complexities of the healthcare system.' Most of the US population has private health insurance.
COMING HOME: QLTS
For those considering the US bar as an alternative route to English qualification, it is worth noting that from autumn 2021 the Qualified Lawyers Transfer Scheme (QLTS) will be superseded by the Solicitors Qualifying Examination (SQE), a common assessment for all aspiring solicitors.
There were 722 QLTS transfers (out of 6,802 admissions) between 1 November 2018 and 14 October 2019, according to SRA data compiled for the Gazette. Of these transfers, 14% were US-qualified, mostly in New York.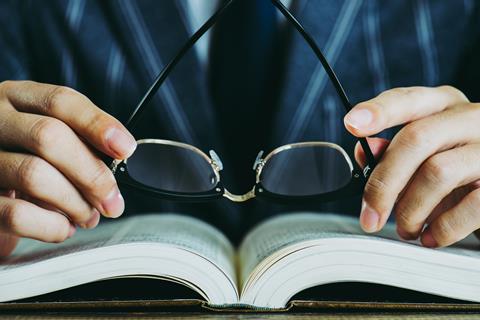 The jury is out on whether the SQE will have a dampening effect or lead to an increase in the number of people pursuing the US bar as a means to cross-qualify as a solicitor.
An SRA spokesperson told the Gazette: 'SQE tests functioning legal knowledge and the basic skills expected of a solicitor. This is what QLTS also tests, so it makes sense to ask foreign lawyers who want to practise in England and Wales to take the SQE instead, so both groups are assessed against a demonstrably consistent standard.
'It will provide assurance that all those who qualify, regardless of pathway, background or where they trained meet the consistent high standards we set on behalf of the public.'
The US also has a relatively deregulated labour market: only 75% of workers had access to paid leave in 2018. In the private sector, the average is 10 paid 'vacation' days after one year of service, increasing to 15 after five years, according to the Bureau of Labor Statistics. But that also depends on the employer. 'We are very lucky here that we take a more English approach,' says Patel – paid leave starts at 20 days at his firm.
For those pursuing their career in the Big Apple, the saying that the city never sleeps holds true. 'New York is a place for people who work all the time,' says Tonello, who barely has time to drop by the dry cleaners.
But the advantages of working as a lawyer in the US far outweigh the disadvantages. 'You can reap the rewards, you just have to work very, very hard,' says Nicolson, who practises in Las Vegas as a freelance immigration attorney. Although she is licensed in New York she can practise immigration law anywhere in the US. While state laws are jurisdiction-specific, federal laws apply across the nation, and include immigration, bankruptcy and social security.
'My boss is licensed in Wisconsin and has offices in California, Texas and Nevada, and he is not even licensed in any of those states,' Nicolson observes.
Her practice also allows Nicolson to travel extensively. 'Just to give you an idea of how cross-jurisdictional this is, I have flown to the other side of America [Connecticut] and done a trial in an immigration court [there],' she says. A week earlier, Nicolson appeared before a California federal court under the pro hac vice system, which allows attorneys licensed in one state to litigate in the state or federal court of another one.
Going federal
The increasingly multi-jurisdictional nature of practice is reflected in the rapid adoption of the Uniform Bar Examination (UBE). First introduced in 2011, the UBE is now administered by 36 of the 56 US jurisdictions, including New York, but not California. Under this system, an exam score in a particular UBE state can be used to apply for admission to another UBE jurisdiction, without the need to sit for another bar exam.
Under the UBE, each jurisdiction sets a minimum passing score of 260 to 280 – in New York the score is 266. Nicolson earned a 'high enough' result for most UBE jurisdictions, bar a handful. In practice, however, most jurisdictions still require a JD or at least a US LLM.
Patel, who now only practises US immigration law, says that he enjoys 'the creativity' it affords. Whereas in the UK the legal framework is 'very strict, rule-based – there are only certain ways of preparing and submitting an immigration application, and there are only certain documents that will be accepted – in the US there is a lot more discretion,' he notes.

In New York, there is not 'as much rigidity' as in the UK in the way people network for business or pleasure, he adds. There are no 'closed doors' nor 'any limits to what you could potentially achieve, as long as you are willing to put in the effort and the time', Patel says.
Gimblett, whose practice is a mix of international and US antitrust law, says that he enjoys 'the complexities that arise from the relationship between federal and state law and courts, the generally well-written and clear case law and, in the field of antitrust in particular, the rich history surrounding the development of the law over the last century and more'.
Gimblett, who recently relocated to Covington's London office, says that practising in Washington is 'unique' compared with other US legal markets.
'Because of the presence of the federal government, practitioners in Washington are much more exposed to regulatory and policy considerations, which is something I enjoyed as a former government official.' On a more personal note, he contrasts New York and Los Angeles with Washington, where 'you do not need to live far from the city centre to be in nice leafy suburbs'.
Hughes says his New York qualification has been 'hugely beneficial' to his career. He has since also become a solicitor via the QLTS and now practises a mixture of US and English litigation.
'I enjoy having a foot in both jurisdictions, and the opportunities this gives me to travel and enjoy the best aspects of both legal systems.'
Marialuisa Taddia is a freelance journalist