Criminal justice is falling apart and lawyers have had enough.
The criminal defence world is in turmoil as both solicitors and barristers take on the Ministry of Justice over its reforms to legal aid payments, amid increasingly outspoken claims that the criminal justice system is in crisis.
Criminal barristers are refusing to take on new defence work in Crown court cases as part of a national protest over the advocates' graduated fee scheme (AGFS), which they argue is the final straw after a decade of cuts has reduced legal aid fees by 40%.
Organised by the Criminal Bar Association (CBA), the protest is being supported by at least 80 chambers, including Doughty Street, Matrix and 25 Bedford Row.
The CBA met with the Criminal Law Solicitors' Association (CLSA), the London Criminal Courts Solicitors' Association (LCCSA), Big Firm Group and Justice Alliance last week.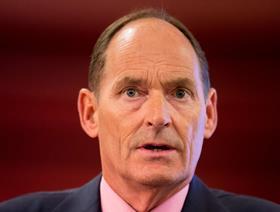 CLSA chair Bill Waddington says they are planning days of joint action, stressing the MoJ cannot ignore the growing storm over the damage its lack of investment is causing to the justice system.
The LCCSA, CLSA and CBA unveiled a 'Charter for Justice' at the Law Society last month. But, on the eve of the CBA's direct action, it inevitably focused on how to ensure unity between the two sides of the profession.
LCCSA president Greg Powell told practitioners to hold district meetings to identify common goals, such as firms not putting their higher-court advocates in place of the bar, stressing there should be 'no separate, secret legal meetings, no backdoor deals'.
The Law Society is already fighting its own battle with the MoJ over the litigators' graduated fee scheme (LGFS), which remunerates solicitors for Crown court work. The reforms, introduced in December, reduce the cap on the number of claimable pages of prosecution evidence from 10,000 to 6,000.
Richard Miller, the Society's head of justice, expects its judicial review of the scheme to be heard in the summer. 'Our case is that the decision is unlawful because it doesn't take proper account of evidence of fragility of the market and is based on a false understanding of how the scheme works.'
But the challenges facing criminal defence practitioners do not stop there, with the profession facing a 'demographic time bomb' as the next generation of lawyers is put off by poor salaries and difficult working conditions (see news, p3). And there are, of course, major issues around disclosure and forensic science, alongside court closures, poorly maintained buildings and malfunctioning technology.
It will take a few months before the full impact of the CBA 'strike' really hits home in the Crown court as the changes only apply to representation orders from 1 April. But the CBA is already looking at how it can support advocates who will face significant hardship if this turns into a long fight.
The MoJ says it 'greatly values' the work of criminal advocates and will continue to engage with them over concerns about the new scheme. But it also weighed in with a warning: 'Any action to disrupt the courts is unacceptable.'
The ministry is keen to stress that it is 'extremely disappointed' by the CBA's position, maintaining it is 'completely incorrect' to say the changes represent a cut in fees.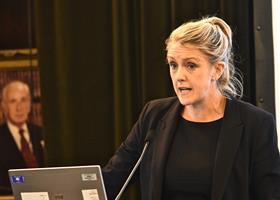 CBA chair Angela Rafferty QC, who warns the action may escalate, hits back: 'The MoJ says it greatly values our work. This is not borne out in the way we are treated. Degradation and slashed funding have been imposed across the justice system to the point where even the government's own MPs know it is broken.'
It is only the professionalism and commitment to justice of barristers and solicitors that has kept the system going, she maintains.
'Without us, the recent disclosure debacles would have resulted in miscarriages of justice,' she notes. 'The new scheme is not the one the bar devised. It was the government who insisted that the new scheme be "cost-neutral" – there is no new investment.'
And without that, she warns, 'the professions will become unsustainable and die. All criminal lawyers have had enough'.
Powell, managing partner of London-based Powell Spencer and Partners, says this could be a 'watershed' moment. 'I think the MoJ will come to the table,' he says. 'Unrepresented defendants in the Old Bailey have the media's attention in the way a 16-year-old in a police station does not. The question is can the MoJ fundamentally change the position vis-a-vis the Treasury?'
The pressure will quickly become intense. Cases involving serious crime, including murder, sexual assault and violence, are now transferred very quickly to the Crown court for pre-trial preparation hearings.
Staff at one large Crown court centre warn it will be difficult to deal with pleas or set a timetable for trial if the defendant is not represented by an advocate. 'Early decision-making is very important,' staff explain, 'and any delays will have knock-on effects, not just on defendants but also on complainants and witnesses.'
So what was the MoJ doing to address an escalating situation as the Gazette went to press? A spokesman said it was 'taking steps' to ensure legal representation is available for defendants. Asked about the Public Defender Service, which is part of the Legal Aid Agency (LAA), the spokesman said its advocates 'are available' to take instructions. However, it only has five QCs, 10 barristers and three solicitor-advocates listed on its website so capacity to take on cases will be limited.
There are potential regulatory issues for defence solicitors; the Solicitors Regulation Authority says it is 'watching developments'. But its guidance during a previous CBA action said solicitors would be expected to make proper efforts to find a replacement advocate, adding: 'You would be well advised to document all such efforts made.'
The Law Society is careful to stress that it is not calling on solicitors to stop taking on criminal work as that could fall foul of competition law.
Where counsel declines a brief solicitors are advised to liaise with the court and the LAA to manage the impact. Its guidance says unavailability of counsel does not create an obligation on a solicitor-advocate in the instructing firm to take over the work. Under the Code of Conduct, it also points out, solicitors should not undertake work outside their competence.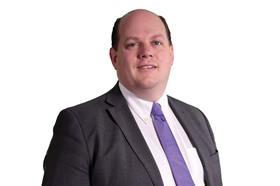 Miller acknowledges that practitioners are potentially in a very difficult position. He says there will 'undoubtedly be scope for ill-feeling' if solicitor-advocates take on work barristers have turned down. 'But the bottom line,' he says, 'is that if the work is economically unviable under the new fee scheme, firms won't be doing themselves any favours by taking it on.'
Will Richmond-Coggan, partner at Pitmans Law and chair of the Solicitors' Association of Higher Courts Advocates (SAHCA), says solicitor-advocates will make their own decisions whether to refuse a brief.
'Like the criminal bar, many solicitor-advocates have real concerns about the AGFS, concerns which do not seem to be registering with the MoJ,' he says. 'If the effect of the changes is to price some defendants out of proper representation, the consequences will be far-reaching. Some of our members will no doubt feel that this justifies a proportionately serious response.'
He stresses it would be 'improper' for any firm to apply pressure on a solicitor-advocate to accept an instruction which is beyond their competence, and any advocate would be duty bound to refuse the instruction. Members can discuss any ethical dilemmas, in confidence, he adds, with SAHCA's support service.
With some irony in terms of timing, lord chancellor David Gauke recently said that he wanted to fix the 'shattered justice system' – something practitioners say could be done with relatively modest investment.
Waddington, director and head of defence advocacy at Hull-based Williamsons, says: 'Everyone in the two professions takes the view that we need more money to be injected into the system, which is crumbling.' The only way to fight the cuts, he adds, is to stand together, 'otherwise we will be fighting among ourselves'.
Solicitor-advocate Attiq Malik, who sits on the CLSA for the Society of Asian Lawyers, is a director of Luton-based Liberty Law Solicitors.
'We are renowned for having one of best criminal justice systems in the world, but it can't work unless the government invests in it,' he says. 'A key component has to be the advocates. The current system is so bad that good-quality lawyers are leaving and that will affect access to justice.'
His firm will not take on briefs turned down by counsel, in solidarity with the CBA. 'The same arguments around fees affect us with the LGFS and we have to support each other,' he says.
'This strike will have a massive impact. The fact that a defendant can't get an advocate in a murder case is huge. These are sought-after cases in terms of money and career path. If these are being turned down so will routine cases. The case at the Old Bailey went viral and should have a sledgehammer effect on the MoJ because we know how much they love their PR.'
Letitia Duffus was initially called to the bar but later qualified as a solicitor and now works at the three-partner central London criminal practice Shaw Graham Kersh.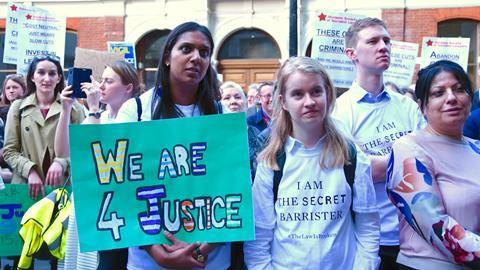 'I am a solicitor-advocate but I am not here to benefit from cases I wouldn't have got otherwise,' she says. 'That would just undermine the CBA's action and it is important solicitors and barristers stand together on this.'
Richard Atkinson, chair of the Law Society's Criminal Law Committee, is managing director of the Kent branch of Tuckers, the biggest criminal defence practice in the country. 'It is so self-evident that the system is falling apart, with judges from Taunton to the Old Bailey prepared to say this too,' he says.
The CBA action comes at a time of heightened tension, with more murders in London than in New York, the police struggling to cope with drug gangs, and knife and sex crimes, and cases collapsing because of non-disclosure of key digital evidence by police and prosecutors.
'I understand why the criminal bar has got to this position,' he says. 'After 25 years of continual cuts, you reach a point where you have to decide whether you can carry on. One option is to throw in the towel and walk away – which is certainly the reaction of many young lawyers – or stay and fight for what you believe in.'
David Sonn, director of London-based Sonn Macmillan Walker, describes the daily struggle to survive in a criminal practice, with 20 solicitors and work split 75% legal aid and 25% privately funded cases.
The margins are wafer-thin. Much of the work done under legal aid is at a loss but subsidised by larger legal aid cases. But that will be affected by the changes to the LGFS introduced last December.
'I have a money-laundering case with 56,000 pages of evidence,' explains Sonn. 'If legal aid had been granted before December, and assuming there is a trial, the fixed fee would have been around £90,000 for the first 10,000 pages.
'If a junior solicitor were to read the other 46,000 pages, the hourly rate is roughly £45. That wouldn't be a disaster as the fee for the first 10,000 pages would have subsidised the derisory rate paid for reading and preparing the rest of the case. The fixed fee is now capped at 6,000 pages. The reduced fee of around £50,000 means a bottom-line reduction of roughly 40%.
'I would still take the case on but every year rates and rent go up, conscientious staff expect salary increases but legal aid fee income goes down. The supposed redistribution of the budget to pay more for smaller cases is an illusion.'
The only way to make such cases viable is to deploy less-experienced staff, he says. 'That causes a downward spiral of quality and income in the most serious and complex of cases. An hourly rate of £31 is paid for a paralegal to read the 50,000 pages not paid as part of the reduced fixed fee.'
The difficulty for the profession has been getting politicians and the public, too often swayed by stories of 'fat cat' lawyers, to press the government to invest in the criminal justice system.
But that lack of engagement may be changing. In an enterprising move, the CBA and Young Legal Aid Lawyers launched a crowdfunding appeal to send all 650 MPs a copy of The Secret Barrister: Stories of the Law and How It's Broken and the YLAL's report on 'Social Mobility in a time of Austerity'. It hit its initial £10,000 target within three days.
The secret barrister is donating all royalties from this element of the campaign to the Bar Pro Bono Unit and the publisher Pan MacMillan is matching this with a donation to be split between LawWorks, the solicitors' pro bono charity, and Legal Action Group.
Amid all the furore came the announcement of a recruitment round to select the director of public prosecutions, Alison Saunders' replacement. She is becoming a partner in Linklaters' business crime team when her five-year tenure comes to an end in October.
Saunders has come in for criticism for her stewardship and Waddington says she should not have minimised the recent disclosure failures: 'By never speaking out about being under-resourced, she almost protected the paymasters. On the other hand, I am not sure one person can take responsibility for the CPS's huge number of cases – it is a hell of a responsibility.'
Demographic time bomb
What is also causing huge concern among practitioners is where the next generation of criminal lawyers will come from. The Law Society says legal aid fees are so unsustainably low that there are areas where criminal defence lawyers are already becoming extinct.
Unless the government is prepared to address these issues, president Joe Egan feels it would be 'wholly irresponsible' of the Law Society to encourage young lawyers with high student debt to enter an area of practice where there appears no prospect of it ever being economically viable.
Miller says there are already 70 duty schemes of 350 where the youngest lawyer is aged over 50. 'We have been warning this demographic time bomb is coming,' he says. 'When the current crop of firm owners retires, there will be no one to replace them.'
Sonn says: 'If I thought my children would become criminal lawyers, I would be horrified. That isn't how it should be.'
But talk to the young coming into crime and they are passionate about the work.
UNDER THE MICROSCOPE
When Forensic Science Regulator Gill Tully made an impassioned plea in January that 'we cannot continue on this path' of continuous cuts to police budgets and legal aid, little did she know how prescient she was being.
A week later, the third largest forensic science company Key Forensic Services (KFS), which was carrying out work in 2,000 cases (including murder and rape) for 30 police forces, went into administration.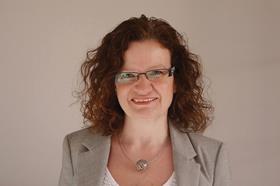 Police had to plough millions into supporting KFS until a buyer was found so it could finish processing cases to avoid the risk of vital evidence being compromised or lost.
KFS was one of the firms given the responsibility of retesting samples thrown into question by alleged data manipulation at the Randox Testing Services laboratory (reported by RTS itself, which is cooperating with a police investigation). Tully says KFS going into administration delayed the work.
KFS has since been bought by CorpAcq, a buy-and-build acquisitions group. Most of KFS' 260 staff have been kept on. Tully tells the Gazette there are some excellent providers and it was vital not to lose KFS staff expertise: 'But the notion that you can keep taking money out of forensic science year after year and expect to get an acceptable level of service is just not realistic.'
She hopes a Private Member's Bill – the Forensic Science Regulator Bill – will finally put her role on a statutory footing: 'It is up for its second reading on 27 April. If it fails, I will be pushing very hard for the government to take it forward.'
She says it is vital the regulator has, 'as a last resort', the power to prohibit an organisation from carrying out any work for the criminal justice system until it meets the required quality standards. 'Even the threat would make a big difference in getting organisations to meet deadlines,' she says. Are there any signs the government is listening? She is having 'constructive discussions' with the Home Office and Ministry of Justice 'but we are not where we need to be yet'.
Tully is now in her second three-year term as regulator and is relieved that two new people are joining her three-strong team later this month. 'You get what you pay for,' she says, 'and if you only pay for the cheapest forensic science, you will get very routine stuff being delivered without innovation or investment in the knowledge needed to take it to the next level.' (See also Rozenberg, p11).
One of his firm's trainees, Jessica Dunk, 28, qualified in March after joining the firm as a paralegal in 2015. She chose crime and extradition because she wanted something with a lot of client contact and quickly became police station-qualified.
'People tried to put me off, saying you won't earn any money and there is no career progression,' she recalls. 'Of course you will never earn what you could in other fields but, with police station work, it is not as bad financially as I feared.'
She advises finding out through work experience 'if crime is right for you as it can be all-consuming'. But she hopes the recent disclosure cases will make people realise the vital work defence solicitors do: 'I love my job. It is not always the easiest, but I come to work every day and enjoy it – but no one knows what the future will be in five or 10 years.'
Matthew Claughton, managing director of Manchester-based Olliers, says the succession crisis 'is really occupying my mind as a 54-year-old who wants his firm to be here when he is gone'.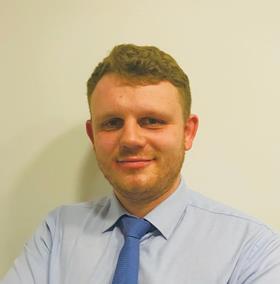 When Forensic Science Regulator Gill Tully (pictured) made an impassioned plea in January that 'we cannot continue on this path' of continuous cuts to police budgets and legal aid, little did she know how prescient she was being.
Eight of Olliers' 13 lawyers trained with the firm and Claughton says he is not ruling out taking on more trainees. The firm is also looking at paralegal apprenticeships and is keen to hear from students who would like an unpaid, week-long internship this summer to try out a criminal defence firm.
His son Alex Close-Claughton, 24, a politics graduate, did his police-station accreditation with the firm to see if he enjoyed the job. Last September he started from scratch with the firm as a solicitor apprentice, which will take him through his law degree and training to qualify in 2023, saving the cost of the law conversion course and the LPC.
'This is better for me than the traditional route as I can work while I study,' he says. 'It is important to encourage the young into criminal defence. Many will have a better understanding of issues such as cybercrime, the dark web and the massive influence social media can have on behaviour.
'But it also seems to me that if we don't have younger people entering the profession we risk losing skills and expertise which should be being passed on by those soon to retire.'
With so much turmoil in the criminal justice system, practitioners are relieved one pet project of the MoJ – the deeply unpopular flexible hours court pilot – has yet to materialise. The MoJ says 'further information will be set out in due course'.
Amy Cox, head of litigation at Sonn Macmillan Williams, says the scheme is 'unfeasible and particularly difficult for women. Men also work part-time and have childcare responsibilities, but this more often affects women. I work till 4.30. If I had to do court cases later it would have a big impact.'
With so much at stake, Claughton says 'the message must be that the quality of our justice
system goes to the quality of our society. They have to run together – and if we don't care about our criminal justice system, do we really care about society?'
SUCCESS IN A 'MACHO' ARENA
Next year is the centenary of women in the law, but how much has changed in the often 'macho arena' of criminal law?
For barrister Katy Thorne QC (pictured) of Doughty Street Chambers it is time to knock down the barriers, both visible and invisible, to women succeeding in criminal law.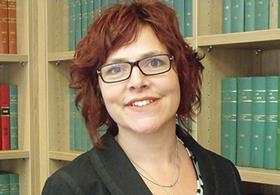 Driven by frustration that too few women are reaching the top of the judiciary, the bar or the solicitors' profession, and by a desire to help the next generation, she set up Women in Criminal Law (WiCL).
This brought together women at all levels, from its patron Lady Justice Hallett, vice-president of the Court of Appeal criminal division, to those just starting out in their careers.
Founding member Mrs Justice Cheema-Grubb, the first Asian woman to become a High Court judge, joined because of her concern that 'excellent, experienced lawyers' are leaving the profession.
'The challenge of achieving a successful practice at the same time as fulfilling family commitments can be met,' she says. 'There are many inspiring examples, including our patron. I hope that strong connections with like-minded peers who can pool experience and share solutions will help good women persevere when it's tough.'
Thorne says the practicalities 'just don't lend themselves to female-friendly policies', with police stations at their busiest late at night. WiCL will offer soft-skills training, help with applying for judicial roles, networking and mentoring to give women the confidence to succeed in what can be a 'very macho arena'.
Jessica Dunk, 28, who recently qualified at London practice Sonn Macmillan Walker, says there is an element of being 'patronised' as a young female duty solicitor at a police station. 'Officers call you "babe" and "love" and, when you are new, officers spot that straight away and it can be intimidating. I have become adept at shutting that behaviour down. But I hope that young women coming into this work will get involved with WiCL and gain the confidence I wished I'd had when I started to say this isn't acceptable.
'Women face different challenges to men in any type of work and it is so important to have a group that advocates for them.'
Women do want to get to the top, stresses Thorne: 'They are good enough. And sorry, Lord Sumption — women don't want to wait 50 years to have the opportunities men have always had.'
Grania-Langdon Down is a freelance journalist