With trailblazer apprenticeships on the horizon, Grania Langdon-Down looks at what law firms and in-house teams need to consider.
Apprenticeships are high on the employment agenda following the government's ambitious commitment to deliver three million across all sectors of the economy by the end of this parliament – the equivalent of more than one apprentice starting every minute over the next five years.
In the legal sector, the focus in England is on the three new employer-led 'Trailblazer' apprenticeships in law. From September, these will enable candidates aged 18 and over to undertake an apprenticeship lasting from two to six years to become a paralegal or legal executive or to qualify as a solicitor.
The standards for the three apprenticeships were designed by a committee of law firms, in-house legal teams, professional associations, training providers, the Solicitors Regulation Authority (SRA) and the Chartered Institute of Legal Executives (CILEx). They were approved by the government last summer.
In Wales, the level 7 higher apprenticeship in legal practice was launched last September as a new vocational pathway for new and existing staff to train as a solicitor. Skills policy is a devolved issue and the Welsh framework, also employer-designed, is fundamentally different from the English standards in terms of its make-up and assessment, according to Steven Poss, development specialist at Skills for Justice.
A trawl of career and legal websites shows a growing appetite for apprentices. Among the first to announce its plans was ITV, which has partnered with CILEx Law School and City Law School, and will take on its first solicitor apprentice on a starting salary of £18,000 in September.
But taking on an 18-year-old school-leaver for a six-year apprenticeship requires commitment. This year is also going to be one of transition, with much still to be clarified around the new Digital Apprenticeship Service and the apprenticeship levy, due to be introduced in 2017.
The development of the solicitor apprenticeship also comes as the SRA seeks to revolutionise the qualification process. So it could be an integral part of the proposed new regime, with apprentices required to pass the Solicitors Qualifying Exam (SQE). But if the SQE doesn't go ahead, the SRA will have to put in place a similar two-part exam, run by an independent assessor, for solicitor-apprentices.
So what do firms and in-house teams need to consider?
The first message is that it is complicated. Even those who have been living and breathing apprenticeships admit to getting confused, with one warning: 'You need to learn a new language, so make sure you take time to research this thoroughly.'
'It is too complex just to jump on the bandwagon,' says Jackie Panter, associate head of Manchester Law School at Manchester Metropolitan University (MMU). 'This is a fantastic opportunity. But it needs strategic planning in terms of finance, budgets, recruitment and training, which all need to be aligned to the employer's overall business need. This is not about employing someone to do the photocopying, but about acquiring and developing a talented employee.'
With so much at stake, the Law Society, which supports this route into the profession as long as standards are maintained, is launching a website directing members to useful sources to coincide with next week's National Apprenticeship Week (14-18 March).
So what is new, given law firms and in-house teams have been taking on legal services apprentices up to level 4 (equivalent to the first year of a degree) for several years and continue to develop new opportunities?
The challenge is to keep track of the changing ground rules. The government had said all apprenticeships were expected to transition to the new trailblazer formats by 2017. But it has now rowed back on that and there is currently no cut-off date.
The Department for Business, Innovation & Skills (BIS) is also determined to protect the apprenticeship brand and has included a measure in the Enterprise Bill which will make it an offence (punishable by a fine) to use the word 'apprenticeship' unless it is a statutory apprenticeship.
But employers should not be put off by the changes. Julie Brannan, the SRA's director of education and training, says employers should be looking at apprenticeships because apprenticeship funding is the only government funding available for any education over 18.
'Employers see apprenticeships as a good mechanism to train people more closely to the needs of their business, while giving students more options in how they qualify,' she says, though she acknowledges, 'they may not be for everybody.'
One of the earliest initiatives was the award-winning collaboration between MMU, the Chamber of Commerce and a group of law firms and in-house teams in Greater Manchester. Liz Gorb, MMU's lead on apprenticeships, says that, of the 40 legal services apprentices who finished last year, 37 were kept on by their firms – with seven choosing to go on to do the part-time LLB. Three went on to more senior roles, making it a 'rip-roaring success' in terms of employability (see case studies, below).
The key is to develop the individual's career while adding value to the business, says Sarah Gregory, inclusion and diversity partner at Baker & McKenzie. Her firm created a bespoke level 2 legal administration apprenticeship with CILEx Law School to give six school-leavers the opportunity to rotate through six departments over two years, with the chance to progress to further CILEx training or apply for a permanent role.
'For us, the scheme is giving us access to an entirely new talent base,' Gregory says.
With pressure on the profession to improve its contribution to social mobility, some employers may take on one or two apprentices to tick a corporate social responsibility box. But this is only 'half the picture', says Jenny Crewe, the Law Society's strategic policy manager. 'The first step is to work out the business case. Consider what you want your firm to look like in six or seven years so you can plot the apprentice's potential progress. It is a considerable undertaking but it is a great opportunity to look forensically at what you want your future workforce to look like.'
There are direct and indirect costs. Alongside contributions to training costs, apprentices need to work at least 30 hours a week and be paid at least the national minimum apprenticeship wage – though most firms pay above that, with salaries starting from around £12,000. They must also be provided with the same benefits as other employees.
Indirect investments include managing the programme, and supporting the apprentices, supervisors and mentors. 'It is critical to get buy-in from across the firm or in-house team,' says Gun Judge, chair of the Trailblazer committee and Addleshaw Goddard's resourcing manager. 'Taking on school-leavers who may have no experience of office life brings its own challenges.'
It will also require a different approach to recruitment and interviews, which will need to be strengths-based rather than competency-based, with the long-term aim of growing your workforce, not as a short-term fix.
The next step is to build a relationship with a training provider. 'Before you go out to a tendering process,' Judge says, 'consider how the training provider will complement your business. What guidance and support can it give you? Does it offer help with recruitment, perhaps as an outsource function or in partnership? Will it help train your supervisors and mentors?'
City Law School is hosting an event on 15 March at Gray's Inn Place, London, to launch its trailblazer solicitor apprenticeship partnership with CILEx Law School.
Different class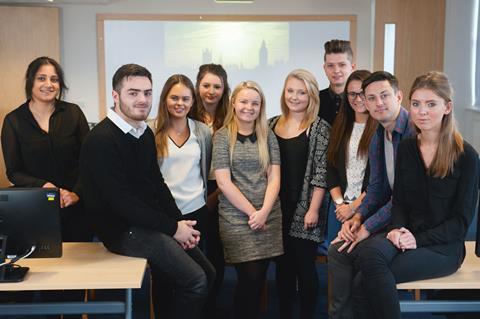 Past and present apprentices at Horwich Farrelly
There are some common myths about apprenticeships: they are not right for our business; they are too resource-intensive; school-leavers are too young; the work is too complex; they are just cheap labour.
But talk to employers and apprentices and these myths are quickly debunked – as long as employers invest time in getting things right.
Since 2013, Manchester-based defendant practice Horwich Farrelly has taken on 22 legal apprentices, with a record 10 starting in October.
'We have always supported alternative routes to qualification,' says Claire Fox, lead partner on apprentices. 'I did the legal executive route and then the LPC, while other partners aren't qualified, so there is no glass ceiling. When the apprenticeship opportunity opened up, it was the perfect fit.'
Age is not a barrier if you have a structured pathway and provide appropriate training and support, she says: 'I am passionate about the idea. We see this as a fantastic way to bring young people into law who might not otherwise have that opportunity.' One of their first apprentices, Liam Crank, 21, is now a junior fee-earner with the firm. He always wanted to be a lawyer but chose the legal apprentice route because he preferred to learn on the job rather than in a lecture room.
'People are scared apprenticeships are just a "making a brew"-type job,' he says. 'But I was given complex work, billed my own caseload and have never been treated differently to other employees.'
He is continuing to combine work with studying part-time for his LLB, using a student loan and a £750 training bursary from his firm. He has no regrets about not going to university.
His advice to employers is 'give apprentices the chance to prove themselves' and both sides will reap the rewards.
Paul Wilson is company solicitor at the New Charter Group, a registered social housing provider in Ashton under Lyne. 'When we started out,' he says, 'we were simply looking at a two-year paralegal post. But, because of the quality of the candidates, we have looked at how to develop this, within budgetary constraints, to offer a pathway through to qualification.'
Two of his second-year apprentices are engaged in the right-to-buy process. 'Looking at the cost, I don't think anyone could do it at a better cost-per-transaction basis,' he says. 'You take the hit in having people out of the office for their studies, but the impact is nothing compared to the positives they bring to the team.'
Jonathan McDonnell, now 22, was the organisation's first apprentice in 2013. Following a gap year after A-levels, he had a place at Salford University to read law but chose the apprenticeship instead.
Now a legal associate, he says: 'If you perform well you are invited to start the first year of the law degree at level 4, which is paid for under the apprenticeship scheme. I was also lucky enough to be given a permanent position early, with a pay rise. I want to qualify as a barrister so I have taken out a student loan to continue with the part-time law degree. My employer is helping me by giving me a day a week, paid, for my studies.'
Apprenticeships work best, he believes, when employers give their apprentices a level of responsibility, while being properly supervised, so they feel valued.
Angela Jackman, the law school's CPD consultant and partner at Maxwell Gillott/Simpson Millar, says the law school hopes to have about 20 apprentices starting in September.
While the solicitor-apprenticeship standards do not require a law degree or LPC, City's study programme will include a part-time LLB in legal practice and equivalent postgraduate study to prepare the apprentices for the SRA-regulated final centralised assessment. This will include the part 1 functional legal knowledge test at the end of year five and the part 2 practical legal skills assessment, which has to be taken in the last six months of the apprenticeship.
Jackman says the apprentices will work four days a week, with one day a week on day release to study. The law school will also provide quarterly external assessment of the apprentice's work-based competence portfolio.
'There has been concern in the profession about standards being watered down, but this will be a rigorous programme,' Jackman says.
BPP is offering the solicitor and the paralegal trailblazer apprenticeships from September. Tricia Chatterton, director of legal apprenticeships, says there is a great deal of interest in both. 'Many firms will choose the two-year paralegal programme first,' she says, 'so that both the employer and the apprentice can test the individual's appetite and aptitude for a career as a solicitor. But there are others enthusiastically embracing the solicitor apprenticeship from the outset.'
Neither City nor BPP would put a cost on the programme because this is still 'commercially sensitive'. However, ULaw says its trailblazer solicitor apprenticeship, which will last for five to six years and include an LLB, will cost a one-off fee of £9,000.
ULaw also offers a six-year articled apprenticeship programme, now in its first year, with apprentices working with both regional firms and the first City firm, Mayer Brown, which pays a starting salary of £18,000. The programme is not eligible for government funding, so the apprentices are either sponsored by their firms or take out loans to pay for their training.
MMU, however, has taken a strategic decision not to offer the trailblazer apprenticeships until 2017. Panter says: 'We felt it would be unfair to both employers and learners to offer the solicitor-apprenticeship option at the moment, when details of the cost and format of the centralised assessment and how the funding will work are still unclear.'
However, she says 2016 is the year for employers to test the apprenticeship market because there is likely to be a surge in recruitment in 2017 when the new apprenticeship levy comes in. It takes time to bed in systems and processes for what will be a new way of working.
'Firms often complain that training providers produce "half-baked" LPC graduates, but an A-level student is not "baked" at all,' she says. 'However, government funding is being handed to employers so you can make sure that, alongside the competency requirements, the training programme is bespoke for your business needs.'
When it comes to recruitment, employers need to make sure they provide fair access to their apprenticeship schemes, including for existing employees. One option is to tap into the online vacancy matching service offered by the National Apprenticeship Service in England and the Careers Service in Wales.
Employers are encouraged to visit local schools and explain their apprenticeships to pupils, parents and careers advisers who may not appreciate the opportunities involved.
For many employers, the availability of government funding could be a significant factor in taking on an apprentice. But, with so much detail yet to be clarified, it would be a risk to make it the centrepiece of any decision.
Liz Walters, the SRA's policy associate on apprentices, says the government's intention is to drive all funding through the employer, though the details have yet to be pinned down, as a way of improving flexibility and cost-effectiveness in the training provider market.
For 2016/17, the government will contribute £2 for every £1 the employer spends on training to the maximum cap set for each standard – £27,000 in the case of solicitor-apprentices. The money, which will be routed through the tax or National Insurance scheme, cannot be spent on in-house training or the apprentice's salary.
There are also financial incentives for taking on 18-year-olds, for small employers and for each apprentice who completes the programme. From April, employers will not have to pay national insurance contributions for apprentices under 25.
But a whole new funding arrangement is due to be introduced in 2017. Under the Finance Bill, employers will be charged an apprenticeship levy of 0.5% of their total pay bill. Employers will then receive an allowance of £15,000 to offset against their levy payment. This means that only employers with a pay bill of more than £3m – fewer than 2% of UK employers – will actually pay it. But BIS says that, if those businesses are committed to apprenticeship training, they will get more out than they pay in through a top-up to their digital accounts.
By 2019/20, BIS estimates the levy will produce £3bn, with £2.5bn for apprenticeships in England and the remainder shared 'fairly' between Wales, Scotland and Northern Ireland.
BIS will provide more guidance this summer and says it recognises that the new funding system needs to be 'simple and clear' for employers who may operate across all four jurisdictions.
Chatterton says employers need to be prepared for the fact that, once the levy is introduced, they will have to fund the excess if they want to recruit more apprentices than their levy pot will pay for.
Another issue raised by employers involves their employment obligations. Apprenticeships are classed as 'paid contractual employment with training', so are covered by employment law.
Alongside the employment contract, there must be a written apprenticeship agreement between the employer, learner and training organisation containing the conditions of employment and training of the apprentice. Employers can write their own or download an apprenticeship agreement template.
In the worst-case scenario of an employer going into liquidation or administration, the lead training provider and the Skills Funding Agency should help secure the apprentice alternative employment. Generally, an apprenticeship can only be terminated if the apprentice's conduct makes it impossible for the relationship to continue, having followed a fair dismissal procedure. The threshold is much higher than in a normal employment contract.
Looking ahead, the appetite is there but there is work to be done. 'This new avenue to qualification must be given a real chance,' Jackman says. 'I am very passionate about this. The time is ripe to open up the profession without compromising standards.'
For further info visit www.apprenticeships.org.uk
Grania Langdon-Down is a freelance journalist