The Law Society building on Chancery Lane boasts eight 'function areas' that offer a valuable service to solicitors, says Jonathan Rayner.
A male rock musician with a woman's name, eyes caked with black mascara and a stage show featuring guillotines, electric chairs and boa constrictors.
A diminutive Hollywood megastar for whom no mission has proved impossible. And generations of British royals attended by deferential, tongue-tied dignitaries. This disparate cast, swelled by a leavening of private practice, in-house and government solicitors, has passed through the Law Society building on Chancery Lane since it opened its doors in 1832.
What is the building's allure? It is at the centre of legal London, sited cheek by jowl with the Royal Courts of Justice and with barristers' chambers at each point of the compass. It is grade II-listed, with a full complement of pillars, coats of arms and ceramic friezes. It also has a long history. Charles Dickens' father was thrown into a debtors' prison in the basement of the Law Society's Carey Street building. Further back still, lawyers in its vicinity have been attempting to regulate the profession since the mid-16th century, when some practitioners were dismissed as 'pettifoggers and vipers'.
But the building is more than a compelling tourist attraction or scenic backdrop for celeb photo opportunities. It also provides a valuable service to the profession, with eight 'function areas' – as the Law Society's website puts it – that can be hired at a competitive rate for special occasions.
The Reading Room, so called because it is where practitioners would sit to read books brought to them by attendants from the library upstairs (those were the days!), is perhaps the most frequented of the areas. Law Society events and sales manager Sarah Bramwell describes it as 'not your standard Starbucks, but more a posh cafe' and it is certainly popular with solicitors meeting clients, Law Society contacts or other solicitors over a cup of coffee and a sandwich.
The room, which is flanked by marble columns and a timbered gallery, is regularly hired for canape receptions, award ceremonies, seminars, Christmas parties, buffet lunches – and weddings. It is licensed for civil wedding ceremonies, with the bride, groom and guests often moving on to the much larger Common Room for a formal dinner and dancing.
Wales office
The Law Society maintains a Wales office in the centre of Cardiff providing competitively priced conferencing and meeting facilities. It is an ideal location for meetings, being conveniently close to the city's commercial and political centre, as well as near the offices of Cardiff's major law firms.
The office's conference room can accommodate groups of up to 70 people theatre-style, 22 people boardroom-style and 24 people
classroom-style. The adjoining meeting room is perfect for small meetings of up to six people or for serving a buffet lunch when there is an all-day event in the conference room. Available equipment includes speakers and microphones, video-conferencing facilities, data projectors, video cassette recorders, digital video disc players, lecterns, flipcharts and Wi-Fi access.
The office regularly hosts Law Society continuing professional development courses and seminars, works with the Solicitors Regulation Authority on a number of issues, and is a national hub for the Junior Lawyers Division, Law Management Section and Wales-focused work generally.
Enquiries to: The Law Society Wales Office, Capital Tower, Greyfriars Road, Cardiff CF10 3AG. Tel: 02920 645254; fax: 02920 225944, email: wales@lawsociety.org.uk
Which brings us neatly to a second 'function area', the Common Room. This is approached by a sweeping marble staircase reminiscent of grand entrances in a certain genre of period drama. Once inside the room, there are green marble pillars and a Persian enamel frieze by sculptor Conrad Dressler (1856-1940) depicting human and divine justice. The windows are 17th-century stained glass and there is a peacock-tiled fireplace.
'It's the perfect venue for bigger conferences, dinners and dances,' says Bramwell, 'with bookings if not from law firms, then usually a corporate event associated with the law. A seminar for accountants, for instance, focused on new regulations.'
Cruise and Cooper capers
The androgynous rock idol referred to above is, of course, shock rocker Alice Cooper. In a career spanning five decades, he and his various bands have released material with titles such as Halo of Flies, Love it to Death and the album Killer.
The stage act would feature a mock-execution in an electric chair and enough fake blood, as one observer put it, to supply the D-day landings scene in Saving Private Ryan. Another likened Cooper's stage persona to David Bowie's Ziggy Stardust 'but glimpsed through the prism of a nightmare'.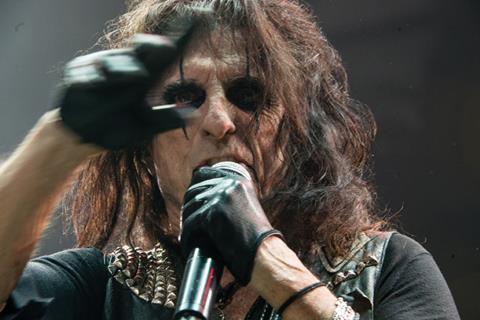 It all sounds a long way from the elegant environs of the Law Society. However, it was the Chancery Lane building that Cooper and his public relations advisers chose as the venue for announcing that his latest band, with its superfluous umlauts, Mötley Crüe, was to make its final appearance at the end of its 2015 tour – on 31 December.
At the opposite end of the aesthetic spectrum, Hollywood star Tom Cruise filmed some of Mission Impossible 5 – Rogue Nation (2015) in and around the Chancery Lane building.
The film was the latest in a franchise dating back to 1996 and sees Cruise and his team battling the Syndicate, a sinister organisation bent upon destroying the International Monetary Fund.
It took around £14m on its opening night in the US, and so it is small surprise that Cruise's character survived still fighting fit and eager to take on a sixth impossible mission.
There are five more meeting rooms, all sumptuously appointed and recently refurbished, which can be hired for training seminars or breakout sessions during conferences. They are regularly used for Gazette roundtables, partners' meetings, committee meetings, strategy planning and thinktanks. The Council Chamber, in particular, has leading edge audio-visual facilities, with every seat enjoying access to power and data – ideal for training sessions, screenings and video conferences.
Finally, the 113 restaurant and bar, although open to the public, also allow areas or the entire space to be reserved for exclusive use. Themed dining events are particularly popular. Head chef Ranjit Salian has introduced Dawat (the Urdu or Hindi word for 'feast') evenings and charity International Lawyers for Africa hosts an annual dinner for 200 people where African cuisine is served. The daily menu features a choice of classic European cuisine or Dawat dishes.
All profits generated, both by the meeting rooms and by the restaurant and bar, go into a central pot to help fund the Law Society's domestic and international policy and lobbying activities.
Contact Law Society venue hire on 020 7320 9555 and the restaurant on 020 7316 5580
Jonathan Rayner is Gazette contributing writer