Katharine Freeland asks lawyers for the best ways to reward hard‑working colleagues
The launch of John Lewis' poignant seasonal advert means it is time to don Rudolph jumpers and wrap twinkly lights around monitors. Yet showing appreciation to your team during the festive period can be tricky. Are the traditional options still fit for purpose?
1. Take them out for food and drinks
A leisurely lunch with all the trimmings can be popular, especially if it takes place within working hours. It needs to be inclusive though, which can raise staffing issues.
'Some people are keener on a long boozy lunch than others,' says Duncan Bailey, private client partner at Brabners. 'With the need to provide cover, having the whole team away from the office for the afternoon may not be an option, and then who stays behind?'
Evening drinks are more of a conundrum. Does everyone want to give up their evening to spend time with work colleagues? Plus the expense of babysitters, taxis and those hours of life that one can never get back? Not everyone wants to 'unwind' with work colleagues, or get stuck into the booze.
2. Don't take them out for food and or drinks
The opportunity to work more flexibly over the holiday season – to arrive later or leave earlier – may be better than a party. A bonus is also a sure-fire hit for generating goodwill.
'Cash or an extra holiday day always go down well, but they are not great for bonding a group,' says Bailey. 'Also, does everyone get the same, or is it in proportion to salary? This option could cause resentment from other teams.'
3. Think creatively
'What we try to do is some kind of activity – as well as drinks – like ice skating or comedy,' says Sally Ashworth from Cripps. 'This avoids the event being solely alcohol-focused, which might not suit every member of the team.'
Staff can opt into what they fancy. Ceramics workshops, quizzes, escape rooms and adrenalin-fuelled pursuits such as white-water rafting are currently in vogue. The aim is to create enjoyable bonding between team members without the stilted small-talk and the risk of after-party paranoia that you have insulted the managing partner.
'Activity days are particularly effective where the team is geographically dispersed,' says Penny Morrison, an employment lawyer who has worked at both Salens and Excello.
'Know your team,' emphasises Ross Meadows from Oury Clark. 'It is important to know what your team likes to do.'
Bailey agrees: 'There will not be one thing that suits everyone,' he says. 'You have to be flexible to accommodate the ever-varying work environment and individuals within it.'
4. Set some parameters
HR policies and procedures should be in place so everyone knows they are expected to behave on a night out as they do in the office, says Morrison. While some businesses rely on an implicit understanding of behavioural expectations, others opt to remind staff.
'In January, we always have lots of work, where someone has had too much to drink and insulted a colleague or manager, for example,' says Meadows.
It is also worth remembering that senior staff came of age in a very different era to our post #MeToo reality, so clarity is the best policy.
5. Remember it's supposed to be fun
A light touch is in the spirit of the occasion – it is supposed to be a reward for the team's hard work over the year, after all.
'I remember receiving a message from HR about expectations of behaviour, but it read more like a threat to staff than an invitation to enjoy yourselves,' says Meadows. 'Those types of e-mails tend to be ignored.'

Passing by (and passing on) the raw broccoli
You've cycled to work, stored the bike in the secure bike lock-up, headed for the shower cubicles – turning left at the complimentary bowl of raw broccoli florets (better for you than 'fruit'). The journey takes you past the exercise room where the firm's personal trainer has booked sessions with staff.
Fresh and changed, you head for your stand-up desk – which has a treadmill option – and are already looking forward to lunchtime yoga with your colleagues. It's someone's birthday, so mid-afternoon it'll be kale smoothies all round. Maybe tomorrow you'll all do some colouring-in together.
'Are we running a law firm or a spa?' the one remaining old-school partner barks, as they head out for a long client lunch that'll actually bring some instructions in.
Add together all the suggested extras that a focus on wellbeing in the law and the result would seem ridiculous to many. If staff had to stand on the train to work, and will again on the way home, is a standing desk strictly necessary? And is there a reason why people can't pack their own fruit and veg, added to their home Sainsbury's delivery?
A workout with colleagues will strike some as undignified, and you surely can't have clients in the boardroom for a corporate deal straight after it's been used for a staff 'hot yoga' session.
And yet, perks matter. Healthy staff are more productive and deal better with stress.
Perhaps the best thing any law firm or in-house legal department's bosses can do is make sure the place is well run. Adequate headcount to do the work, good project management, fair pay and the confidence that lunchtime is really a break and long days are not routine – these are what enable a genuinely healthy culture to exist. Everything else is window-dressing.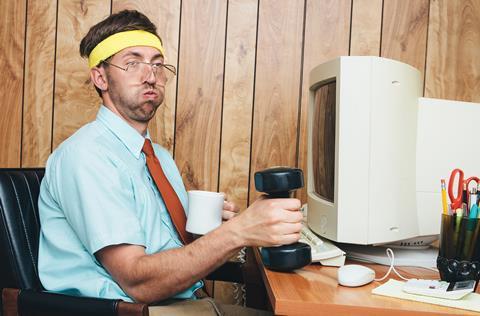 Healthy: Put down the weights and smoothies – just make sure your staff aren't overworked