Aspiring lawyers with disabilities see few role models. Catherine Baksi asks, can the legal profession change that?
Yasmin Sheikh went to bed on 18 March 2008 and woke up unable to move her legs. Out of the blue, the 29-year-old personal injury associate at Clyde & Co sustained a spinal stroke. 'It was a complete shock,' she tells the Gazette. 'I was a health-conscious vegetarian. I had never smoked, I drank in moderation, went to the gym several times a week and was living a good life.'
Becoming disabled, Sheikh, who uses a wheelchair, says, 'you enter a whole different world'. Twelve months after the stroke, she returned to work. In an international law firm, accessing its modern building was not a problem, and Sheikh was able to adapt to the physical aspects of her altered condition.
But, she says: 'The more challenging aspect of being disabled was the attitude of other people – and how disabling that was. When you have a visible physical disability, there is a soft bigotry of low expectation. People assume that you can't do things.'
Six years after her return, Sheikh left legal practice and founded the consultancy Diverse Matters, training law firms and other organisations how to deal with disability and health conditions confidently.
Anyone, she points out, can become disabled: '86% of disability is acquired during your working life, and people with disabilities make up the largest minority group in the world, but most show no visible signs.'
In the UK, government statistics suggest that an estimated 3.7 million people or 19% of working adults are disabled, and that figure is likely to be higher as many chose to conceal their disability, as a consequence of negative stereotypes, or fear of discrimination.
The Institute for Public Policy Research estimates that one in three people will experience disability during their working life.
Yet, in the legal profession, disability has historically been largely overlooked when it comes to improving diversity and inclusion. 'Gender inequality, LGBTQIA+ and BAME are all being covered, while disability has been a poor relation,' says Sheikh, who is vice-chair of the Law Society's Lawyers with Disabilities Division (LDD) committee.
Figures from the Solicitors Regulation Authority show a much lower percentage of disability among the profession than in the population at large – only 5% of solicitors and 4% of partners reported a disability.
'Disabled people in the legal profession face – on a daily basis – rituals, practices and attitudes that exclude or undermine them in their roles as trainees, advocates and employees'

Legally Disabled? report
A groundbreaking piece of research published in January 2020 revealed the extent to which disabled lawyers were suffering in silence. Undertaken by academics at Cardiff University, working with the LDD, the research revealed that more than half of disabled lawyers had experienced ill-treatment, bullying or discrimination in the workplace, which most said was because of their disability. Common experiences included ridicule or demeaning language towards them (40%); exclusion or victimisation (47% for solicitors); while 53% of solicitors and paralegals classified their experiences as discrimination.
The report, Legally Disabled? The career experiences of disabled people working in the legal profession, found that many disabled lawyers were reluctant to disclose their disability or to ask for the 'reasonable adjustments' to their working environment or practice they needed and were entitled to by law, when applying for training places or jobs and once in work. Just 8.5% who were disabled when they started training disclosed their disability in their application; 40% never, or only sometimes, told their employer or prospective employer they are disabled.
Based on 55 interviews and nearly 300 survey responses, it showed that more than half (54%) of disabled solicitors and paralegals thought their career and promotion prospects inferior to their non-disabled colleagues.
Some 60% said inaccessible working environments limited their career opportunities, while 85% reported pain and fatigue associated with their disability that could be made worse by inflexible working arrangements and long hours.
The report concluded: 'Disabled people in the legal profession face – on a daily basis – rituals, practices and attitudes that exclude or undermine them in their roles as trainees, advocates and employees.'
Requests for (often inexpensive) adjustments were met with ignorance and resulted in ill-treatment or discrimination. The most common reasonable adjustment requested – and refused – was remote or home-working.
The report set out recommendations to improve barriers to recruitment, retention and promotion – from a 'zero-tolerance policy' to address bullying and clearer disciplinary policies and reporting procedures, to redesigning roles and working practices to include adjustments such as flexible and remote working, as well as disability awareness training for staff and managers.
To demonstrate the profession's commitment to understanding and addressing current and historical disadvantages experienced by disabled people, it also recommended the introduction of disability pay reporting. In 2019, Clifford Chance was the first of a number of large firms that decided to do this, followed by Freshfields Bruckhaus Deringer, Allen & Overy and Pinsent Masons.
Getting started: questions and easy wins
How disability-friendly are your recruitment, work experience, training, appraisal and promotion processes and criteria?
How accessible are your online recruitment forms and processes? Do you use recruitment agencies? If so, do their staff have appropriate disability training?
Could you introduce recruitment schemes that target talented disabled candidates, or offer reserved places to disabled people on work experience, training contracts and qualifying work experience?
Does your organisation appropriately support disabled people seeking promotion, with mentoring schemes tailored to their disabilities?
Review and examine the reasonable workplace adjustments policy.
Review other key policies with disabled people in mind.
In all recruitment and appraisal processes ask: 'What adjustments would help you realise your full potential?' And ensure recruitment staff know how to respond to answers given.
Make staff aware of the Equality and Human Rights Commission guidance on reasonable adjustments.
Introduce a dedicated and trained disability officer as a point of contact to discuss adjustments and ensure it is obvious who it is to potential applicants, clients, employees and line managers.
Make sure websites provide sufficient information about accessibility and reasonable adjustments available to visitors and staff. Maps, plans and photographs could be included or sent to applicants and visitors.
Introduce a 'disability passport' scheme that records agreed adjustments and can accompany an employee throughout the organisation addressing the widely reported problem of disabled staff having to disclose information multiple times to different personnel.
Click here for more details about the Easy Wins documents.
The Legally Disabled? report, says Reena Parmar, a senior lawyer at Freshfields Bruckhaus Deringer, 'has been instrumental' in increasing the focus on disability inclusion by law firms.
Jonathan Andrews qualified in 2019 and is an associate in Reed Smith's entertainment and media Industry Group, based in London. Andrews, who has autism, says firms are getting better at talking about disability, adding that they are 'starting from a very low base'.
Reed Smith, he says, has gone a long way towards disability inclusion, overhauling recruitment processes, adopting 'strength-based' rather than competency-based interviews, and offering reasonable adjustments.
Andrews, who is a member of the firm's international disability network LEADRS, is on the 2021 Disability Power 100 list, produced by the Shaw Trust. His activities to raise awareness of disability, he says, have been viewed as a positive benefit by the firm and helped build relationships with clients, whom, he adds, increasingly want to see disability diversity among their lawyers.
Coralie McKeivor was admitted as a solicitor in 2014 and is a managing associate in the real estate team at Freeths in Bristol. She has a hearing impairment – something that she chose not to disclose until after she had qualified.
Her experience at firms, she says, has been a 'mixed bag'. When meeting people face to face, McKeivor lip reads, but for telephone calls and virtual meetings uses software that dictates speech. Asking for help, she says, takes a lot of energy and can be difficult, especially if you do not know the technology that firms have.
She adds: 'Our day job is exhausting and you don't want to be known as the disabled person in the room – that's not your identity – you want to be known as a good lawyer.'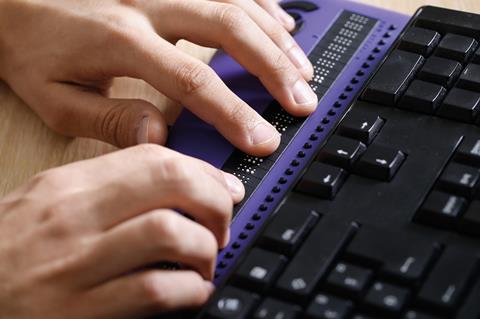 McKeivor, who is head of regional engagement for the LDD, adds: 'If firms did more stuff off their own back, it would be helpful and demonstrate that they are open to having disabled people in their workforce.'
She insists that there are many small things that could be done, with minimal cost, that would benefit everyone and make disabled people's lives easier. For example, instead of back-to-back meetings and phone calls, firms could have short breaks every 45 minutes.
Parmar, a senior knowledge lawyer in the global transactions corporate finance practice at Freshfields, co-chairs the firm's disability employee resources group, Freshfields Enabled. She has fibromyalgia and inflammatory arthritis – conditions that fluctuate and affect her working life in different ways from day to day. She is also a parent to two neurodivergent children and a carer for a parent with disabilities, and works 80% from home and 20% in the office.
'Disability hasn't always been at the top of our D&I agenda, but we have definitely made great progress in two and a half years,' she says, highlighting the firm's disability employee network which is 'helping to embed disability equality, inclusion and confidence in our UK policies, procedures and culture'.
The firm, she says, has worked with numerous external partners, including the UK Business Disability Forum and MyPlus Consulting, which advise on ways to attract, retain and progress talented disabled graduates.
Importantly, she says, the work has the support of senior executive sponsors and active engagement from the senior leadership team. Through the firm's reverse mentoring scheme, London managing partner Claire Wills has been paired with a colleague who has a disability.
'Our day job is exhausting and you don't want to be known as the disabled person in the room – that's not your identity – you want to be known as a good lawyer'

Coralie McKeivor, Law Society
The Law Society is part of the Disability Confident employer scheme, a government initiative that encourages employers to improve how they recruit, retain and develop disabled people. Its Chancery Lane headquarters has a range of adjustments to its building to improve accessibility for disabled employees (9% of the total) and lawyers. These include having an external accessible lift outside the main entrance and reception for step-free access, a hearing induction loop, accessible toilets on all floors, mobile ramps and two floor stair lifts.
Last month, after more than 11 years in private practice at a national firm in Bristol, Samantha McLeish started a job in the Diversity and Inclusion Division of the Law Society in Chancery Lane. A genetic condition known as Ehlers-Danlos syndrome means that she cannot walk long distances, and although she is ambulatory, requires a wheelchair.
'Moving from private practice was daunting and I was nervous about how I would be perceived and treated,' says McLeish. But, she says, the Society's approach throughout the recruitment process and before she started work comforted her. 'The second question they asked me after asking 'do you want the job?' was 'what adjustments do you need'?' she recalls.
The question was not phrased as a disability issue, but as part of a normal conversation about what she needed to do her job. 'I was able to have open conversations about me as a person, not my condition, and what I needed – it was a refreshing way to have it approached'.
The reasonable adjustments that she required were put in place before she arrived, which, she says 'made the first day very smooth and reduced the nerves, which were very high'.
Sudden change
The pandemic forced the profession to abandon its resistance to remote or homeworking, embracing it virtually overnight. A follow-up report to Legally Disabled? suggests that the majority of disabled lawyers welcomed it, though in common with non-disabled colleagues some found it created a sense of isolation.
As firms navigate the post-Covid landscape and re-evaluate their office, home and hybrid working environments, Mark Blois, a partner at Browne Jacobson, who has cystic fibrosis, is keen that they do not revert to the old norms.
As a partner, he understands the need to have people in the office – not least to encourage collaboration, train junior lawyers and promote the firm's culture. But he is anxious that firms find a balance and continue to enable flexibility.
Researcher Debbie Foster, a professor at Cardiff university, is concerned that if firms cut the pay of employees who want to work full-time from home, it could discriminate against disabled employees and those with caring responsibilities, unless exceptions are made.
The first step, says Sheikh, is to get disability on the agenda. 'Don't worry about how you do it – get started. Set up a network, hold an event – you might make a mistake, but you will learn from it.'
Read the recommendations in the Legally Disabled? report, Sheikh urges.
Firms, Parmar adds, could also consider taking part in Project Rise – an LDD initiative to provide more part-time training contracts. The first firms to participate are Eversheds Sutherland and Osborne Clarke, which have committed to offering all successful candidates the opportunity to train on a part-time basis, starting from September 2024.

The lack of visible role models for lawyers with disabilities has meant there have been few people to inspire and encourage others. But, says Blois, disabled lawyers are stepping forward. And he is one of them. Earlier in his career, Blois says: 'I was intensely private and concerned that I might become defined by my disability.' Now he speaks up to help drive systemic change across the profession.
Outside the legal profession, the Institute of Directors has set up a commission, chaired by Lord Shinkwin, to examine barriers to the recruitment, retention, and progression of individuals from underrepresented groups.
Virginia Clegg, senior partner at DAC Beachcroft, is one of the commissioners. She says: 'Over 25 years after the Disabilities Discrimination Act was enacted [now subsumed into the Equality Act 2010], I continue to hear of examples where the legal sector is failing its colleagues, whether it's [through] not listening enough, not understanding their needs or not doing more as a business to support them.'
She and the commission want to foster a more considered approach to recruitment, data gathering, visible role models, education, and policies that support businesses in making adjustments and adaptations 'to bring the best possible talent into the legal sector'.
Catherine Baksi is a freelance journalist
Click here for more details on the Law Society's Lawyers with Disabilities Division.