Members of the public should be asked if they want to go to a physical court building or talk to the judge via Skype from their kitchen, the outgoing family division president has suggested.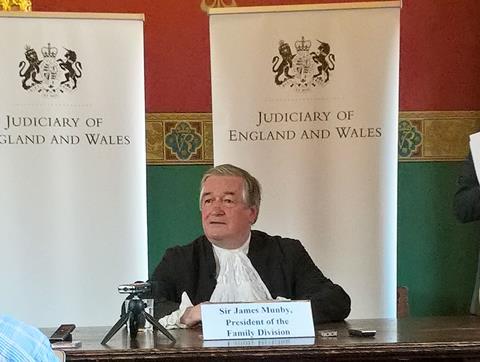 Sir James Munby, who retires today, told a press conference at the Royal Courts of Justice today that 'anyone who thinks we currently have a network of courts which enables proper access to justice is deluding themselves'.
Munby, who lives in 'rural' Wiltshire, told journalists his nearest family court is 20 miles away, before highlighting the challenges that a mother who does not own a car would face to get to the court. On a recent trip to Norwich, the family chief was told someone walked 12 miles to court and back. 'That's the reality of our present justice system,' he said.
'If you ask [the mother], you have a simple choice, you can either make this journey or you can sit in your kitchen and talk to the judge on Skype. I do not know what the answer is. One thing that worries me is we have not asked people what the answer should be… What would the "customer" actually prefer. [Is it] "Actually I would prefer to walk 12 miles"? We do not ask and we should ask.'
Earlier this week HM Courts & Tribunals Service announced it is closing a further seven courts. Munby said a more 'holistic view' should be taken. 'Do we need to keep the existing bricks and mortar? Do we need to hire more bricks and mortar?' If court utliisation is low, the judge could sit in local council offices, he suggested. 'The old-fashioned idea we have to have courts on ground which is owned by the state. We need to be much more flexible, think about using office accommodation, other facilities.'
Asked about the impact of litigants in person in the family justice system, Munby said the consequences showed 'a problem with us, not them'. Court processes, rules and forms are 'woefully inadequate', he said. 'In practical terms, when litigants in such cases had solicitors, solicitors would manage the client's expectations and explain what the client could or could not reasonably expect in terms of the court process. They are now coming to court with no idea at all. The fundamental problem is with us.'
These days most people receive and process information online, Munby said. 'We have got to get a grip.'
Munby said morale in the courts was high despite staff dealing with an increasing number of cases. However, he was concerned that staff are pushing themselves too hard by 'going an extra two or three miles' and could suddenly crack.
Munby's press conference follows his valedictory, which was attended by the lord chief justice, the Supreme Court president, the master of the rolls, the Queen's Bench Division president, the chancellor of the High Court and the senior president of the tribunals. Sir Andrew McFarlane, a Court of Appeal judge, will take over tomorrow.
The Gazette has taken a look at some of Munby's most memorable quotes.