Lord Chancellor David Lidington has praised the 'super highway' senior judges are building between London and the regions in the face of overseas competition to be the jurisdiction of choice for dispute resolution.
Lidington told senior judges at an event in the Rolls Building last night that new arrangements to enhance the connection between the specialist business and property work in the capital and the regions 'will be a powerful, further magnet for international civil litigation'.
The 'Business and Property Courts' will be the new name for England and Wales' international dispute resolution jurisdictions and will act as a single umbrella for business specialist courts across the country. The new name will encompass the Commercial Court (including the Admiralty Court and the former Mercantile Court), the Technology and Construction Court and the courts of the Chancery Division.
Lidington said the easy-to-understand name was 'squarely in the tradition of it does what it says on the tin'.
Explaining the thinking behind the 'intelligible' name, Sir Geoffrey Vos, chancellor of the High Court, said: 'Trying to be as delicate as I can, lawyers have always rather liked using words other people cannot understand.'
Rolls Building 'insiders' understand the quality of the specialist jurisdictions England and Wales have to offer, Vos noted. 'We should reach out to the occasional users of these courts, and national and international business generally, to ensure they too understand what we are doing here, why we are doing it and understand the services we offer.'
Courts are opening in Birmingham, Leeds, Manchester, Bristol and Cardiff.
A practice direction will be published before the 10 courts or lists that make up the Business and Property Courts 'go live' on 2 October. Once specialist IT has been rolled out to the various circuits by spring, users will be able to choose which region they wish to begin proceedings.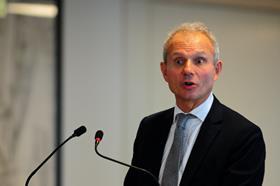 Vos said: 'We face unprecedented competition from jurisdictions overseas. The Business and Property Courts will make us more outward facing, be less backward looking.'
In May, England and Wales agreed to administer a new permanent body liaising between the world's leading commercial courts.
Alluding to the growing overseas competition, Lord Thomas of Cwmgiedd, the lord chief justice, told the event: 'Whatever happens elsewhere, we will lead. That's really our motto in this era of competition.'
He added: 'We have always had a problem in making sure we do things well out of London. Since the late 1990s we have actually had specialist courts elsewhere but we have never worked out how do we make it work together.'
Thomas 'personally' thanked Lidington for attending last night's event, adding that it was 'imperative in this venture that we have the full backing of Her Majesty's Government'. For his part, Lidington said international clients are drawn to England and Wales because 'they are seeking decisions that come with a recognised guarantee of impartiality, integrity and enforceability'.