The government is giving little away about what to expect from its long-awaited review of its controversial legal aid reforms. However, justice minister Lucy Frazer's response to questions at an all-party parliamentary group meeting today suggests the chances of extra cash being ploughed into the legal aid system are slim.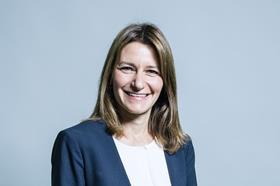 Frazer confirmed that the review will be produced by the end of the year. A third round of consultative group meetings will take place shortly to discuss 'further legal support'.
The review team has met the Family Justice Council to discuss its concerns and had a second meeting with the Civil Justice Council to 'explore their recommendations further'. Last week Frazer met members of the House of Lords, and sat down with Labour peer Lord Bach (Willy Bach) and members of his commission who spent two years compiling evidence for its The Right to Justice report. Frazer confirmed she has also met Lord Low (Colin Low), chair of the Low Commission which was set up to examine the impact of legal aid cuts and develop a strategy to enable access to justice, as well as the Equalities and Human Rights Commission, mental health charity Mind, and Women's Aid, which works to end domestic abuse against women and children.
Frazer highlighted the advantages that technology can bring to improve people's access to courts 'at the same time as changing outdated back-office systems'.
She defended the government against criticisms over its level of legal aid support, telling practitioners and parliamentarians that 'it is important to remember the government spends £1.6bn a year on legal aid in addition to other sources of funding'. Additional support includes £6.5m to support litigants in person. Online forms have been made easier, she added. The error rate for divorce applicants has fallen from 40% to 0.5% since the process was digitised. With social security applications, Frazer said the government is 'hoping to bring in a system where judges will be able to liaise with applicants directly' and hopefully result in fewer adjourned hearings.
However, when asked by Lord Low whether the review 'will have access to some funding to enable its implementation', Frazer replied: 'There are two aspects to the review we're doing. We're committed to doing a review of the impact of LASPO [the Legal Aid, Sentencing and Punishment of Offenders Act], identifying the impact of changes made to funding. We also recognise it's important to look to the future. To [ensure] adequate legal support provision. We will also be doing that.'
Shadow justice secretary Richard Burgon told the meeting that the government should conclude from its review that funding should be restored for early legal advice. 'Cuts to early legal advice have been a false economy,' he said.
Labour MP Karen Buck, chair of the APPG, asked why it was so hard for the government to properly recognise the secondary costs of the loss of early legal advice, such as mental health services.
Simon Davis, Law Society vice-president, replied: 'Regularly the government looks upon the legal profession with cynical eyes. Governments of many hues think the legal profession is just out there to make money. They think the best way to stoop that is encourage people to stop using the legal profession because they will save money. That attitude has underpinned so much of it.'