Much-awaited proposals to reform the Human Rights Act will include introducing a 'permissions stage' to intercept 'frivolous claims that sap the energy and resource of courts', the lord chancellor will announce today. A proposed bill of rights will aim 'to strike a proper balance between individuals' rights, personal responsibility and the wider public interest,' the government said.
Reform would be achieved while retaining the UK's commitment to the European Convention on Human Rights.
The proposed measures, which will be subject to a three-month consultation, will stress parliament's role as the ultimate decision-maker on laws impacting the UK population. 'This will put an end to us gold plating any decisions made by Strasbourg when we incorporate them into UK law,' the Ministry of Justice said. The announcement stressed that reform would restore 'a common-sense approach' in areas such the ability to deport foreign criminals. This will involve restricting the rights available to those subject to deportation orders or limiting the grounds on which a deportation decision can be overturned.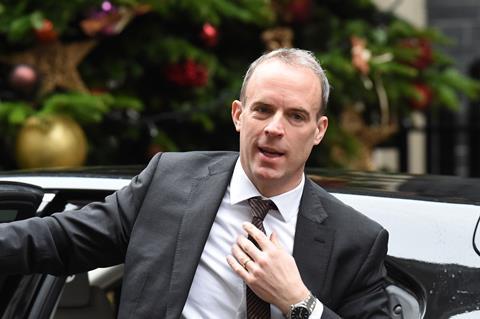 The Ministry of Justice said that as many as 70% of successful human rights challenges are brought by foreign national offenders who cite a right to family life in the first instance when appealing deportation orders.
According to the announcement, the reform 'seeks to strengthen quintessentially British traditions – such as freedom of speech and the right to a jury trial – while ensuring the system is not open to abuse'.
Dominic Raab, lord chancellor, deputy prime minister and justice secretary, said: 'Our plans for a bill of rights will strengthen typically British rights like freedom of speech and trial by jury, while preventing abuses of the system and adding a healthy dose of common sense. The UK will remain party to the ECHR and continue to meet its obligations under the convention and all other international human rights treaties.'
The consultation document is due to be published this morning, along with the report of the Independent Human Rights Act Review Panel announced by then lord chancellor Robert Buckland almost exactly a year ago.
Responding to the initial announcement, Law Society president I. Stephanie Boyce said: 'People from all walks of life rely on the Human Rights Act to uphold and protect their rights. Any reform of this subtle and carefully crafted legal instrument should be led by evidence – not driven by political rhetoric.
'The powers government purports to introduce for the most part already exist: British judges deliver British justice based on British laws, looking closely at how judgments fit into the national context, and disapplying them if there is good reason to do so. UK courts do not, as government suggests, "blindly" follow case law from the European Court of Human Rights.
'Equally, foreign criminals already can be deported in the public interest even where there are arguments against this from the right to family life. Every case is different, making it necessary to weigh each on its own particulars. Talk of restricting rights is dangerous and does not reflect the nuanced job the courts have to do.
'We expect the government's more detailed proposals to be informed and framed by the year-long independent review it commissioned. We trust that government's final proposals will preserve the UK's deserved reputation as a global leader in upholding human rights both domestically and on the international stage.'