Solicitors caught up in the bar's protest against the government's legal aid reforms should not be bullied or blamed, the chair of the Criminal Bar Association has said, as barristers prepare to escalate their action.
The association has advised its 4,000 members to adopt a 'no returns' policy from Friday 25 May. It would start to take effect in courts after the late-May bank holiday.
In her latest update, association chair Angela Rafferty QC said the action 'places heavy burdens on our solicitor colleagues, some of whom have been subjected to pressure and to very difficult situations. They are the ones who are dealing with the judiciary in cases where no counsel can be found'.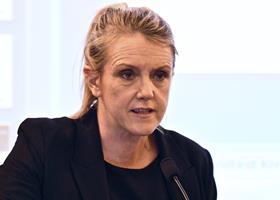 Rafferty said it would be unfortunate for solicitors 'to be treated with anything but courtesy and understanding in the weeks ahead as they wrestle with issues not of their own making. To blame or bully them would be both counterproductive and extremely unjust'.
Last week the South Wales Argus reported that a judge criticised a law firm for failing to send a qualified lawyer to represent a client who was due to be sentenced for assault. The judge reportedly revoked the firm's legal aid certificate in the case. Rafferty said the association is seeking a transcript of the hearing and 'working closely' with solicitor-colleagues on 'how to deal with this'.
Rafferty said all members of the bar 'should be ready and willing to represent pro bono solicitors and their employees who find themselves in situations like this. None of us should stand by and allow anyone to be treated unfairly'.
Rafferty said the association has tried to keep the tone of the dispute 'civilised and as reasonable as we possibly can. We ask the same in return'.
She added: 'Most judges are dealing with the disruption of the action and the difficulties it causes with patience and fairness. No doubt most experience first-hand the chaos in the system. We know it is their duty to keep the court running smoothly if at all possible. However, tirades of solicitors' representatives who may be both very junior and inexperienced covers no one in glory and only serves to heighten the tension at an already difficult time.'
The Gazette understands that the Criminal Law Solicitors' Association and London Criminal Courts Solicitors' Association are considering ways to support the bar's action and will discuss strategy with the CBA before 25 May.
Justice minister Lucy Frazer QC MP, appearing on the BBC's Sunday Politics show, defended the government's changes to the advocates' graduated fee scheme.
Frazer said the Ministry of Justice had 'worked closely' with the criminal bar when it designed the new scheme. In a lengthy interview, she said the new scheme was approved by the bar leadership. She added that figures show, on average, barristers earn about £50,000 a year. The scheme will be reviewed in 18 months' time.