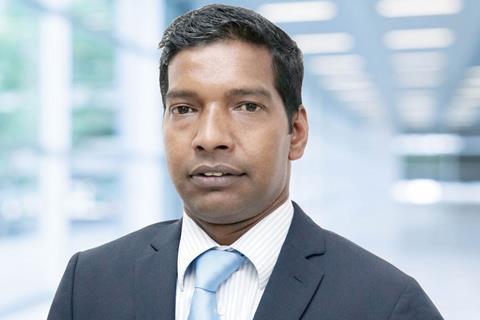 Growing up, I never dreamed of being a lawyer. As a typical Tamil, I wanted to become a doctor or engineer and studied maths, chemistry and physics A-Levels. I grew up during the Sri Lankan civil war where I regularly witnessed war crimes and crimes against humanity. When I came to the UK, I knew no one. I initially worked in the banking sector, during which time I volunteered at CAB and the Rotary Club. I developed my passion for helping people and went on to qualify as a public law solicitor. Once I qualified I was determined to use my position to help people as much as possible.
I trained at a small high street firm, which was invaluable. It provided great exposure and responsibility. I had to undertake much self-study and continuous learning to keep up with the latest legal developments. I am grateful to sites such as Free Movement blog, which is an excellent resource for practitioners at all levels.
I specialised in immigration law because it was an area where I could make a huge difference in people's lives. I wanted to ensure that vulnerable individuals were provided with a high level of client care. It gives me immense satisfaction to be able to help someone obtain a fresh start in life. Clients I have mentored went on to study at Oxbridge and play Premier League football.
Before the Windrush scandal broke in the mainstream media I was raising awareness of the problems faced by Commonwealth citizens
The banking and legal sectors share core values such as exercising a duty of care towards clients. I have carried the skills I learnt through my banking work into my legal practice. My previous experience also taught me the importance of providing clear and accurate advice to clients, complying with the duty not to mislead and adhering to relevant legislation. I also learnt the necessity of conducting due diligence to verify the legitimacy of any documentation. My existing communication skills came in extremely useful in law as I work with vulnerable clients, who often do not speak English as a first language, meaning I have to be especially careful to take accurate instructions.
A recent highlight was being shortlisted for the National Diversity Awards 2019, in the category of positive role model for race, faith and religion. Other memorable moments include working with high-profile officials including UN diplomats and politicians, and bringing test cases such as the first private prosecution in the UK involving diplomatic immunity. My cases have featured in the UNHCR report. Before the Windrush scandal broke in the mainstream media, I sent emails to parliamentarians and journalists to raise awareness of the problems faced by Commonwealth citizens. Public awareness of this issue had a huge impact on many people, including my own clients. I am proud of my contribution to a number of high-profile cases.
I am fortunate to have been involved in a number of notable cases. This year, I represented a refugee stranded on Manus Island in Papua New Guinea and, for the first time, reunited him with his family in the UK. I was the first person to use the five-year rule under the British Nationality Act to acquire citizenship for children of Sri Lankan nationals born in the UK. I have represented clients in several successful judicial review cases and public interest cases which featured in the media. One of my cases was also considered as part of an upcoming country guidance decision on Sri Lanka.
There are two pro bono cases I have dealt with which particularly stick in my mind. One of these is my first Windrush client. He had been working and paying taxes in the UK for over 40 years, but he faced losing his job and being removed from this country. I knew that it was necessary to report the situation to MPs and the media to spread awareness of this issue.
Mr Heslop is another client I will never forget. The Home Office had wrongly accused him of being a foreign criminal and threatened deportation, despite him having no criminal record. Fortunately, we obtained an apology from the Home Office and resolved the issue.
I would like to see the Immigration Rules simplified and made more accessible. The rules have gone from 40 pages in 1973 to 1,100 pages today. The complexity means that clients and Home Office decision-makers alike find it difficult to understand and follow them.
I also feel strongly that the management of immigration applications should be retained within state institutions, rather than being outsourced to third-party suppliers. The location of services outside the UK gives rise to GDPR breaches and increases costs for both applicants and taxpayers.