When I was six someone told me in the playground that lawyers earn £6k a day – that definitely planted a seed! Also, my older brother trained as a lawyer so growing up with him I gained strong debating and analytical skills. Ultimately, though, my preferences were medicine or law. My strengths were definitely non-science subjects so a legal career suited me perfectly.
I spent five years in private practice, but in 2011 I started to consider a move in-house. My brother Josh was planning to start his own business so I supported him with drafting things like NDAs and consultancy agreements. That was the start of something new for me.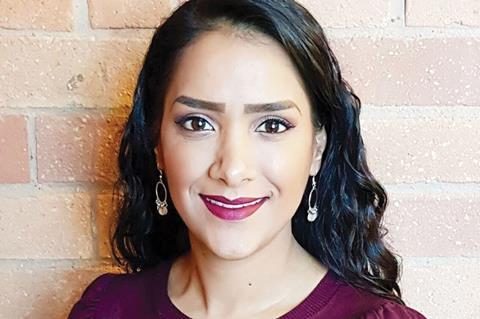 When Josh launched UNiDAYS [a student affinity network], I was on maternity leave and agreed to offer more support. This began with partner contracts and eventually I was appointed global general counsel. Josh has been a great source of inspiration for me and the wider UNiDAYS team as it has grown. It is a pleasure to work alongside him. The UNiDAYS journey has allowed me to develop the skills for an in-house role.
Private practice and in-house cultures are quite different, especially considering we are a youth brand. In private practice, you work for a number of clients with a focus on revenue generation – this is core to the business.
When I started, we had a team of four. The role was much more diverse than in private practice and the focus has always been on brand affinity. This impacts on every individual within the company and influences what we aim to do and how we achieve those goals.
In the early days of the business, I was working on a variety of legal matters, from contracts for global brands to employee agreements – but also across a range of functions within the business, including finance and sales. It was a small business so the team would always be ready to jump into the unknown with whatever needed doing. It continues to be an exciting role as every day is different. When you have a wider scope of work for a single brand, it encourages you to live and breathe the culture of the business. This is led by how you want people to perceive the brand externally.
When I started at UNiDAYS there was no legal strategy in place. What helped, though, was the fact that it was imperative to Josh, and the founding team had a strong legal foundation. Some businesses would not focus on legal strategy until later in its journey, but from day one Josh and I were conscious of the importance of compliance, the competitive landscape and safeguarding the long-term future of the business.
In private practice, you have a role, a job description and your day-to-day work can stay fairly flat. I've learnt that, in-house, you can't be afraid of stepping out of your comfort zone and rolling your sleeves up to make sure that the company succeeds. This takes some getting used to but is vitally important, particularly in a start-up environment.