Roman Abramovich has won the first round of his libel case against publisher HarperCollins as the High Court today ruled that allegations the Russian billionaire bought Chelsea FC on Vladimir Putin's orders are defamatory at common law.
Journalist Catherine Belton's 2020 book Putin's People: How the KGB Took Back Russia and Then Took On the West – which covers the emergence of the Russian president's regime – is the subject of two libel claims brought by Abramovich and state-owned energy company Rosneft.
Russian businessmen Mikhail Fridman, who brought a libel claim against HarperCollins, and Petr Aven, who brought a data protection claim against the publisher, settled their claims during a preliminary hearing in July.
At that hearing, the High Court was asked to determine the natural and ordinary meaning of the statements complained of, whether they are defamatory at common law and whether they are, or include, a statement of fact or an expression of opinion.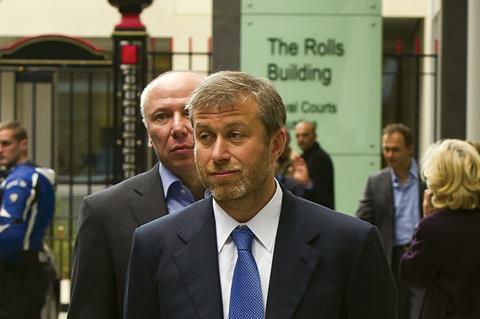 Mrs Justice Tipples said in her ruling that, having read Putin's People, her initial impression was that Abramovich 'purchased [Chelsea] on the direction of President Putin for Russia to gain influence and acceptance in the UK'.
'The impression that the reader has is that the Kremlin used the purchase of Chelsea Football Club to gain acceptance and influence for Russia in the UK,' Tipples said. 'The underhand way in which this was achieved was to use the claimant, someone who was seen as the acceptable face of Russian business, as the front for it.'
The judge also found that passages of the book complained of by Abramovich meant that he is 'under the control of President Vladimir Putin and, on the directions of President Putin and the Kremlin, he has had to make the fortune from his business empire available for the use of President Putin and his regime'.
In a separate judgment on Rosneft's claim, Tipples found that three of the four meanings contended for by the claimant were not defamatory at common law.
A spokesperson for Abramovich said: 'Today's judgment further underscores the need for the false and defamatory claims about Mr Abramovich to be corrected as soon as possible.'
HarperCollins said in a statement: 'We are pleased that the judge has found three of the four passages complained of by the Russian state-owned oil giant Rosneft do not bear a meaning defamatory of the company and therefore will not proceed, and that several serious meanings in Mr Abramovich's claim have also been rejected.'
Following the ruling, 19 organisations – including the National Union of Journalists, Index on Censorship and Reporters Without Borders – expressed 'serious concern' about the proceedings, which they said 'amount to strategic lawsuits against public participation', also known as SLAPPs.
'We, once again, urge the UK government to consider measures, including legislative reforms, that would protect public watchdogs from being subject to burdensome, lengthy, and financially draining legal actions, which can stifle public debate,' they said.