Over 140 academic lawyers have signed an open letter to home secretary Suella Braverman calling for an end to public criticism of lawyers.
It comes after media coverage criticising and attacking a Leigh Day partner, Jacqueline McKenzie, and other immigration practitioners.
The letter addressed to the home secretary expressed 'solidarity' with McKenzie and accused members of the government of 'attacking lawyers for advising and representing their clients.
'It is shocking that the Conservative Party has compiled a "dossier" on Ms Jacqueline McKenzie, a reputable and effective solicitor, and that a media outlet obtained a copy and published the contents,' the letter reads. 'We are additionally concerned because Ms McKenzie is a Black woman. Those responsible must have known that inviting negative media attention would expose her to misogynistic and racist threats from some members of the public.'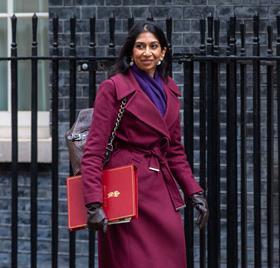 The letter was organised by Professor Helena Wray, associate professor in migration law at the University of Exeter, and Dr Jo Wilding from the University of Sussex. It has been endorsed by 18 others who do not work as legal academics, including Labour peer Lord Dubs (Alf Dubs), who fled the Nazis as a child as part of the Kindertransport.
Dubs has previously criticised the government for its rhetoric on migration, notably calling for Lee Anderson MP to be sacked after he said asylum seekers should "f*** off back to France".
The letter called on the government to condemn the compilation of dossiers on individual lawyers, such as that on McKenzie, and cease its 'unjustified public criticism of immigration lawyers' for promoting the interests of their clients in ensuring the government acts lawfully.
They further asked the government to clarify publicly 'that the vast majority of immigration lawyers act properly and within the law when they challenge the government on asylum and immigration matters'.