Two City firms have backed a lawtech startup's initiative to create a new standard language of contracting by analysing millions of existing contracts with machine learning software. 'Lexible' is a continually updated dictionary of contract terms which is claimed to have the potential to save huge amounts of lawyers' time by standardising the interpretation and review of contracts.
The announcement, by UK startup ThoughtRiver, is signficant because it marks one of the first attempts to exploit the knowledge accumulated by commercial artificial intelligence systems being installed by City firms and in-house legal departments to take on the grunt-work of contract review. ThoughtRiver says its standard language of reference terms is based on an analysis of 4 million documents. This analysis revealed wide variations in phrasing: for example in 1.4 million contracts, a simple governing-law clause was expressed in 330,000 different ways.
ThoughtRiver founder Tim Pullan, a former head of technology at international firm Taylor Vinters, said that a common language informed by artificial intelligence analysis would vastly speed up contract review. 'The AI technology will summarise every variation using the same set of data points, which translates into massive time savings.'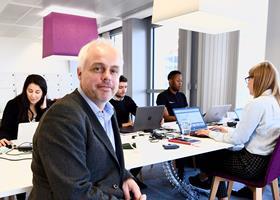 Pullan said that ThoughtRiver will collaborate with law firms and other legal tech providers to improve and refine Lexible. 'We recognised a long time ago that we couldn't deliver a global standard of writing and reviewing contracts by ourselves. A key part of our journey is collaborating with our partners.' However it remains to be seen whether other providers of AI contract-review software will join in.
Today's announcement of Lexible names two firms as signing up. Taylor Vinters was an early investor in ThoughtRiver, which is based in the firm's London office. Matt Meyer, Taylor Vinters chief executive, said: 'Lexible is a fine example of AI having a positive and very tangible impact on the way not only lawyers work, but the ease with which non-lawyers understand the contracts they are getting into.'
National firm Shoosmiths also said it is adopting the system. Joe Stephenson, partner, said Lexible would be a key part of a new service, Spotlight AI, to assist clients in commercial contract reviews.