The attorney general has defended a tweet she posted in relation to chief No 10 adviser Dominic Cumming's trip from London to Durham at the height of the coronavirus lockdown.
After Downing Street issued a statement on the trip, Suella Braverman tweeted: 'Protecting one's family is what any good parent does. The 10 Downing Street statement clarifies the situation and it is wholly inappropriate to politicise.'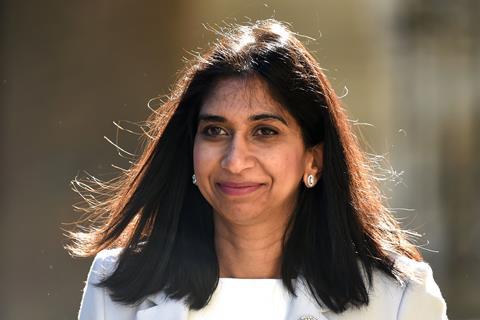 Braverman was questioned on her tweet, which was widely criticised, during her first appearance before the House of Commons justice select committee since becoming attorney general nearly six months ago.
She said: 'It's clear for anyone to see I did not offer any legal view. I do not think a tweet of some 10 words can really be described as a legal opinion… There is no question of my having interfered with or influenced any decision made by the Crown Prosecution Service or the police on that matter... It is plain for anyone to see, my slightly banally-worded tweet was just a welcoming of the clarification.'
Asked by Labour's Andy Slaughter if she regretted the tweet, she said: 'I do not regret it, no. I do not regret tweeting in the way that I did… I do not think it was a legal opinion in any sense of the word. I do not think it was outside of the remit of what I can and cannot do or what I can and cannot say. I do not think it breached any constitutional boundaries. I do not regret what I did.'
Earlier in the meeting, committee chair Bob Neill said the attorney general was unique in the sense that they were both lawyer and politician. He asked Braverman, when sitting in Cabinet, which of the two she was first.
Braverman replied: 'The tension is running through this role. There are definitely certain areas where the attorney general is occupying a quasi-judicial role, politics must stay out of any decision you're making. But there are other areas where your political antenna is very useful.'
If push came to shove between the interest of the Conservative Party and the interest of the rule of law, 'where does your primary duty lie?', Neill asked. Braverman replied: 'Rule of law, definitely.'