A broken security system causing trials to be moved or postponed is set to continue causing problems into a third week. Hearings have been halted at Maidstone Crown Court since the start of last week due to a fault with the alarm system in the cell area of the building.
By the middle of this week, a total of eight custody trials and 13 sentencing hearings had been deferred as a result. KentOnline reported that one of the delayed matters was a case involving three teenagers charged over the death of a 42-year-old man who fell from a cliff.
It was said that guards are unable to respond to any emergency and unable to escort defendants between courts and the cells. Suitable cases have proceeded with an 'open' dock policy but have been postponed where defendants are required to be in enclosed docks as no security staff are available.
It was also reported that while technicians tried to fix the system fault, the court's roof sprang a leak after heavy rain.
A spokesperson for HM Courts & Tribunals Services said: 'Due to a fault with the alarm system in the cell area of the building, Maidstone Crown Court has temporarily paused hearing custody cases to ensure court users are kept safe. Other matters will be heard at the site while the system is urgently replaced.'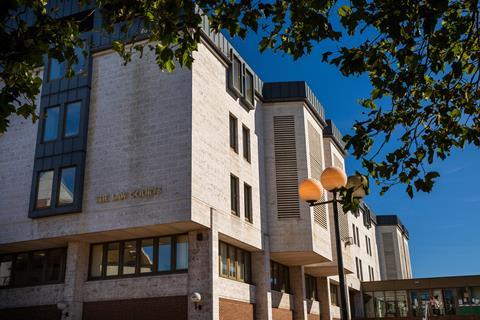 He added that court staff have worked closely with the other Kent Crown court located at Canterbury, and other Crown court sites in Sussex to manage any urgent custody time limit cases.
Following failed efforts to restore the system, installation of a new alarm system will continue over the weekend and should be operational again early next week.
The court is continuing to only list bail cases at Maidstone for now, and has used Sevenoaks Magistrates' Court yesterday and today to list some custody work.
The rotten state of court buildings in England and Wales has been highlighted by users for many years, but appears to have been made worse by repair jobs being delayed or put off during lockdown.
Earlier this year, outgoing HMCTS chief executive Kevin Sadler told the Commons justice committee that the overall maintenance backlog is now £1bn, exacerbated by needing to run heating and ventilation systems harder during Covid-19 restrictions.
Committee chair Sir Bob Neill said the court system was 'creaking' and had been 'left to crumble' for too long.
Last year, lord chief justice Lord Burnett of Maldon said the state of certain courts was 'frankly an embarrassment' and that members of the public, court staff and judges should not have to tolerate it.
This article is now closed for comment.