The Ministry of Justice will be handed an extra £900m in the next year in the effort to reduce the backlog of cases in the courts, the chancellor of the exchequer announced today.
The money will also be used for increasing the numbers of people eligible for civil legal aid, the Treasury confirmed.
In real terms, chancellor Rishi Sunak has pledged a 4.1% real terms increase by 2025 in Ministry of Justice day-to-day resources, which will increase from £8.4bn this year to £10.1bn in 2024/25. Taking into account a freeze in capital spending, which will be £1.4bn in 2024/25, the overall real terms departmental increase is 3.3% over that period.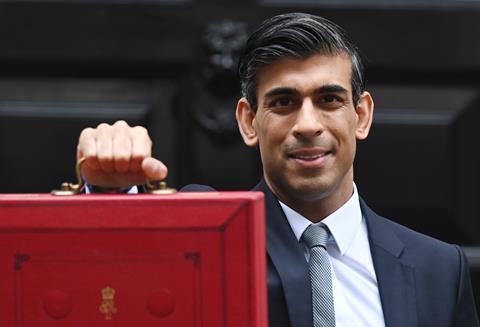 The Treasury said: 'This funding will ensure that the justice system is equipped to respond to the impact of Covid-19 and to rising demand over the next three years, and will continue transformational reform programmes to make justice more efficient and effective.'
Over the next year, the MoJ will be handed £477m to fund the criminal justice system's recovery from Covid-19, although it is not clear whether this is an extension of the pandemic investment announced this time last year. An extra £324m will be allocated to increasing capacity in the civil, family and tribunal jurisdictions to tackle backlogs and reduce delays, while £200m has been granted to complete the flagship £1.3bn court reform programme by 2024/25.
The government says it will give more money to increase the thresholds for means-tested legal aid and make millions more people eligible for legal aid at the magistrates court and in civil cases. There is also a promise to 'invest in the sustainability of the civil legal aid market', although no details are given about how.
The government will also support the criminal justice system in England and Wales by funding an additional £785m in 2024-25 to manage the increased number of offenders being brought to justice and reduce waiting times in the criminal courts.
Responding to the budget today, Derek Sweeting QC, chair of the Bar Council, said: 'The announcement by the chancellor today is a step in the right direction but there will still be a shortfall of funding to tackle the justice crisis, restore public confidence and reduce the backlogs in our courts and tribunals. Moving forward the Bar Council will be engaging with the profession, courts service and Ministry of Justice to rebuild our justice system.'