Campaigners for shared parental rights have called for a presumption in law that children will spend roughly equal time with their parents following a separation or divorce, after a YouGov survey suggested the majority of the public agrees.
Around 2,000 were asked in the survey, commissioned by FNF Both Parents Matter Cymru, to what extent they agreed with the proposal, excluding cases where there is a proven risk to the child. Eight in 10 agreed.
The charity said the poll supports the call for a change in the law to make it clearer what 'normal' should look like when parents split.
Anne O'Regan, the charity's vice-chair of trustees, said: 'It's a living bereavement for the parents and grandparents we see at our support meetings, broken by the selfish actions of controlling parents who simply grab the children, pull up the drawbridge and say "Take me to court" knowing that this will be impossible for many to afford.'
The Legal Aid, Sentencing and Punishment of Offenders Act removed most private family law proceedings from the scope of legal aid. Family mediation remained in scope but the number of mediation information and assessment meetings fell sharply after LASPO was introduced.
The survey has prompted Conservative MP Suella Braverman, who introduced a family justice bill in 2017, to renew her call for a rebuttable presumption of shared parenting in the law.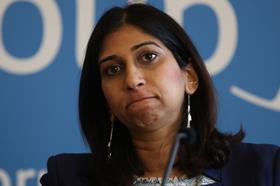 She said: 'Every child has a right to a meaningful relationship with both parents but at present the law does not make this clear. In the worst cases, "parental involvement" from divorce settlements can amount to little more than a birthday card, effectively airbrushing a non-resident parent from a child's life.'
Braverman said the court's assessments of how much contact a child should have with a non-resident parent is often based on outdated views. 'It is time the government exercises its potential to address the problem of children growing up in broken families and rectifies some of the serious injustices inherent in England's current divorce law.'
Justice secretary David Gauke has pledged to end 'unnecessary mudslinging' in the divorce process with his Divorce, Dissolution and Separation Bill, which had its first reading in the House of Commons last week.