A criminal defence solicitor elected as the Conservative MP for Bury North in December has described the remuneration of young criminal lawyers as 'negligent'.
James Daly was a criminal legal aid lawyer for 16 years. He told a parliamentary question time event organised by the Young Legal Aid Lawyers group that criminal legal aid lawyers in towns such as Bury are unlikely to be earning more than £30,000. 'Between £25,000-£30,000 "if you're lucky",' he said.
Plaid Cymru MP Liz Saville Roberts had earlier told the event that she represents a rural constituency which previously had five magistrates' courts and now has none. Some people are required to travel 50-60 miles to attend the nearest magistrates' court. Daly said: 'If you work for a law firm and have to travel 50 miles to go to a local court and the wage is low to start off with, it is not a sustainable career at this time.'
Daly, a member of the House of Commons justice select committee, also highlighted the impact that pre-charge bail laws is having on solicitors' income.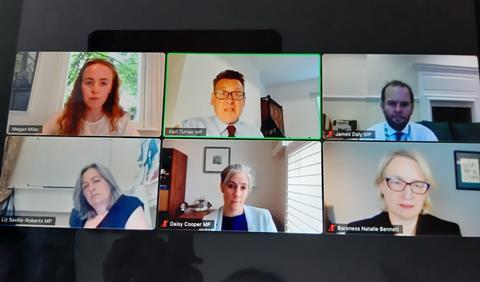 Pre-charge bail allows police to release a suspect from custody, usually subject to conditions, while officers continue their investigation or await a charging decision. Unlike bail, there are no time limits for release under investigation (RUI). The Home Office is currently reviewing the legislation.
Police figures show that thousands of suspects have been released under investigation, with many languishing in legal limbo for months.
Daly said: 'We now have a situation where people are not being put in front of the court… RUI needs to be sorted out. People are committing offences at this time. I was told a couple of weeks ago someone punches a police officer in the face, there were four officers around them, it's on video and they are RUI'd. There are acts there that require people to go through the criminal justice system, which will produce more work and more income. I agree that we have got to increase fees, but there are a number of sides to this to make sure we have a sustainable income.'
Shadow legal aid minister Karl Turner, who was also at the event, added that criminal solicitors are doing 'an incredible amount of work for free' as a result of RUI. '[The work] does not stop for the solicitor at that point,' Turner said.
Meanwhile, the Law Society has reiterated its plea for immediate action to address the 'extremely disturbing' fall in the number of criminal legal aid firms.
In 2010, there were 1,861 firms doing criminal legal aid. This figure dropped to 1,271 last year and currently stands at 1,147.
Simon Davis, president, said: 'If the criminal defence sector collapses, the government will be forced to rebuild it via a public defence service, which would cost the taxpayer far more and is not what a proper system of justice deserves.'