Parliament has not adequately considered the laws on assisted suicide, Beatson LJ said.
Terminally ill man Noel Conway can challenge the laws that prevent him ending his own life with medical assistance, the Court of Appeal ruled yesterday – reversing a 31 March decision by the High Court.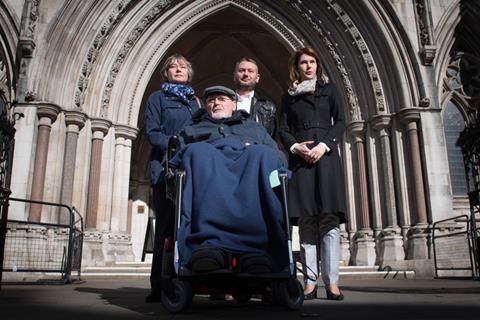 The hope that the courts will declare current laws incompatible with the Human Rights Act is central to 'right to die' cases. Although the Supreme Court had decided against this in Nicklinson (2014), Lord Neuberger's judgment provided one basis for subsequent cases. He said 'there is a real prospect that a further, and successful, application for a declaration of incompatibility may be made' in the absence of sufficient parliamentary consideration.
In Conway the High Court had ruled that the failure of three private member's bills, which had each sought to change the laws covering suicide, constituted an adequate parliamentary determination of the issue.
Giving permission for the judicial review, Lord Justice Beatson said: 'The reasoning of Lord Neuberger… has weighed heavily with us.' The courts could not rely on the content of parliamentary debates in the three failed bills as providing adequate guidance in deciding this case, the judgment said.
Beatson LJ added: 'The material before the court in the present appeal, although similar in substance to that in Nicklinson, is a more wide-ranging selection of primary factual and expert evidence.' It was right that the court should consider such material, he said.
Conway now returns to the High Court. Conway is represented by Irwin Mitchell.