The Crown Prosecution Service has gone on a short-term hiring spree in case the UK leaves the EU without a deal, its new chief revealed last night. In his first speech as director of public prosecutions since taking over from Alison Saunders, Max Hill QC said the increasingly international nature of crime is affecting the CPS's work.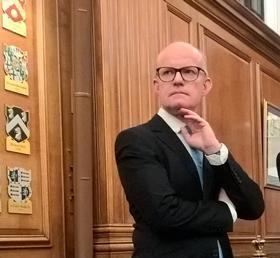 In the event of a 'no deal' Brexit, Hill said the UK will no longer have access to the European arrest warrant (EAW), the European investigation order, and mutual recognition of freezing and confiscation orders. 'Our current status as full members of [judicial cooperation unit] Eurojust would also be lost, and our law enforcement colleagues would not enjoy the same level of immediate access to a range of investigative measures and intelligence sources,' he said.
The CPS is preparing for both Brexit scenarios. Hill said: 'We are recruiting additional lawyers to our extradition unit on a short-term basis in preparation for handling EAWs that are still live on 29 March, and the process that would immediately replace the EAW in the event of "no deal".
'We are also expanding our liaison magistrate presence in Europe to ensure that we can develop the relationships that will be necessary to support new arrangements. Our liaison magistrates build relationships in the countries in which they are based. By identifying the key local personnel, and gaining an understanding of their procedures, they are well placed to clarify and support our own requests for mutual legal assistance and extradition, as well as those of the host country. And we are developing training for our staff, and counsel.'
Hill stressed again that he wants to build public confidence and trust in the CPS, but said the picture 'is not as bleak as some would have us believe', highlighting the latest crime survey of England and Wales results, in which 62% of respondents stated they were 'very' or fairly' confident that the CPS is effective at prosecuting.
Suggesting a lack of 'clear understanding' outside the criminal justice system about what the CPS does, Hill said it 'does not investigate crime...does not choose which case it considers and the role of the CPS is not to secure a conviction in every case'.
However, disclosure challenges could get bigger. Hill said: 'In 2017 there were 92 million mobile subscriptions in the UK. There are many different types of mobile phone handsets, with 19 new ones due for release this year. The newest Apple iPhone model has a 256GB capacity, which, if printed, would be 50 million pieces of paper. And Samsung have now released one with four times this capacity.'
The Code for Crown Prosecutors has been revised to include, for the first time, disclosure duties, which might lead to prosecutors delaying making a charging decision, Hill warned.
Hill was delivering the Kalisher lecture at Inner Temple Hall in London, hosted by the Criminal Bar Association.